Job market prognoses mixed as locals compete
April 17, 2010 - 11:00 pm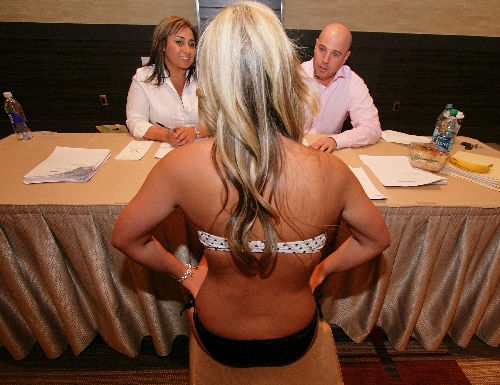 Emotions, and job options, run the gamut valleywide. Have the right training — think health care — and a job is waiting. If you don't, waiting for a position to open in a still-sluggish industry like construction or gaming might not seem worth the wait at all.
Job-market watchers are sometimes downright apologetic when discussing a still-dismal forecast. If an employment sector isn't expected to decline near-term, it is almost considered strong under the new economic reality.
Department of Employment, Training and Rehabilitation economist Jered McDonald said he can offer little encouragement to some of the 189,000 people seeking work in Nevada.
"In this state, it is hard to say they will find a job in the industry they are trained in," he said. "They might have to look outside the state."
Hiring for this year's second quarter is expected to decline 6 percent from the same quarter in 2009. Of all the industry categories in Nevada, only utilities is forecast to show a slight gain, 0.5 percent. The health care and social assistance category remains flat.
The remaining 18 industry categories are all expected to decline. But the second quarter is looking slightly better than the first. The department forecasts an increase of 0.2 percent, or 1,900 positions, in total state job growth for the April-June period.
"We are 28 months into this recession, and usually we are creating jobs rapidly one to two years in," McDonald said. "But we are still losing jobs and getting a lot of new claims for benefits each week."
Nevada shed 4,300 jobs in March after creating 10,400 jobs in February, the state Department of Employment, Training and Rehabilitation reported Friday .
Unemployment in Las Vegas fell one-tenth of a percentage point to 13.8 percent in March from a high of
13.9 percent in February. Nevada's unemployment rate in March rose to
a record 13.4 percent, up from 13.2 percent in February.
Although massive employment opportunities are gone — MGM Mirage's $8.5 billion CityCenter and the thousands of jobs it created last year won't be repeated soon — green shoots are appearing. Observers say "replacement jobs" are opening sporadically and the state could reinvent its employment base.
A healthy choice
John Challenger, chief executive officer of Chicago-based outplacement firm Challenger, Gray & Christmas, sees job-creation opportunities for Las Vegas and Nevada in fields related to health care. Aging baby boomers, he said, will continually pressure the medical, therapeutic, fitness and nutritional industries.
"You can get a job if you go back to school, get a nursing degree, or get a job as a massage therapist or physical trainer," Challenger said.
People who can't afford more school may be able to transfer skills. Office workers from other industries, for example, could work in medical offices, Challenger said.
Challenger, a self-described optimist, said that although Nevada can cash in on the growing health care industry, construction workers, real estate professionals and others will have to accept the changing economy.
This won't be easy, he said, and some people may leave.
"It does take a lot of flexibility to shift a glut of people in one area with limited skills and a lack of demand," Challenger said. "And I think a lot of them will leave to go where the jobs are."
McDonald said that although Nevada was once someplace jobs could be found readily, that description may now better suit the South or Southeast.
"Now, for the first time in forever, we have lost some of our population," he said.
Where the jobs are
Most of Nevada's jobs aren't new, but are openings vacated by other people. Health care, social assistance and private education services businesses are likeliest to have new openings or fill vacancies going forward, McDonald said.
One private education business, The Creative Beginning Learning Center, has a handful of job openings now, including one for a lead instructor, Creative Beginnings supervisor Tamara Gentry said.
Meanwhile, other businesses are offering small numbers of jobs. Chase Bank and Bank of Nevada, for example, are advertising positions. Chase is staffing a new branch on Flamingo Road and Maryland Parkway. Bank of Nevada wants to fill fewer than 10 vacant positions at a number of its 12 branches, Bank of Nevada Chief Executive Officer Bruce Hendricks said.
Meanwhile, companies that see increased demand during hard times are looking for help. Scottsdale, Ariz.-based mortgage-modification firm Mortgage Relief is planning to open a Las Vegas office in July and about 300 people will be needed to staff the office, CEO Bruce Spurlock said.
"We expect to hire about 50 every three or four weeks, until we get to 300," he said.
Mortgage Relief will start hiring in June, with a print, broadcast and viral ad campaign. People with call center or mortgage-processing experience are most in demand, but Mortgage Relief will train the less experienced. The company pays for all the licensing, Spurlock said.
"We expect there to be a huge demand," he said. "The average wage we pay is $655 a week. We offer benefits after 90 days and pay 50 percent of the benefits."
If job hunters can't wait until June, Mattress Firm is hiring salespeople now. Store manager Darryle Gaynor is openly recruiting.
"We don't have nearly enough people working here," he said. "If you know somebody who needs a job, send them down."
Stimulus dollars from the American Recovery and Reinvestment Act are expected to create some government construction jobs, McDonald said, but probably not enough to significantly dent the predicted 20 percent second-quarter decline in construction employment when compared with a year ago.
Temporary arrangements
When will hiring improve? Economists have sometimes used the pace of temporary staffing as a bellwether. But the future looks murky by that measure.
After an upward tick late last year, the number of temporary workers employed has dropped. Temporary staffing in Nevada peaked during 2007, before the recession started, at around 28,000. Today, about half as many temps have jobs.
"We are at 14,200," McDonald said. "That's down about 1,400 from last February (2009) and 200 from this January."
The anxiety of needing to find a job and the fear of losing a job weigh heavily on Southern Nevadans' minds, said Brian Gordon, a principal in business advisory firm Applied Analysis. Survey results released during the Las Vegas Perspective in March showed 79.6 percent of local residents were either very or somewhat concerned about the job market, up from 57.8 percent in early 2008.
Department of Employment, Training and Rehabilitation projections don't see hiring increasing significantly until early 2012, although the pace should quicken by late 2011, McDonald said.
Gordon and McDonald likened the next year's employment outlook to "bouncing along the bottom." Hendricks doesn't expect much change in short-term hiring, either.
"The coming six months will be very quiet," Hendricks said. "I don't think there will be a lot of activity."
Summer jobs are also already in big demand as a result. M Resort recently held a casting call for workers to staff the resort's pool over the summer. Cocktail server hopeful Julie Cooney said she was one of close to 100 applicants who showed up for the early April event.
Cooney, a 22-year-old dental hygienist student at the College of Southern Nevada, did part of her interview in the required swimsuit attire. She is unemployed and had found fierce competition for any job.
"I have been on a lot of auditions and interviews, but nothing has come of it," Cooney said.
Contact reporter Valerie Miller at
vmiller@lvbusinesspress.com or 702-387-5286.