Las Vegas' Allegiant Air, flight attendants strike deal on contract
November 21, 2017 - 3:21 pm
Updated November 21, 2017 - 6:01 pm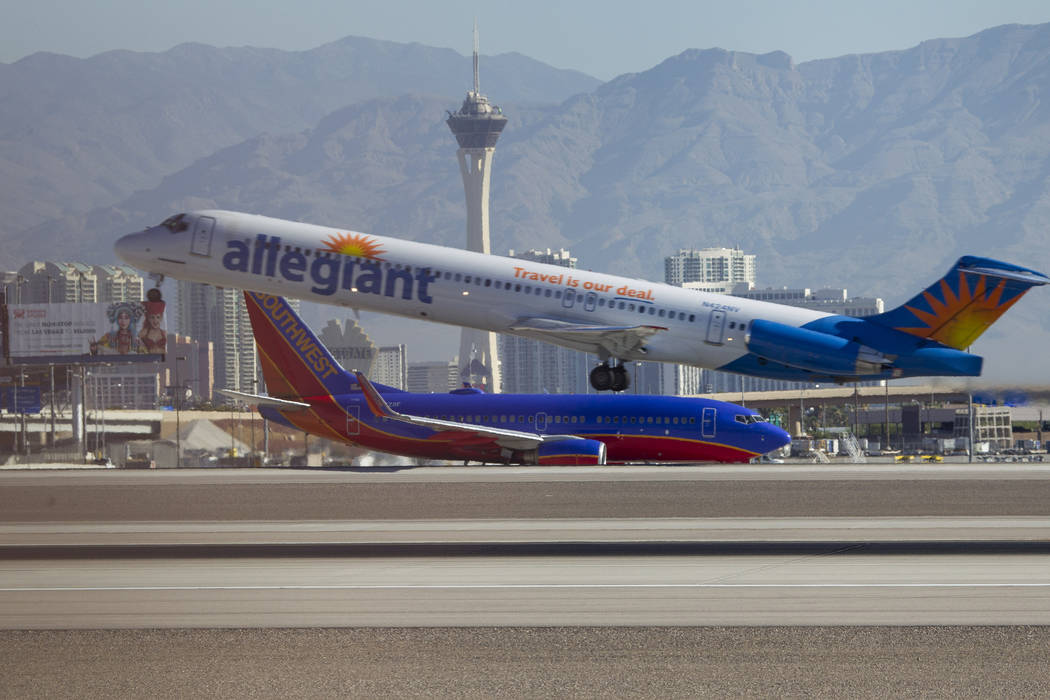 Flight attendants working for Allegiant Air announced on Tuesday that their first union contract was reached with the Las Vegas-based budget carrier after six years of negotiations.
The five-year deal was reached with the Transport Workers Union.
Flight attendants are poised to receive a pay raise of up to 33 percent over the term of the five-year contract between Allegiant and the Transport Workers Union, along with improved policies for sick leave, vacation, part-time workers and potential mergers, union officials said.
The contract also offers compensation during long delays, increased per diems while on duty, furlough protections, increased training pay and enhanced procedures to file grievances.
During the summer, off-duty flight attendants held "informational pickets" at airports across the country to air grievances about Allegiant, including wages that were below the airline industry's standard. The flight attendants also said they were not paid while waiting for Allegiant planes that were delayed due to scheduling or mechanical problems.
"This is a solid hard-fought victory for our flight attendants at Allegiant Air," John Samuelsen, the TWU's international president, said in a statement. "We will now build upon this victory to further advance the livelihoods of TWU members at Allegiant Air."
Allegiant executives said the labor pact must still be ratified by roughly 1,150 flight attendants represented by the TWU Local 577, with a vote likely to happen by the end of December.
"We're very pleased to have come to an agreement with the TWU and our flight attendants, a great achievement for everyone who dedicated many hours at the negotiating table," Maury Gallagher, Allegiant's chairman and CEO, said in a statement. "This agreement will begin an exciting new chapter of growth for our inflight team and for the company as a whole."
Negotiations between flight attendants and Allegiant started in 2011. A tentative agreement failed to win ratification in September 2016, followed by continued negotiations that were supervised by the National Mediation Board, Allegiant officials said.
The move comes more than one year after Allegiant pilots, working with the Teamsters, ratified their first labor agreement with the company. That five-year deal included an immediate 31 percent pay raise, along with improved medical benefits, scheduling procedures and retirement plans.
"We have an amazing community of flight attendants who work hard every day, as safety officers and at the heart of service for every passenger who flies with us," Tracy Tulle, an Allegiant vice president, said in a statement. "We appreciate their patience throughout the negotiation process, as we worked towards a fair agreement to support their efforts well into the future."
Contact Art Marroquin at amarroquin@reviewjournal.com or 702-383-0336. Find @AMarroquin_LV on Twitter.