Las Vegas Boulevard parcels left out of land-buying boom
October 2, 2016 - 9:56 am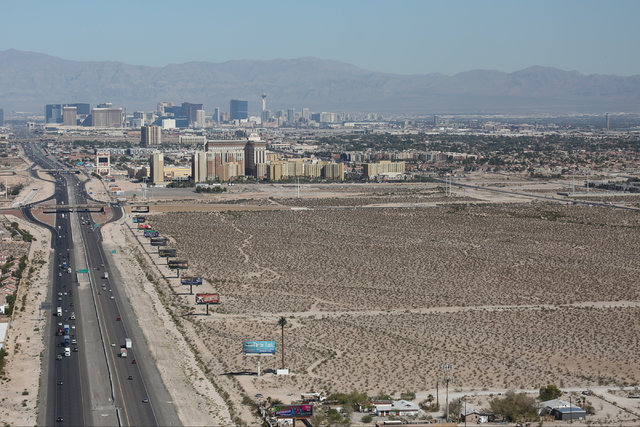 Real estate investors have been scooping up land across the Las Vegas Valley for new projects, from apartment sites in Henderson to housing tracts in Summerlin.
But they're largely avoiding one area in particular, the lifeblood of Southern Nevada's economy, no less: Las Vegas Boulevard.
Land sales have climbed from the depths of the recession in Las Vegas, but few people are buying the vacant parcels for sale on the Strip and south of the resort corridor. Prices are too high, parcels are too big, and large-scale developments aren't feasible today, brokers and investors say.
The lack of sales can crimp construction, but it also shows that the go-go days of last decade's real estate bubble haven't come back and probably won't anytime soon — which might be a good thing, given how badly it all ended.
Offerings south of the Strip include roughly 110 acres priced at $200 million, 56.6 acres for sale at $40 million and 108.7 acres listed for $70.6 million. On the Strip, roughly 5.5 acres is priced above $160 million, according to listings and brokers.
Parcels aren't selling for key reasons, Land Advisors Organization broker Rick Hildreth said.
"They're way overpriced, and there's really just no demand," he said.
Khusrow Roohani, owner of Seven Valleys Realty & Construction, was among those who sold big before the crash. He and partner Daniel Kramer bought 31.6 acres at Robindale Road, south of the Strip, in 2004 for $26 million and sold two years later for $103 million, according to Clark County records.
In 2009, that parcel and others nearby were acquired through foreclosure. Roohani's group, it turned out, sold around the peak of the bubble.
"Otherwise," he said, "we would be like everybody else – in trouble today."
BUBBLE-ERA PRICES GONE
Before the market tanked, property on Las Vegas Boulevard – at least from the tourist district to suburban St. Rose Parkway – sold for amounts that seem all but impossible today. Investors also built or drew up plans for condo towers, megaresorts or other super-sized projects that developers largely aren't pursuing anymore.
Many of the still-vacant parcels weren't supposed to stay empty. Projects that went nowhere include a roughly 25-story resort condo tower on the south Strip; Urban Village Las Vegas, a 50-acre, $1.5 billion mixed-use project at Pyle Avenue south of the Strip; and 14 towers with 2,760 condos at Starr Avenue.
On the Strip, available parcels aren't all especially big, but prices are steep.
Developer Triple Five is asking $30 million per acre, or more than $160 million, for property next to the Peppermill restaurant. Owners of the boarded-up White Sands Motel, across from the Luxor, have listed the 1.1-acre site for $25 million.
And investor Howard Bulloch has been trying to sell 38.5 acres, including his failed, partially built SkyVue observation-wheel project across from Mandalay Bay. Brokers said last fall that he wanted more than $10 million an acre, or more than $385 million.
At such prices, industry pros say, buyers might have to build an expensive, high-density project with potential for big revenue, like a condo tower or casino-resort, to make a profit. But even if they got financing to buy the land — itself no guarantee — it's not easy getting construction funding.
Las Vegas' once-battered economy is on stronger footing, but with easy money no longer sloshing around, the market for mega-projects is nowhere near what it used to be. No one is building condo towers in Las Vegas today, and two resorts underway on the Strip, Resorts World and Alon, have shown little to no progress getting built despite being on the drawing board for a few years.
As it stands, Las Vegas doesn't need "additional hotel supply," and the condo market "still hasn't recovered to a point where it makes sense" to build more towers, as developers can't fetch high-enough prices, said broker Michael Parks, of CBRE Group's global gaming group.
On the Strip, most parcels for sale are at the south edge. Broker Curt Allsop of Newmark Grubb Knight Frank figures buyers would pay $2 million per acre there, "maybe" $4 million, but "a lot of that dirt is probably listed for about twice what the market will pay."
Also, some owners on the Strip want bubble-era prices.
The White Sands' ownership, Parks recently told the Las Vegas Sun, is asking "a ridiculously high price that they'll never get."
John Knott, head of CBRE's global gaming group, said of Triple Five's price tag: "There's no market support for that price whatsoever."
BIG AND EXPENSIVE
South of the Strip, stretches of land are up for grabs on Las Vegas Boulevard, but they're too big and too expensive, brokers say.
Apartment developers might need 15 to 20 acres for a project, not 100, and homebuilders don't need that much for a subdivision either.
Moreover, three big casino-resorts are on or near the boulevard south of the Strip — Silverton, South Point and M Resort — and it seems no one expects another one anytime soon.
"You have all these large pieces of property, and what can you build on them?" one broker said.
Perhaps the biggest sale by acreage in recent years was homebuilder D.R. Horton's purchase in 2013 of about 40 acres at Starr Avenue, for $14.25 million.
"All these guys are holding out for the next megaresort," Allsop said of landowners.
One issue, brokers say, is that some owners refuse to sell big holdings in pieces.
Swedish furniture chain Ikea was looking to buy 30 acres on Las Vegas Boulevard near Warm Springs Road for $30 million. But investment firm Lone Star Funds, which owns about 110 acres there and is trying to sell for $200 million, wanted to unload the whole site, not just a portion of it, according to people familiar with the matter.
Ikea ended up buying 26 acres at Sunset Road and Durango Drive in late 2014 and opened its 351,000-square-foot store this past May.
Ikea spokesman Joseph Roth said the retailer was "in a variety of discussions about various sites" along Interstate 15 and the 215 Beltway, and it "decided to pursue the opportunity" in southwest Las Vegas "due to location, access and visibility."
Lone Star declined to comment.
All told, plenty of landowners spent a fortune for their property. But many who can't come to terms with today's sharply reduced values are "still looking in the rear-view mirror," Allsop said, to a time of overblown prices and super-sized projects.
"Sorry," he said, "those days are gone."
Contact Review-Journal writer Eli Segall at (702) 383-0342. On Twitter at @eli_segall.