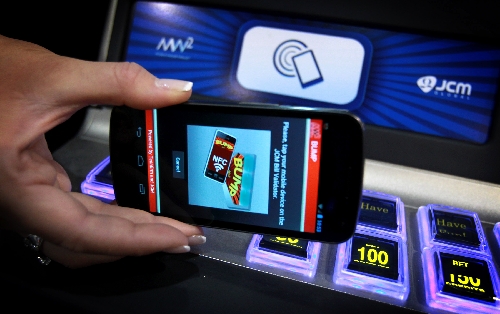 You can buy a cup of coffee at Starbucks, even purchase your favorite movie or laundry detergent at Walmart or Target, by simply downloading an app, meaning you only need your smartphone, not a credit card or cash, to make a payment.
The mobile wallet is new to most local consumers, but the industry is expanding rapidly as more smartphones are introduced with NFC technology.
NFC stands for near field communications, a secure radio technology that enables two devices to wirelessly trade date when they are about five centimeters of each other.
For many businesses, the goal is to use NFC to turn smartphones into mobile wallets.
Not to be left out, JCM Global, a Las Vegas-based company, and two partners is testing a mobile wallet system for the casino industry.
The Mobile Wager Wallet, developed by JCM Global, Techfirm Inc. and NRT Technology Corp., lets a customer download an app that lets them tap their phone to an ATM, enter their pin number and decide how much to deposit into their mobile wallet.
As developers see it, a customer then taps their favorite slot machine to deposit virtual funds before playing.
"At no time does a casino have access to a player's bank account," said Tom Nieman, vice president of global marketing with JCM Global.
The mobile wallet features account information, payment options, and ATM/Kiosks options to reload the application. Players can also transfer virtual funds from their wallet back into their account, or even withdraw the money from an ATM.
Nieman said there were marketing opportunities for casinos, including placing online ads that tell players about buffet deals or half-price tickets to shows. He said a mobile wagering wallet could be designed to look like a player's club card or even a room key.
"It can store all of your loyalty reward and have them all linked to your account," Nieman said. "People love their comps, and can see it all in one place."
It can also be used at "retail, food, and entertainment venues" within a casino property. He said the ads will change to be "location specific."
Neiman said the apps can be fully customized and feature ads on the main page.
He said the app allows a casino, which knows your gaming habits, to market directly to you.
"The last year has been one of intensive development," said Yuichiro Tsutsui, founder and CMO of Techfirm. "We have been working closely with the JCM team to understand the wants and needs of operators and the necessary regulatory application."
Tsutsui said he was sure the "gaming industry will be impressed with the results."
Juniper Research, a U.K.-based telecommunications firm, expects NFC-enabled payment to total $180 billion by 2017.
Still, the real world application is not yet there. Nieman said the Mobile Wager Wallet is not even in "field trials" with Nevada gaming regulators. Nieman declined to predict when the Mobile Wager Wallet will be available in Las Vegas, but the company continues to work with regulators.
"Everyone is looking at this," Nieman said.
Contact reporter Chris Sieroty at csieroty@reviewjournal.com or 702-477-3893. Follow @sierotyfeatures on Twitter.