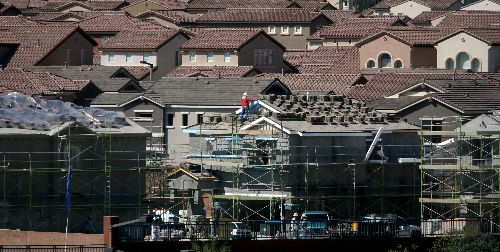 The inventory of homes for sale in Las Vegas continued to climb in August and sales dropped 12.7 percent from the same month a year ago, the Greater Las Vegas Association of Realtors reported Thursday.
The median price of a single-family home rose to $140,000 during the month, up 3.7 percent from July and up 3.3 percent from a year ago.
August's numbers show the Las Vegas housing market is still bouncing along the bottom, Realtors association President Rick Shelton said.
Expiration of the federal tax credit for homebuyers contributed significantly to the decline in Las Vegas home sales, Shelton said. The tax credit sparked home sales until it expired April 30 and has led to slower sales since.
"This decrease in sales from 2009 to 2010 is relative to the spike in sales we saw during this same time of year between 2008 and 2009, when the tax credit was available," he said.
Realtors sold 2,819 single-family homes in August, compared with 2,948 in July and 3,229 in August 2009, the association reported. Condominium and townhome sales rose 2.4 percent to 819 in August, while the median price slipped 1.5 percent to $67,000.
Single-family home inventory grew 4 percent during the month to 22,624, up 7.7 percent from a year ago. The Multiple Listing Service fell below 20,000 in December and January, but has increased every month this year and is approaching the 23,000 level of mid-2008.
Realtors said they're seeing more foreclosures come onto the market, along with a drop in the percentage of short sales, or homes sold for less than the principal mortgage.
David Brownell of Keller Williams Realty said August's statistics suggest the trends will continue.
"Inventory is still growing. Sales are down, although 3,500 sales (detached and condos) in what was suggested to be a sluggish third quarter is pretty good," he said. "Short sales seem to be losing some of their momentum, closings are down for a third month and REO (foreclosure) inventory is growing. Are we moving back to the dreaded 'F' word as the way properties are being processed through distressed times? Maybe."
Short sales accounted for 30 percent of August transactions, compared with a high of 34 percent in June. Bank-owned homes inched up to 43 percent of sales in August after falling to 38 percent in June.
Brownell said people were buying anything during the "frenzy" of the homebuyer tax credit, even rundown homes in terrible condition. Buyers have become more selective now, he said.
"It seems like when I show a property in an A location and A-plus condition, there's an incredible amount of demand," the Realtor said. A $260,000 short-sale home in Summerlin had 11 showings within 35 hours of coming on the market, he said.
A double-dip housing recession is not likely as year-over-year prices remain positive nationally, said Alex Villacorta of Clear Capital real, a Truckee, Calif.-based estate data firm. Recovery in the housing market will occur segment by segment in micro markets around the country, he said.
"Barring another financial meltdown, if things remain the same and don't get any worse, it's unlikely we'll see a double-dip decline," Villacorta said.
Overall, prices look poised to continue their deceleration into negative territory by the end of the year, he said. However, price gains experienced in many markets over the past two years are providing a cushion against prices going into double-dip territory.
"Vegas is different," Villacorta said. "There's no cushion at all. It's been basically flat for five quarters ."
Las Vegas was No. 4 among the 15 worst-performing housing markets in Clear Capital's home data index with a quarterly price decline of 0.1 percent. Tucson, Ariz., topped the list at negative 1.2 percent, followed by Phoenix and Atlanta, both at negative 0.3 percent.
Las Vegas has a 38.9 percent saturation of real estate-owned, or bank-owned, homes as a percentage of all properties sold in the last quarter.
Shelton said the percentage of Las Vegas homes purchased with cash held steady at 45.9 percent in August, matching July and just shy of record levels. This suggests investors continue to see value in buying local real estate at bargain prices, he said.
Buyers are also benefiting from the increase in listings without offers. The number of homes not in pending or contingent status rose to 11,327 in August, the fourth straight monthly increase and a 32 percent jump from a year ago.
Villacorta said he sees continued softening of home-price gains due largely to the buyer pullback after the expiration of the tax credit.
"As we head into the final months of the year, it will be interesting to see how markets respond to an environment without any buyer incentives," he said. "I think everyone is holding their collective breath to see how markets fare during the winter."
Contact reporter Hubble Smith at
hsmith@reviewjournal.com or 702-383-0491.