Las Vegas job seekers find tight market at fair; 20K positions open
Updated March 27, 2023 - 7:50 pm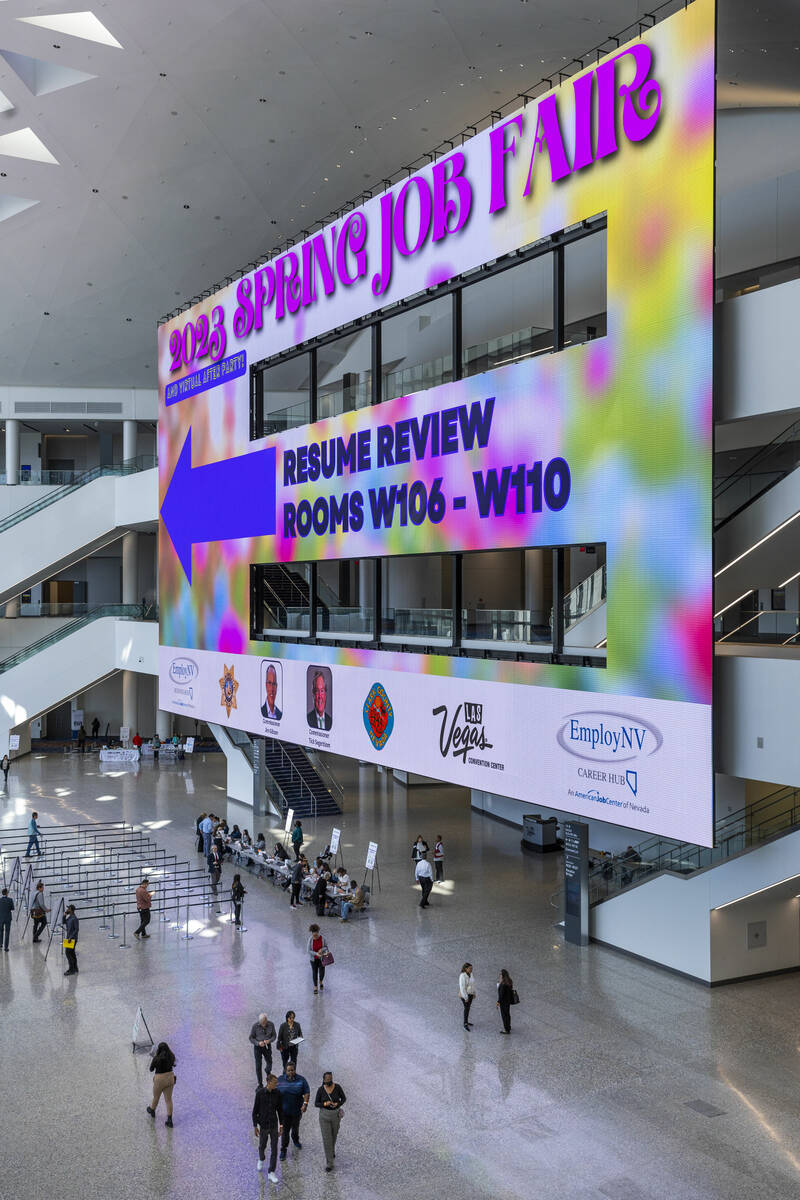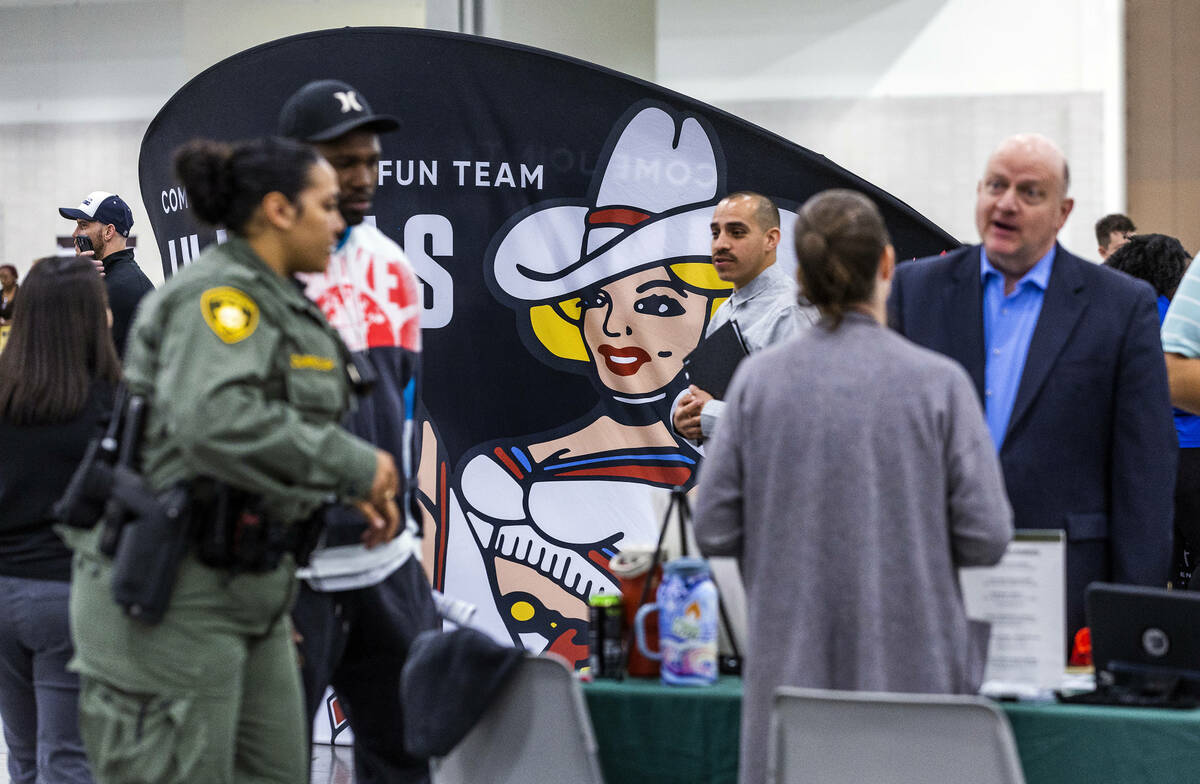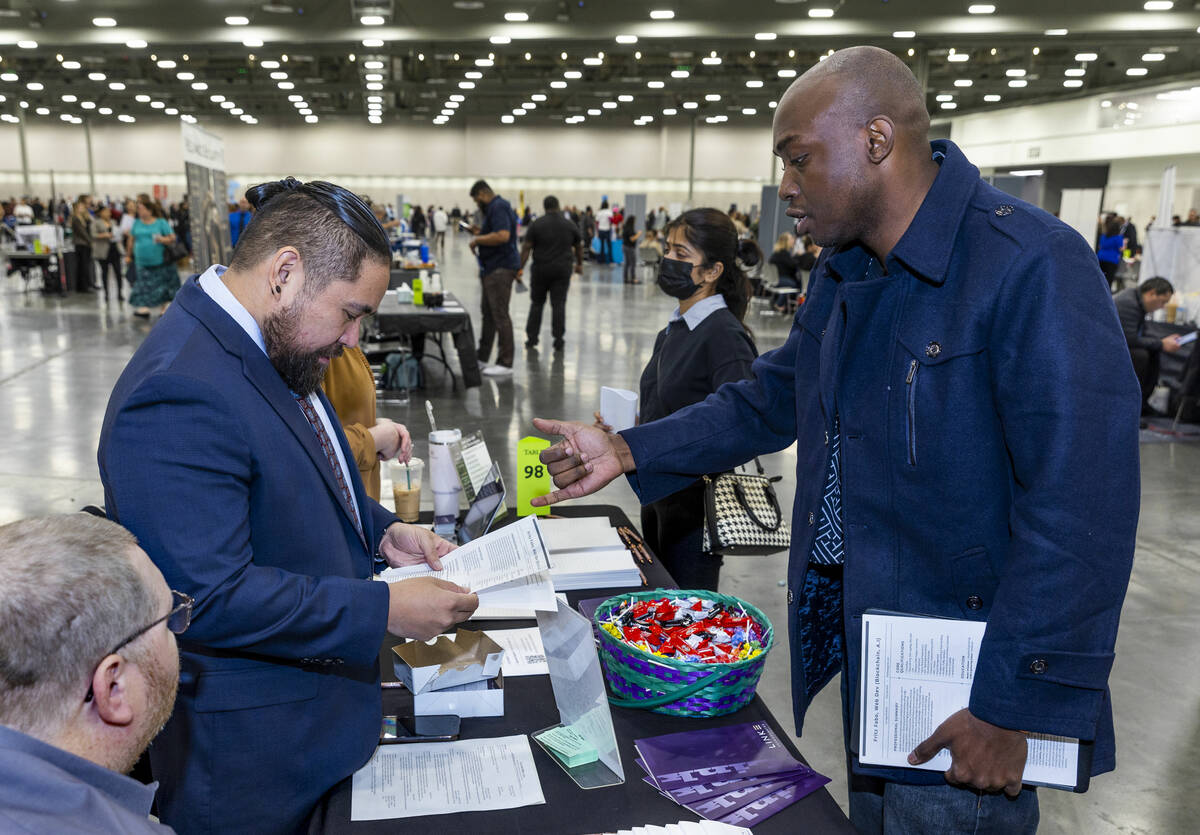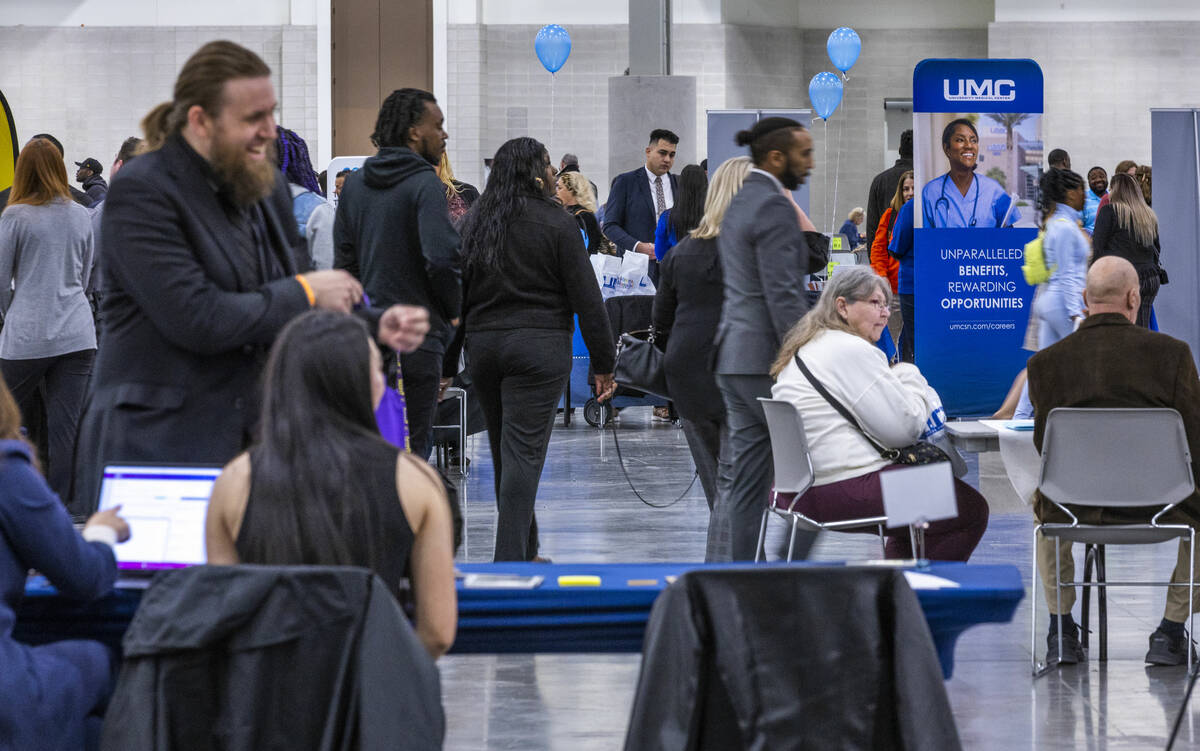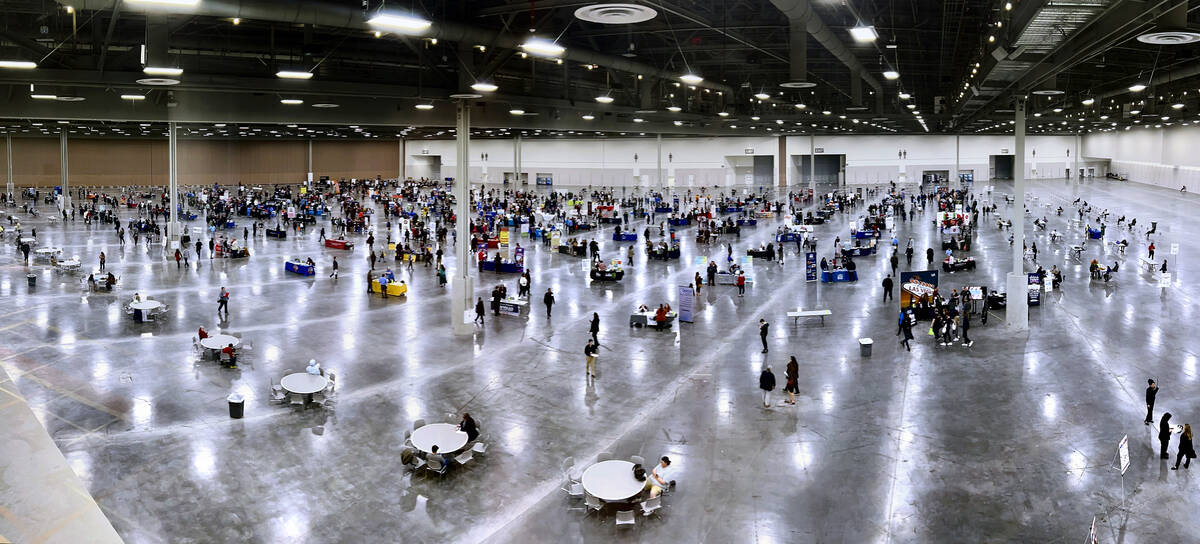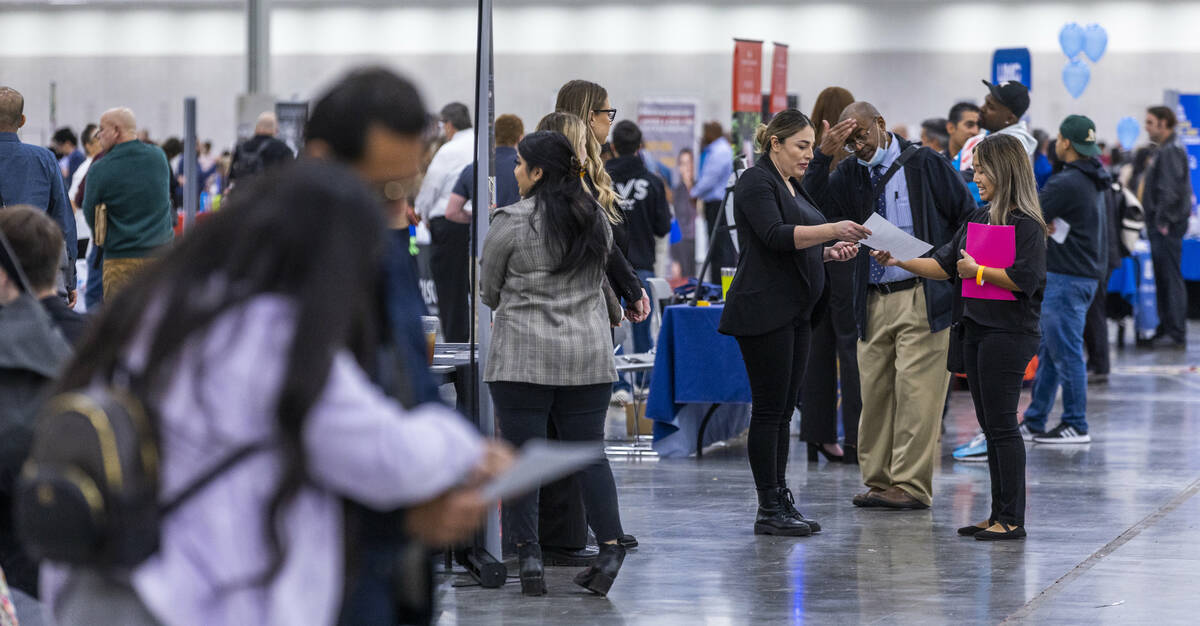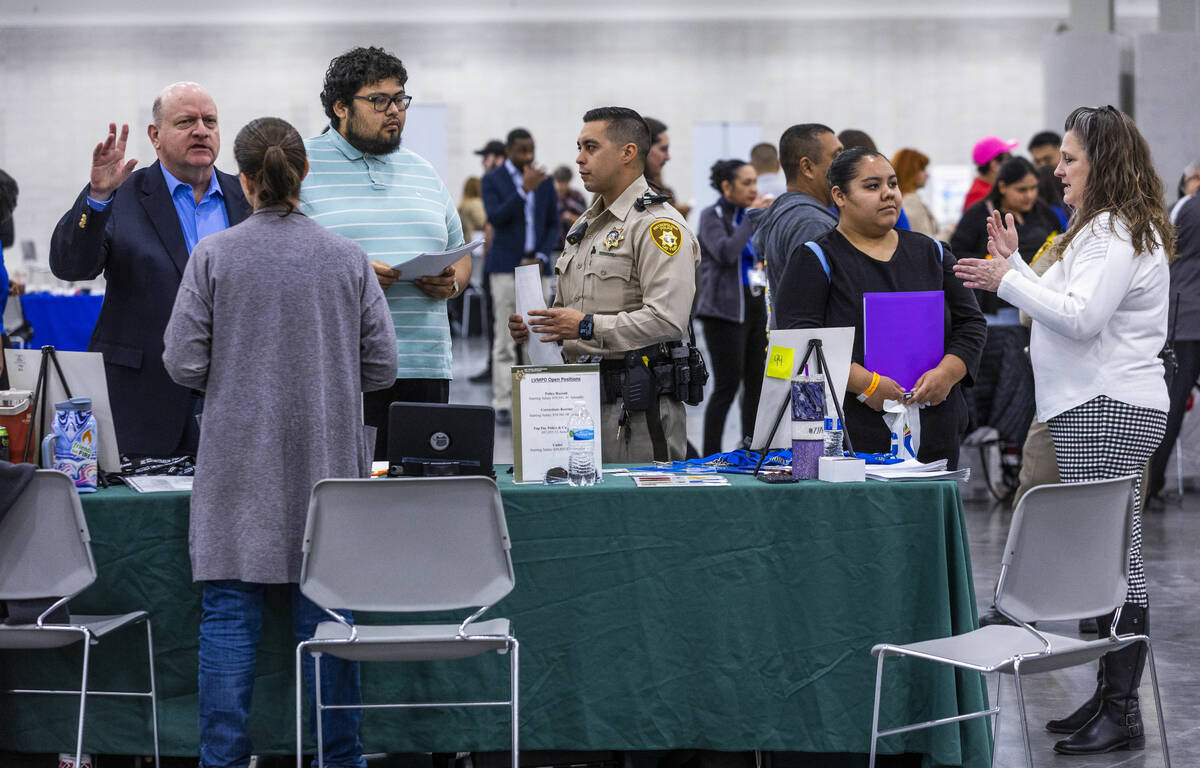 Tim Kelley admits he's switching careers to enter the tech industry at a difficult time.
Just as he completed a one-year coding certificate program this year to leave a sales management position, the industry's biggest employers from Google to Microsoft announced thousands of layoffs. So when he saw a recruiter on LinkedIn post about Clark County's Spring Job Fair, he felt compelled to attend.
"Even if nothing comes from this, as a job seeker, I'd feel guilty if I didn't go," Kelley, a Las Vegas resident, said. "Everybody today is just filling out job applications digitally. In this setting, there's a much more lasting impact."
Kelley was one of about 2,800 job seekers who attended the massive hiring event on Friday at the Las Vegas Convention Center's West Hall.
Potential applicants could be seen browsing the booths of 135 employers from various industries, offering a total of about 20,000 positions. Preliminary numbers showed 300 people were hired on the spot and an estimated 1,900 offers could occur in the coming weeks, pending additional interviews and background checks, according to event co-hosts Clark County Chairman Jim Gibson, Commissioner Tick Segerblom and the EmployNV Business Hub.
The hiring event falls at a time when statewide hiring data shows four job openings for every three workers, according to the Department of Employment, Training and Rehabilitation. Unemployment in February remained at 5.5 percent — the highest in the nation — and Nevada led the country in job growth, gaining about 5.1 percent over the previous year, according to the Bureau of Labor Statistics.
That suggests a combination of factors are at play, DETR Chief Economist David Schmidt said Thursday. The labor market is still getting back to work and hasn't reached the participation rate seen pre-pandemic — some people changed career paths or became self-employed, while others retired during the pandemic.
"Baby boomers are exiting the workforce and there's fewer workers that are in and out of the labor force, so we have lots of demand and a supply that's still recovering," Schmidt said. "Those two things really give you that tight labor force, and that's true nationwide."
It's a challenge that brought Affinity Gaming, operators of three resort-casinos in Primm and Silver Sevens near the Strip.
Director of Human Resources Lisa Seebeck said the company usually struggles to find workers willing to commute to the state line. The limited applicant pool makes it even more difficult, she said.
"Not only are we struggling against the distance, but we're struggling against competitive wages and finding anyone willing to go to work," Seebeck said.
Some applicants at the job fair said it is also challenging for them.
North Las Vegas resident Gene Howard said she was looking for a job in the medical field. She was working odd jobs and at a vendor company, but she viewed the work cards required for some positions as unnecessary barriers.
"It's too hard out here," Howard said. "You have to get all these work cards — how are people even getting these work cards if they don't have the money? It's too much to get a job, even if some employers will wait."
Las Vegas resident Nadia Mihailovic said she's coming back into the labor market after raising two children under 4, and she is looking to become a registered nurse.
She primarily looks for jobs online but fears her opportunities are limited because of her childcare options. She was encouraged to come to Friday's event because it offered free childcare — a first for the annual job fair.
Mihailovic thinks the labor market remains difficult to break into as it it rebalances from the effects of the pandemic.
At first, hiring was limited during lockdowns and after it was lifted. Then a hiring frenzy started that pushed into 2022, but now, she feels like employers have actually pulled back. Mihailovic said she can apply to dozens of jobs online without hearing from a company.
"It feels like it's right in the middle," Mihailovic, whose husband was also looking for a job at the fair, said. "(Employers are) like, 'OK, we're hiring,' but not so much. It's been a lot harder now that everybody's been remote, like they have enough people. That's why we came out here to the fair, to see if there's somebody that really needs someone right now so we can try to get there today."
McKenna Ross is a corps member with Report for America, a national service program that places journalists into local newsrooms. Contact her at mross@reviewjournal.com. Follow @mckenna_ross_ on Twitter.