Las Vegas lure: arts, culture — really!
October 20, 2011 - 12:59 am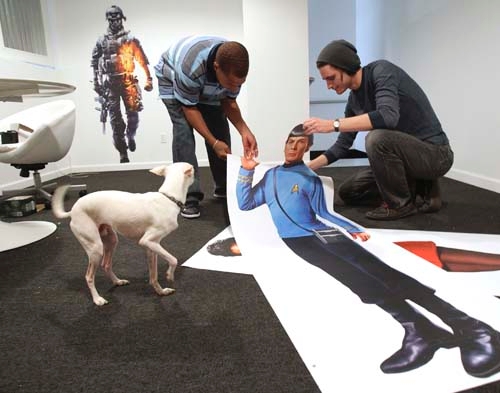 Graphic arts company Walls 360 moved from San Francisco to Las Vegas for Sin City's arts and culture scene.
If you're doing a double-take, that's not a misprint.
Sure, Walls 360's founders liked Southern Nevada's lack of income tax, cheap real estate, low-cost shipping and big available workforce.
But it was downtown's monthly First Friday arts festival that really did the trick. Co-founder John Doffing read about it in an article by a tech writer who noted the growing arts scene centered on e-tailer Zappos.com, which plans to move into City Hall in 2013.
"We went to First Friday and checked things out. We're an artist-centered company, and there's this incredible community of artists in this city that we didn't know about," said Doffing, who ran startups in Silicon Valley for more than 15 years before opening Walls 360 here six weeks ago. "We visited galleries and started interviewing folks, and it pushed us over the edge as far as telling us this was the place for us to go."
Walls 360 is one of about 10 businesses that relocated to or expanded in Las Vegas from July to September, the first quarter in the Nevada Development Authority's fiscal year. That handful of companies spurred $84.1 million in capital investment in the area, a huge jump from just $3 million in the first quarter of 2009.
Doffing, his partners and representatives of the other companies were on hand Wednesday for the debut of the authority's new "Yes Vegas!" marketing logo — a "thank you" designed and donated by Walls 360 — and to discuss a recent uptick in Las Vegas Valley economic-development indicators.
The "Yes Vegas!" brand already papers billboards along Paradise Road and Interstate 15. Somer Hollingsworth, chief executive officer of the Nevada Development Authority, said the group's future ad campaigns will revolve around the slogan.
"It got an amazing response in blind tests. People told us, 'This says it all.' It encompasses and says everything we want to say. We think it's going to be a big campaign," Hollingsworth said.
If the authority's latest numbers — the best it has seen since the fall of 2008 — are any indication, companies are increasingly investing big in Las Vegas.
The number of companies moving or expanding here in the first quarter was roughly the same as in first quarters in 2009 and 2010, the authority said. The difference is the magnitude of operation. On top of the leap in capital investment, new businesses created nearly 300 direct and indirect jobs in the quarter, double the 150 jobs formed from July to September 2009. The one-year payroll impact of those jobs also nearly doubled, to $13.3 million, up from $7.2 million in 2009. The five-year economic impact of new and expanding businesses jumped to $315.4 million, up from $114.2 million two years ago.
Hollingsworth partly credited the improved capital spending on companies buying real estate, rather than renting. Pricier equipment could goose capital numbers as well.
Interest in Las Vegas is growing, too: The authority fielded 77 business inquiries in the first quarter, up from 57 in 2009. The group hosted 88 site visits in the period, up from 64 two years earlier. Hollingsworth said companies in California and Canada now seem especially keen on Southern Nevada.
Three hundred jobs won't dent local joblessness, with more than 130,000 Las Vegans out of work. Nor are the latest "gets" the types of big fish that grab national headlines when they relocate.
But gradual progress is important, said Brian Gordon, a principal in local consulting firm Applied Analysis.
"In the current environment, every job counts. The market's ability to attract not only large businesses, but small ones, is a critical step in the process of diversifying the economy," Gordon said. "It's unlikely Las Vegas will attract what some would consider a home run every time, but smaller companies that are more entrepreneurial can ultimately turn into home runs. Having a wide range of businesses increases those odds."
The improved indicators are welcome news in a town that has struggled with double-digit unemployment for nearly two years, and an identity crisis for roughly two decades. Where locals fret over the school system, record joblessness, a housing bust and a shortage of high arts, representatives of companies attending Wednesday's authority news conference talked only about the city's young, nimble and available workforce, affordable real estate and burgeoning cultural community.
That long-standing debate about any damage from promoting "Sin City" rather than telling the world about the valley's staid, family-oriented suburbs?
Don't sweat it, the newcomers said.
Liz Maritz, a web marketing strategist with Missouri-based IT company Unidev, said her business hires "high-tech, innovative employees who want a fun environment," so the city's resort and tourist industry is a boon. But Maritz, whose company is working with Summerlin tech incubator Linq360, said Unidev and other new companies should spread the word that Las Vegas has a serious side, as well.
Las Vegas' serious side is good enough for Beyond the Rack, a Montreal-based e-tailer that plans to hire more than 100 technology, human resources, accounting and management employees in the coming year for its new North Las Vegas distribution center.
Doffing said Walls 360, which licenses images from children's books and video games and makes life-sized wall art using high-tech printing processes, now has only seven employees but could have hundreds within a year. All he's missing, he said, are his friends. He and Walls 360's other principals are working to change that: They're talking to close associates who own or operate businesses in high-tech markets such as Silicon Valley and Austin, Texas, about moving to Las Vegas. They're promoting the city's nightclubs, spas, shopping, bargain-basement real estate prices and the fact that Sin City doesn't sleep. Where else an you hold a business meeting at 4 a.m., and have it at any one of 20 Thai restaurants?
"You can't do that in San Francisco or anywhere else," Doffing said.
Even Paul Carr, the tech writer whose First Friday article caught Doffing's attention, recently quit his job at Huffington Post with plans to move to Las Vegas to run a startup financed by Zappos.com CEO Tony Hsieh.
Carr hasn't yet disclosed the nature of the company, however.
Drawing more new business to the valley will require playing up those soft benefits, Gordon said.
"Certainly, these types of business decisions boil down to dollars and cents, but intangibles can sometimes make the difference," he said. "Businesses looking to relocate are looking for markets in which they feel they fit in, whether that's in arts and entertainment or in a core industry. Making sure the glove fits is ultimately going to drive the decision-making process."
Contact reporter Jennifer Robison at jrobison@review journal.com or 702-380-4512.