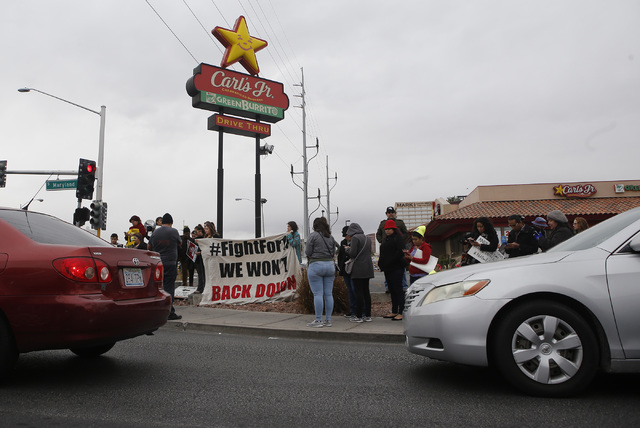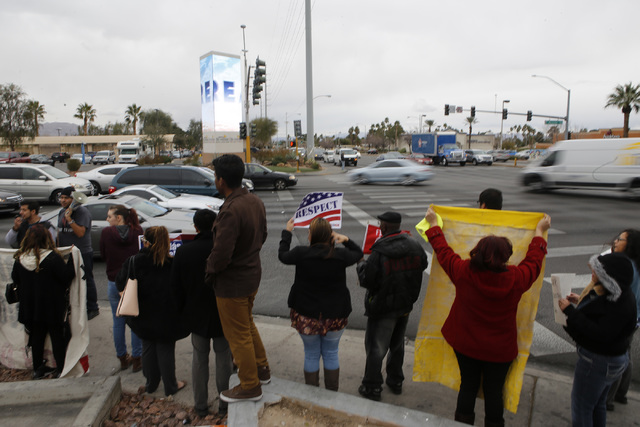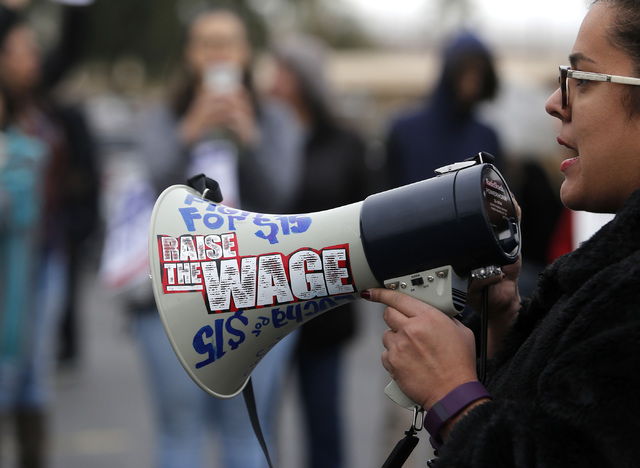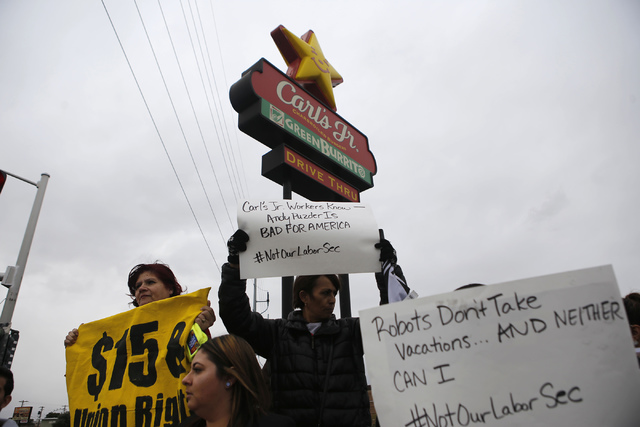 Shortly before the rain fell on Thursday, the click of an officer's cuffs and slam of a police car's door marked an end to a workers' protest at a Carl's Jr. restaurant in Las Vegas.
Las Vegas police put Martin Macias in a police car for an altercation that occurred inside the Carl's Jr. at Maryland Parkway and Desert Inn Road.
Macias had joined a group of about 20 service workers and community members to advocate for higher minimum wages, as well as to protest President-elect Donald Trump's nominee for labor secretary.
"You have the right to remain silent," Macias' brother, Jose, yelled from across the parking lot of Applebee's, where the protesters moved after about seven officers showed at the nearby Carl's Jr. Jose Macias told his brother not to say anything to the officers.
The group of about 20 then dissipated, trying to find out where police were taking Macias. He would be released down the street and given a citation.
Macias sobbed as he was placed in the patrol car. About an hour earlier, he had manned a drum and joined in chants by the group for $15 an hour and in protest of the Trump nominee, Andy Puzder, CEO of the company that owns restaurant franchises Carl's Jr. and Hardee's.
The Carl's Jr. where protesters gathered is not owned by CKE Restaurants but rather a local franchisee.
Inside the Desert Inn Carl's Jr. around noon, a worker wearing a headset filmed protesters on her phone before striking Jose Macias' air horn with a pole.
"This is private property," she said.
The worker, who declined to give her name, exchanged words with the Macias brothers as the group left. Afterward, tears streaming down her face, she said one of the brothers struck her in the arm.
While she said she understood the argument for a $15 wage, she did not agree with the group coming into the restaurant and disrupting about nine patrons who came for lunch, she said.
"These guys are crazy," she said. "They have no respect."
While police at the scene declined to specify Martin Macias' charges, they said it was related to the incident inside Carl's Jr.
Stephen Miller, professor and director of UNLV's Center for Business and Economic Research, said academics differ on the benefits of a $15 minimum wage.
Most agree that more pay to workers means fewer workers hired, he said.
While in some metro areas like New York, a high cost of living makes $15 an hour necessary, the issue is less clear in a lower-cost metro area like Las Vegas, Miller said.
Representatives with CKE and the franchisee of the Carl's Jr. where the protest gathered declined to comment on the protest.
The International Franchise Association, a trade group for franchise owners and supporting companies, released a statement criticizing the protest and about 24 others orchestrated nationwide.
The group stated its support for Puzder, saying he and CKE have a good record of promoting employees and creating safe work environments. It accused these protests of consisting mostly of union group activists and not representing the interests of most workers.
The protest in Las Vegas appeared to consist evenly of activists and service workers.
"These protests distract from the real issues at hand for our nation's leaders — how to create economic growth at all levels, which is the only real solution to income inequality in America," association senior vice president of public affairs Matt Haller said in the statement.
One of the protesters, Lupe Guzman, had recently returned to Las Vegas after speaking with Senate Democrats in Washington, D.C., as part of a group of current and former Carl's Jr. and Hardee's workers. The workers had gathered to speak against Puzder.
Her voice raspy and faded from an illness, Guzman said she still felt politicians listened to her.
The 47-year-old was the only current employee of Carl's Jr. to join the local protest. She said she was worried about losing her job, but if she did, she said she would pray for a better opportunity.
"I love my job," she said. "Just pay us more."
Guzman said she cares for six children ages 7 to 18. She makes $8.75 an hour and has worked for Carl's Jr. for about seven years. She joined the company because the hours gave her more time to spend with her children. She gave up a $17 an hour pay working in management at a Chuck E. Cheese's.
About three years ago, her shift was changed. She works from 11 p.m. to 6 a.m., takes her kids to school and then sleeps. Last year, she worked Christmas Day without extra pay. It broke her heart to be away from her kids, she said.
"It's a struggle," she said. "I just want us all treated the same."
George Allen, a home health care worker, spoke over car horns honking in support of the protesters, who moved to the sidewalk after the altercation inside Carl's Jr.
Allen makes about $9 an hour and has worked in the field for about 25 years. He's never had a vacation, he said, and he sees six clients a day, usually traveling by bus.
"I care for the sick," he said. "But there is no one to take care of us."
Contact Wade Tyler Millward at 702-383-4602 or wmillward@reviewjournal.com. On Twitter: @wademillward