Las Vegas Sands CEO Sheldon Adelson blisters Strip competitors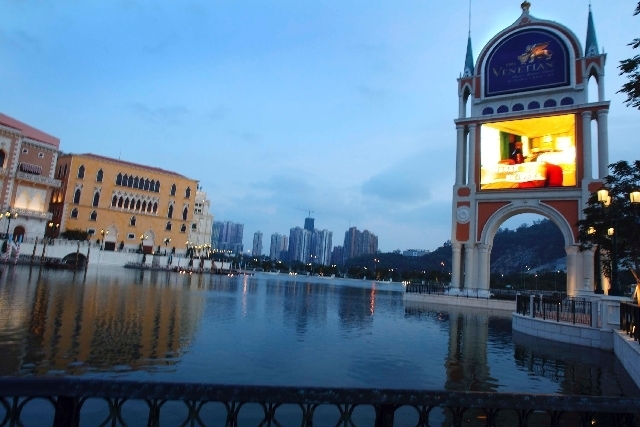 Las Vegas Sands Corp. grew profits 120 percent in the second quarter, fueled by record results in Macau.
But during the company's quarterly earnings conference call with analysts Wednesday, billionaire Chairman Sheldon Adelson provided a few off-the-cuff choice comments directed toward the casino operator's chief competition on the Strip that he blamed for the market not increasing fast enough.
Las Vegas Sands said its net income for the quarter that ended June 30 was $529.8 million, which translated into earnings of 64 cents per share. A year ago, the company reported net income of $240.6 million, or 29 cents per share.
Analysts polled by Thomson Reuters projected earnings of 68 cents a share.
The profits were directly attributed to Las Vegas Sands' properties in Macau. Revenues at the company's four properties grew 40 percent to $2.07 billion. Las Vegas Sands said its Macau casinos attracted more than 14 million visitors during the quarter.
On the Strip, the company's net revenues grew a modest 5.6 percent to $345.7 million, which translated into roughly 11 percent of the company's overall quarterly revenues of $3.24 billion.
Gaming revenues at The Venetian and Palazzo increased 11 percent, but customer spending on food and beverages was off 2 percent.
Toward the end of the conference call, Adelson was asked whether the better than anticipated results from the company's two Strip casinos might be expected in future quarters.
Adelson said he wasn't sure.
The 79-year-old billionaire then directed his remarks toward MGM Resorts International and Caesars Entertainment Corp., which control a combined 20 Strip-area hotel-casinos.
Adelson said the companies "bring down the average daily room rates me and my friend Steve Wynn can offer."
He said the hotels owned by MGM Resorts (other than the Bellagio) and Caesars "don't have the number of rooms we have at the high-end."
"That sucking sound is their room pricing," Adelson said.
He then directed comments toward the two companies' high long-term debt figures. Caesars has an industry-high $21.5 billion in debt. MGM Resorts has more than $13 billion in debt. Las Vegas Sands' outstanding debt is $9.49 billion.
"(Caesars') income barely pays its debt service," Adelson said, adding the company needs to cut room rates to fill its hotels. He said that action hurts others in the market.
Las Vegas Sands President of Global Gaming Operations Rob Goldstein jumped in after Adelson and said the Las Vegas market "was challenging" but would "slowly get better."
Las Vegas Sands' combined casino operations in Macau and Singapore recorded more than $1 billion in cash flow during the second quarter, which helped increase profits.
Net revenue from the Marina Bay Sands in Singapore grew 6.4 percent to $739.5 million.
Cash flow, often described as earnings before interest, taxes, depreciation and amortization, was $657.2 million in Macau and $296.2 million in Singapore.
"The prudent management of our cash flow, including the ability to increase the return of capital to shareholders while maintaining a strong balance sheet and ample liquidity to invest in future growth opportunities, remains a cornerstone of our strategy," Adelson said in a statement.
Las Vegas Sands reported earnings after the stock markets closed Wednesday. Shares of the company closed at $54.95 on the New York Stock Exchange, down 76 cents or 1.36 percent.
Contact reporter Howard Stutz at hstutz@reviewjournal .com or 702-477-3871. Follow @howardstutz on Twitter.