Las Vegas strip clubs offer discounts in sour economy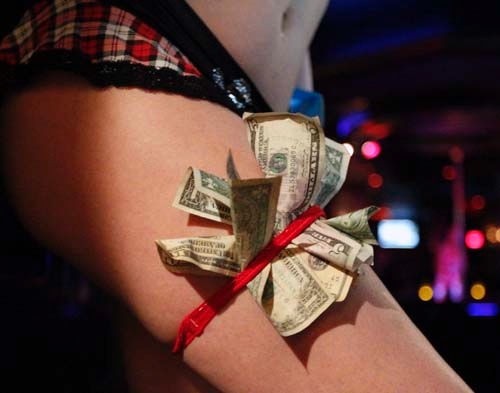 Times are rough in Las Vegas, even for Sin City's second-most lucrative vice.
With the recession still dragging down discretionary spending, just the opportunity to ogle — or fantasize about your chances with — dozens of beautiful naked women isn't enough to pack in the tourists these days. So a number of Las Vegas strip clubs are offering discounts and freebies to seal the deal, particularly during off-peak hours.
Some, such as Cheetah's, will give you two-for-one lap dances every afternoon.
Others, like the Can Can Room and Crazy Horse III, halve the price of a lap dance that usually costs $20 for three to 4½ minutes at an all-nude club or two minutes at a topless joint.
And if the prospect of a nude woman writhing a few millimeters from you isn't enough to get your business, how about a nice brisket?
Treasures lays out a free buffet, featuring brisket, pizza, bratwurst and Italian sausage to entice customers during the early evening hours, when business typically is slow.
"For people getting off work at that time, it's quite a draw," says Nicholas Foskaris, assistant general manager at Treasures. "The early hours are very tough in this business, and always have been. When I was young, that (free food) was what the hotels did to bring people in. So that's what we do."
He says that business began to sink as the recession deepened at the end of 2008 and that 2009 was rough.
"But we started to pick up at the end of 2009 and it has been busy ever since," Foscaris notes.
The club also offers deep discounts on booze during slow times — as low as $1 for drinks that normally might cost $10.
FOLLOW THE DOLLARS
"For years, Las Vegas has pretended like the adult community doesn't exist," says Wayne Bridge, CEO of the Sin City Chamber of Commerce, an alliance of adult-oriented businesses. "It's a huge part of the economy and it's really helping to carry a lot of people."
At last count, there are 32 active strip clubs and between 30,000 and 40,000 registered exotic dancers in the Las Vegas Valley. On weeknights, some 1,500 women bump and grind at clubs here; weekends, that number doubles or triples.
"It's huge," Bridge says.
How huge?
An estimated $8 billion per year, second only to gaming as a component of the Las Vegas economy.
Strip club managers say the freebies and discounts are big draws, and Las Vegas local C.J. Duncan agrees. He drops by the palatial Larry Flynt's Hustler Club for free food and drinks at least once a month.
Duncan's reason is simple: "It saves me money."
He seldom springs for a lap dance, the strippers' financial mainstay. He eats, drinks and just enjoys the scene at the Walmart-size "erotic events center" staffed nightly by 100 dancing "honeys."
"Gentlemen's clubs have a taboo feel, but more often than not it's pretty chill," Duncan says. "It's an interesting dynamic."
Diana, a manager from Cheetah's who didn't want her last name published, says her club doesn't provide free pizza and wings specifically to draw in customers: "I don't want to have to worry about people drinking and not eating. When people get off work, they're hungry."
At Strip Hop, a couple miles off the Strip and where music is all hip-hop all the time, free booze is poured nightly.
And Sherri's Cabaret, a short cab ride from the Strip, recently opened a tattoo parlor. Have a $200 tattoo inked between 7 p.m. and 5 a.m. and you get a free lap dance, too.
Jacko Smiley, a VIP host at Treasures, says promotions help attract a lot of clients: "They want a deal. They want something for free."
WORKING HARDER, BUT MAKING IT
If Treasures' business is indicative, such marketing moves seem to be helping a skin-industry comeback. In 2010, its business increased by 45 percent.
"It's not as high this year, but it's pretty close," Foskaris says. "It's still steadily improving."
The club's VIP hosts, too, are hustling to bring back customers. Smiley, for instance, has been working his client list, calling out-of-state, repeat customers and promising them deals and free luxuries.
"I'll say and do whatever I can to get them back here," he says.
Smiley gave a bachelor party from Los Angeles a bottle-for-bottle match on top-shelf vodka while they celebrated at Treasures.
They wanted four bottles? No problem. He gave them eight.
"They're happy as clams," Smiley says. "And they're going to share alcohol with the girls. They'll get lap dances. They'll pay with credit cards, and they will tip everyone. It's a win-win for everybody."
On weekend nights, Treasures sees 8,000-12,000 customers, but on weekdays, the club only has from 350 to 450 patrons. Smiley says the clientele tends to arrive in larger herds now, rather than smaller groups of one or two people.
"They get a better entry deal with a group rate," he theorizes.
The $20 cover charge is waived and VIP seating is offered to any bachelor party-sized groups that will buy a $300 bottle of liquor.
STRIPPERS FEEL THE PINCH
Less than a mile away at Diamond Cabaret, the club experienced its own rough patch a couple of years ago, says Alexis, a six-year dancer at the club.
Now, customers, mainly tourists, have been coming back. On a good night, Alexis says, dancers can take home $1,000. Strippers in Las Vegas work as independent contractors, not club employees, and tips are 100 percent of their take-home pay.
"Guys probably tip a little less than before the recession, but it's still good money," she says.
On slow nights, a $100 take-home makes for a sad exotic dancer.
"You at least want to make more than what you could make at any other job because why else would we do this?" she asks.
The average customer expects to spend about $100 on a visit to a strip club, Alexis says, but that can increase quickly if he meets the right girl: "Obviously, if they like somebody, they end up spending more money."
In response to the recession, Alexis and her colleagues have adjusted their own marketing efforts.
"The girls now are nicer to the customers," she says. "You want to make sure the guy feels comfortable spending. We actually put more time into it."
Most men at strip clubs just want companionship, she says, so the longer a dancer talks to him, the more memorable his lap dance will be.
"It's a good way to get repeat business," Alexis says.
Shannon Colcord, a dancer at Spearmint Rhino for four years, says strip clubs usually are slower during the summer, when fewer conventions are in town.
"It's more a party crowd now," she says. "And they're just not spending as much." Colcord's income has dropped by two-thirds since May, in part because of the seasonal difference and in part because of the continuing recession.
Dancers at the Rhino actually pay the house $45 to $85, depending on the shift and also tip the disc jockey, hosts and valet. If it's a slow night, Colcord says, some strippers can lose money.
"Now I go into work, and I'm not sure if I'm going to make money," she says. "It's all relative to the girl. It's just a gamble. You never know."
Colcord now cultivates a regular clientele, most of whom live in other states.
"I make sure when they're going to be in town, I work," she says.
Most locals, Colcord says, don't spend as much as tourists: "Basically, they want to have a beer with a good view."
GOOD TIMES AHEAD?
Like the other venues, Cheetah's had a couple of tough years, but one manager says things have gotten better recently.
"It's starting to pick up now," Diana says. "I think people are becoming secure with themselves right now."
She also has noticed an increase in female customers, a trend that Treasures' Foskaris has seen, too.
"It's an extension of a nightclub," Diana says. "I don't think there's an insecure feeling anymore. Women get dances as well as men."
She says the industry also has been affected by the Strip itself.
"The business gets a little tougher because the casinos are more self-contained," she explains. "It's tough on any kind of nightclub that is free-standing. Every time another nightclub opens, it hurts our industry a little more."
Foskaris says the competition is tough, and that a lot of strip clubs have closed.
Publicly held Rick's Cabaret International, for instance, closed its monstrous Las Vegas location in April.
"We have done everything possible to make this location viable since its acquisition in 2008, and we now believe it is in our shareholders' best interests not to continue these efforts," Eric Langan, president and CEO, said in a statement at the time. "We do not believe the Las Vegas market itself will return to its former strength in the near future, and thus it is more logical for us to use our financial and management resources to focus on viable acquisitions and grow our other properties."
Treasures disagrees.
The club, a Romanesque pile that bills itself as "The Most Luxurious Gentlemen's Club & Steakhouse in the World," is obtaining permits to expand to a three-story, 20,000-square-foot building with a rooftop deck and 45-foot stage.
Gushes Foskaris: "It's going to be amazing."
Contact reporter Laura Emerson at lemerson@lvbusinesspress.com or 702-380-4588.