Las Vegas workers buy into direct selling
Updated August 6, 2017 - 6:57 pm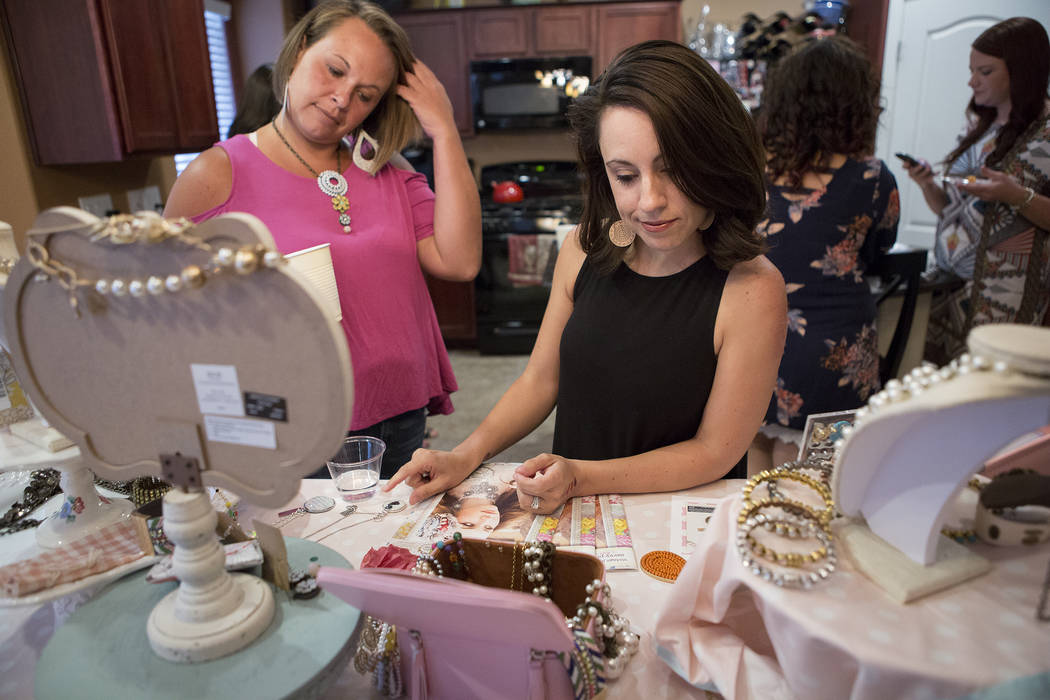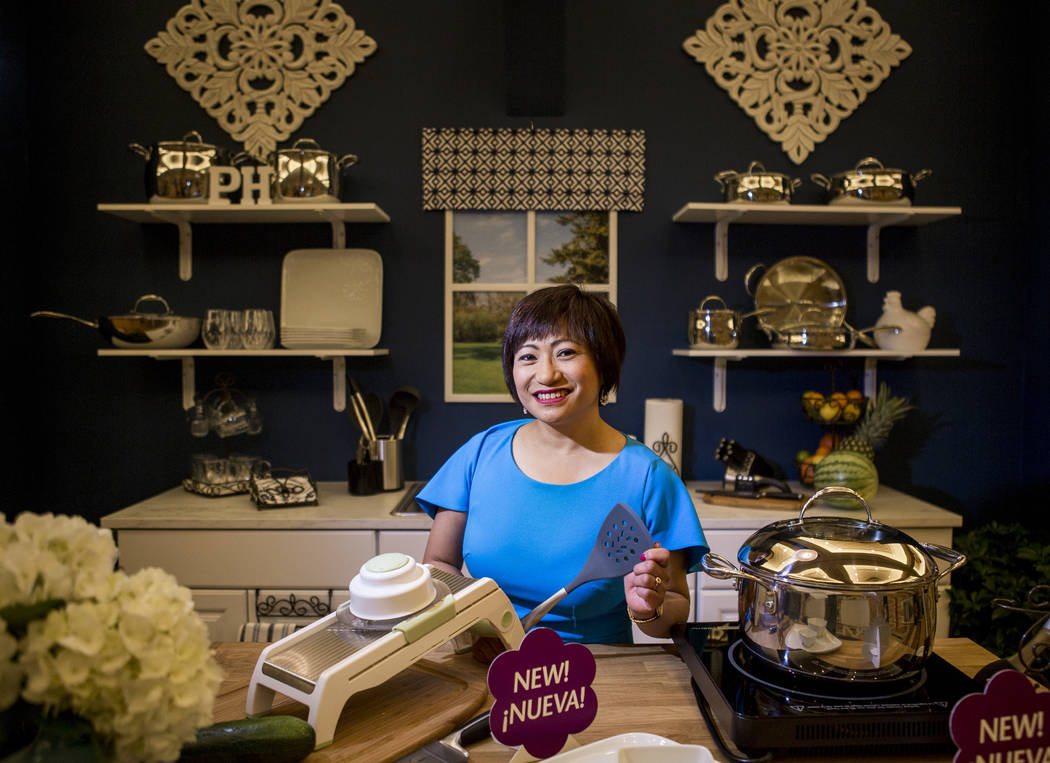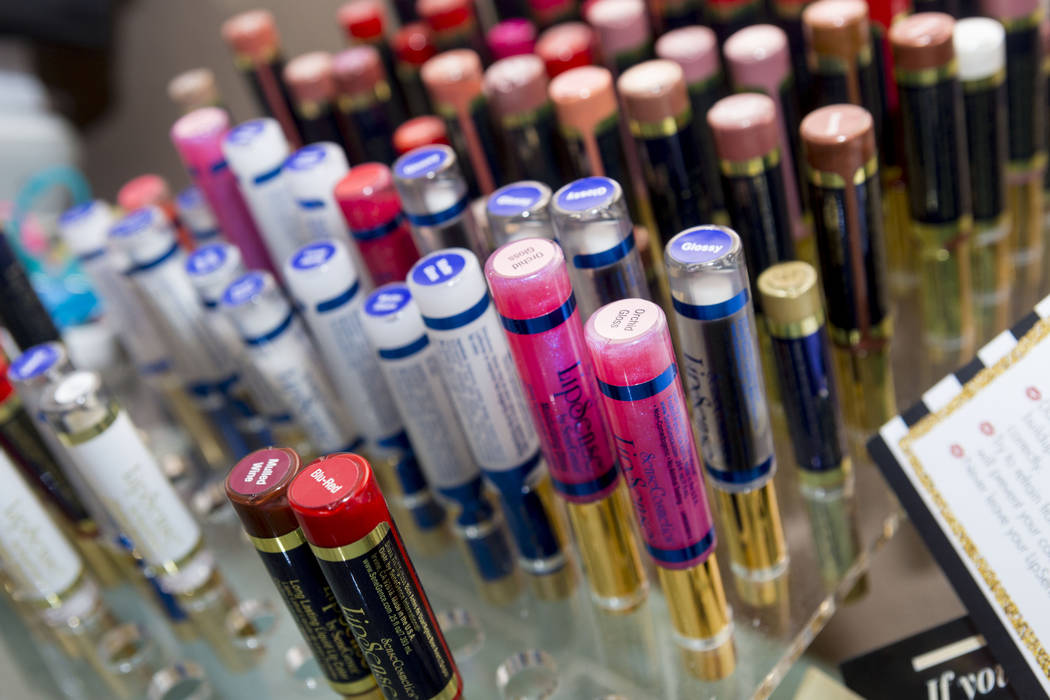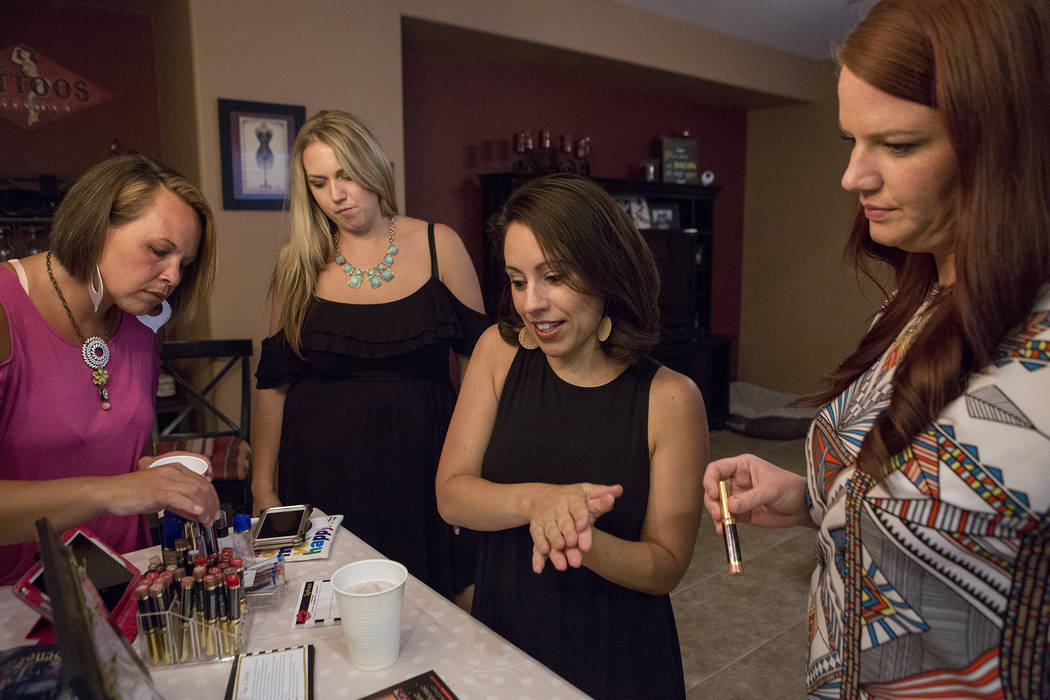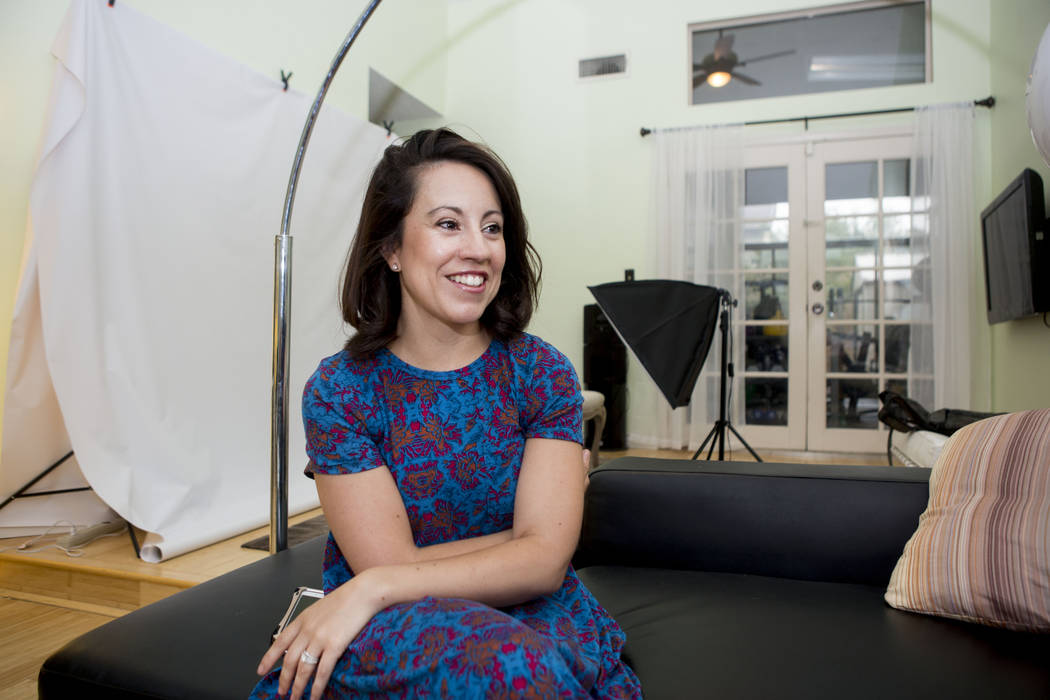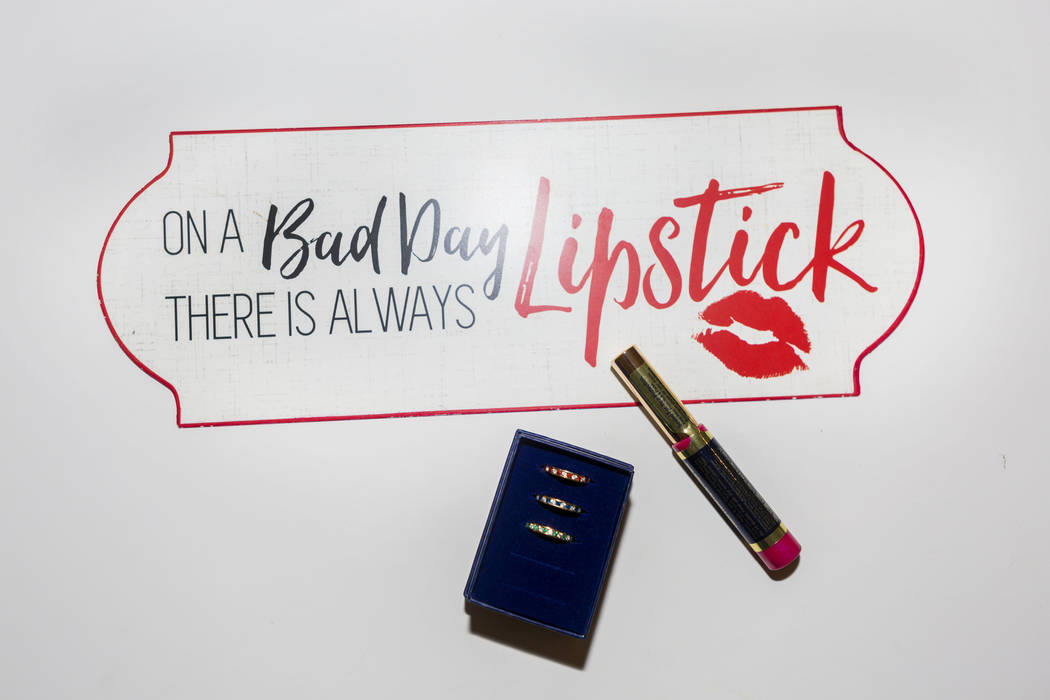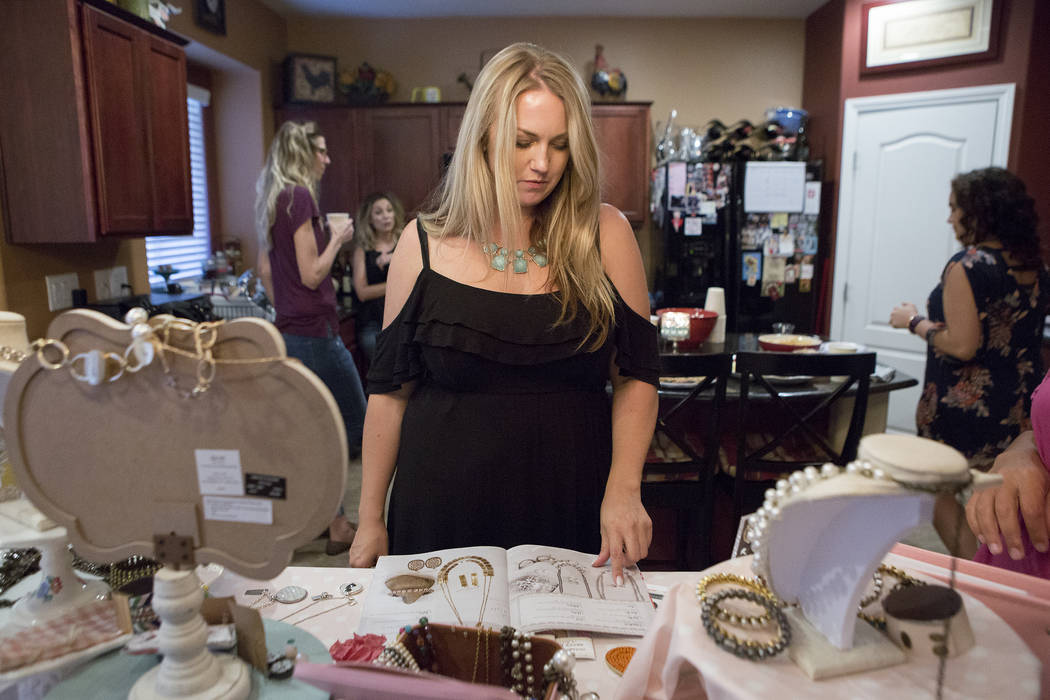 Amelia Cooper, 33, showed up to her friend's house on a Thursday night prepared to eat, drink, socialize and spend up to $50 that she budgeted to support her new friend's side gig: Plunder Design.
Plunder, founded in 2014, is one of several in a crop of multilevel-marketing companies that are making the rounds on social media and making their way into Nevada.
The Direct Selling Association estimates that there are around 173,180 people involved in direct selling in the state. You might have seen some of them on Facebook, selling Plunder jewelry, leggings from LuLaRoe, or lipstick from SeneGence.
The recession attracted Nevadans into the direct-selling industry, according to data from the U.S. Current Population Survey. And though the local economy is out of the woods, the industry continues to draw locals in.
"The bigger question is, of course, do they really make any money at this?" posed William Keep, dean of The College of New Jersey School of Business and one of few independent academics who study multilevel-marketing companies.
It depends.
Three local direct sellers for different multilevel-marketing companies say that they are in the industry because they like the products they sell and they are either making money, hoping to make money or enjoying the work and not expecting any regular income.

Las Vegas Review-Journal
Earners
"I had a cocktail job in Vegas that made money, and I make more money doing this," said Teresa Isgriggs, who became a SeneGence distributor in July 2016 and quit her job at the Rio in April.
As a SeneGence distributor, Isgriggs sells skin-care products, which range from anti-aging foundation to facial moisturizer, and makeup products, which range from eye shadow to lipstick.
She has slowly built up a stock of inventory for potential buyers to try and buy on the spot. Isgriggs estimates she has close to 100 new lipsticks on hand, with about 35 additional tester lipsticks and glosses on hand for people to try. She also has a handful of tester skin-care products and several dozen other makeup items. Much of this stock is stored in her home on her work desk and in a briefcase she takes with her to vendor parties.
SeneGence does not have an income disclosure statement available on its website, and the company did not respond to a request for comment.
Isgriggs said company policy prevents her from disclosing exactly how much she earns, but she said it's enough to feel good about contributing to her household income.
SeneGence became the "key to staying home" with her son, she said.
What makes a direct seller financially successful is largely determined by how many people already have been recruited in a given market, Keep said.
SeneGence reports having around 200,000 total distributors nationwide, with about 2,400 of those in Nevada.
In most cases, Keep said, the earlier a direct seller penetrates a market, the more opportunity for that person to make money than the next because direct sellers can make more money from recruiting additional sellers than from their own product sales.
Isgriggs confirmed that is the case for her and estimated that she reinvests about a quarter of what she earns back into SeneGence products.
Hopefuls
For Courtney Everard, who became a Plunder stylist in May, being a direct seller is "a side hustle I can have fun with."
Everard still works full time as a sales and event coordinator at MEET Las Vegas. She became a stylist because she already bought a few pieces of jewelry that she really liked, and she said people were asking her where she bought them.
"At that point, it kind of just turned into a, 'Well, this is silly. Why don't I just get it for them?'" she said. At the same time, she was already spending money on the product.
"I like jewelry, I like big jewelry, I like lots of jewelry," she said. "For me, it was kind of a no-brainer. There was no harm, no foul in getting involved. … If it's just something I could put towards a credit card bill, or putting away money for the baby we (Everard and her husband) plan to have, I'm OK with that."
Everard said she has about a dozen pieces ready to sell and about 20 personal pieces for anyone to try.
A month and a half in, Everard said she has made back the $99 it costs to become a Plunder stylist.
According to Plunder's 2016 income disclosure statement, which Everard read, "Less than 12 percent of all Stylists earned more than $1,000 in 2016." Meanwhile, the company reported that the average annual expenses a Stylist incurs are $1,074.40.
"It basically told me that I would have to make sure that I am selling enough to cover the cost of any personal purchases I make on the products I like — purchases that I probably would be making regardless — and potentially still make extra on top," Everard said.
Everard might be positioned to do better than average because Plunder reports having fewer than 11,000 total distributors nationwide, with about 45 of those in Nevada, which means there is significant opportunity to recruit additional sellers.
Everard hosted a combined vendor party with Isgriggs on July 20, at which Everard sold Plunder products and Isgriggs sold SeneGence products.
Hobbyists
For Deana Didier, an independent fashion retailer for LuLaRoe, selling "buttery soft leggings" since February 2016 has been a creative outlet.
Between working the graveyard shift full time as an X-ray technician and juggling her family life, she said she wanted something of her own that she was passionate about.
Though she said that she became a retailer so she didn't have to work two jobs, she is not yet as financially successful as she would like to be.
LuLaRoe's 2016 income disclosure statement accounts only for income that retailers made based on the sales production of their teams. According to consumer advocacy group Truth in Advertising, the statement shows more than 85 percent of retailers received no bonuses in 2015 and the average annual bonus paid to a LuLaRoe retailer at all ranks was $92.
"Either way, I'm in this for the experience," Didier said. "I'm happy to do this like I am for the fun, in order to meet new people, to help others feel confident — whether it's as another retailer or as a customer in the clothes."
On average, she estimated she reinvests half of what she makes back into the product. Didier has created what she calls a "mobile boutique," a trailer with more than 700 items of clothing.
Sometimes she will reinvest all of what she makes depending on the financial needs of her household, she said.
A LuLaRoe spokesman said there are 527 LuLaRoe retailers in Nevada and more than 80,000 across the country.
Skeptics
The direct selling industry has battled a negative perception about how the industry operates. In the past 40 years the Federal Trade Commission has filed 26 cases against multilevel-marketing companies alleging that they were operating like pyramid schemes, according to Truth in Advertising. In nearly all of the cases, the companies in question went out of business or had to restructure their business models, per terms of the settlement.
Cooper said she believes millennials are changing the negative perception as 20- and 30-somethings are using multilevel-marketing companies to make money doing something they're passionate about. She added that anything can be a scam, depending on the people involved.
"The only reason why MLMs get attached to that label is because they cast a wider net than say, a journalist or a makeup artist. More people are involved in that game, or the game doesn't work," Cooper said.
Isgriggs, Everard and Didier said they did not have a negative perception about multilevel-marketing companies and haven't come across many people who do, as many of their friends are also in the industry.
"I have eight to 10 friends who do this," said Lydia Pierce, 30, who attended Everard's July 20 vendor party. "I'm happy to go buy from people I know, as opposed to people I don't know, and support her, as opposed to a large company. It feels more personal."
Pierce is not involved in the industry herself but was happy to browse Plunder jewelry and buy some SeneGence lipstick, marketed as a lipstick that stays on for up to 18 hours.
"I've wanted to buy it for a while," she said, after hearing good reviews from a friend who has it but doesn't sell it.
"I'm in the event industry, and running around and not having to reapply sounds amazing."
Isgriggs, Everard and Didier agreed that being a direct seller isn't for everybody, and it's all about having the right expectations.
Contact Nicole Raz at nraz@reviewjournal.com or 702-380-4512. Follow @JournalistNikki on Twitter.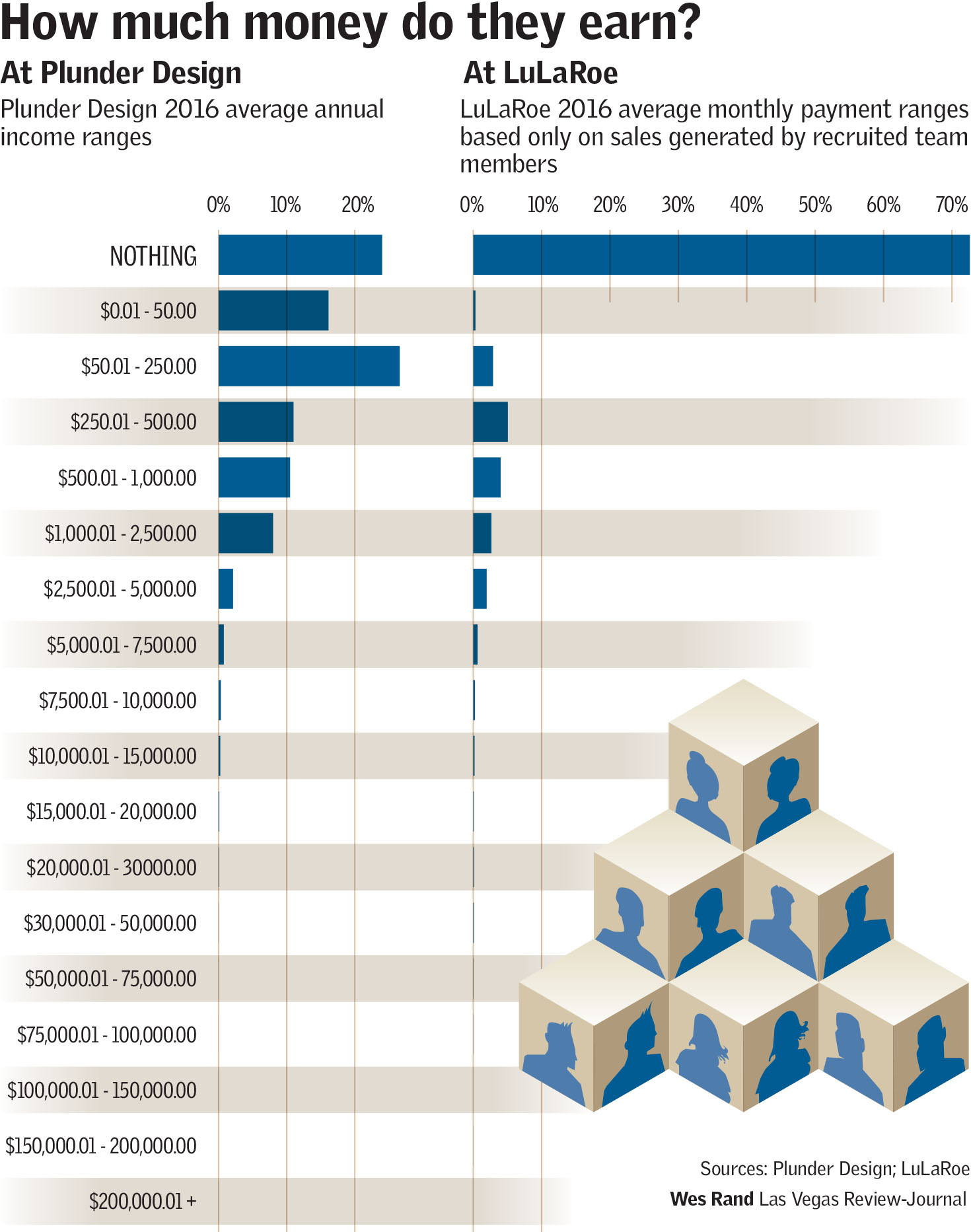 Las Vegas Review-Journal
Multilevel-marketing business model
It's a business model in which a company's products are available only through a network of independent distributors. Known as stylists, consultants, representatives or other titles depending on the company, distributors make money through direct sales of products to consumers and by recruiting new distributors who also buy and sell products and recruit others. Purchases by new distributors generate earnings for those who recruited them.