Local economic indicators continue to rise
November 4, 2010 - 10:24 am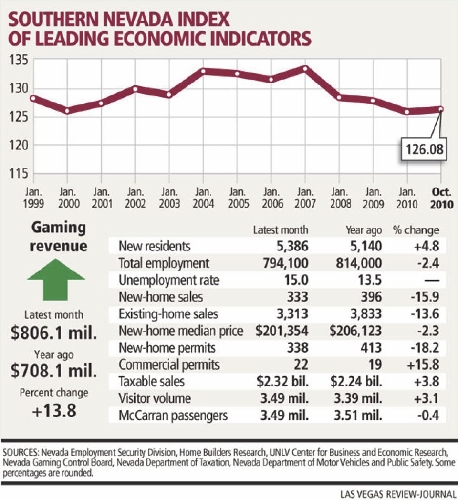 Strong growth in Clark County's gaming revenue for August drove the Southern Nevada Index of Leading Economic Indicators to its second consecutive monthly increase, UNLV's Center for Business and Economic Research reported.
The index climbed to 126.08 in October, up from 125.77 in the previous month, and remains above the year-ago level.
None of the categories other than gaming had much of an influence on the index, said Stephen Brown, director of the research center at the University of Nevada, Las Vegas.
For the past 18 months, the index has provided no clear direction for the Southern Nevada economy, Brown said Thursday. Given the relatively small gains in the index over the past two months, a stronger showing is needed to provide evidence that the Southern Nevada economy is on the rise.
October's index showed a 46.3 percent year-over-year increase in convention attendance for August, a 13.8 percent increase in gaming revenue and 3.8 percent gain in taxable sales. On the decline were residential building permits, down 49.1 percent; residential permit valuation, down 31 percent; and commercial permit valuation, down 79.6 percent.
The economic index, compiled by the UNLV research center, is a six-month forecast from the month of data, based on a net-weighted average of each series after adjustment for seasonal variation. October's index is based on August data.
The accompanying chart includes several of the index's categories, along with data such as new residents, employment and housing numbers, updated for the most recent month for which figures are available.
A separate index measuring Clark County business activity was up 1.3 percent in August and up 1.1 percent from a year ago. Again, the growth was driven primarily by gaming revenue and taxable sales, while employment continued to slip.
Clark County's tourism index showed strong gains in August. Although nearly half of the growth in gaming revenue came from a small number of baccarat players, the increase from other gaming sources provides hope that the gains may be sustainable, Brown said.
"I think the timing is right," he said. "I think we are probably at the beginning of recovery in the Las Vegas economy. I just don't know how big it will be next year."
Brown expects the real estate market to take a little longer to recover. People are still upside-down on their homes — owing more on their mortgages than the homes are worth — and there are still a lot of empty houses on the market, he said.
"What we're seeing in new homes is prices are sinking, but price per square foot is remaining stable," Brown said. "Construction costs have been pushed to rock bottom. You can get a smaller house for a cheaper price, but not cheaper per square foot."
An October forecast from Irvine, Calif.-based Real Estate Economics shows median home prices in Las Vegas increasing 2 percent to $142,600 in 2011 and climbing to $179,402, or 7.5 percent annual appreciation, in 2015. Total employment is projected to grow from an estimated 805,258 this year to 816,725 in 2011 and to 937,883 by 2015.
Al Barbagallo, vice president for Marcus & Millichap brokerage in Las Vegas, said he's seeing some positive trends for the economy.
Hotel occupancy rose 0.6 of a percentage point from a year ago to 82 percent, and average daily room rates increased 4 percent to $87.40. Visitor volume and convention attendance are up 3.5 percent and 46.3 percent, respectively, from a year ago.
The bridge bypassing Hoover Dam is finished and will bring more traffic from Arizona to Las Vegas, Barbagallo said. Automobile traffic is already up 3.2 percent this year.
"I have lived here for over 40 years. I've seen the highs and lows," Barbagallo said. "However, it is my opinion we are past the worst and have bottomed out."
Las Vegas-based Applied Analysis business advisory firm reported a 37.2 percent increase in stock market performance for travel and tourism over the past three months, second only to a 40.7 percent gain for platinum and precious metals.
The National Bureau of Economic Research announced in September that a "trough" in U.S. business activity occurred in June 2009. The bureau noted that in determining the timing of the trough, the committee "did not conclude that economic conditions since that month have been favorable or that the economy has returned to operating at normal capacity."
The declaration simply means that the recession ended based on recovery conditions since that date. Any future downturn of the economy will be a new recession and not a continuation of the Great Recession that officially began in Decem­ber 2007.
Contact reporter Hubble Smith at hsmith@reviewjournal.com or 702-383-0491.