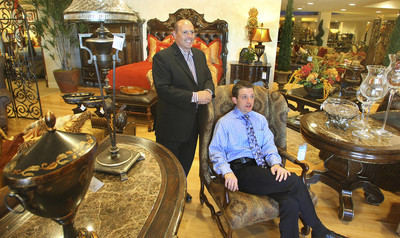 So you're just waiting for the perfect opportunity to spend $30,000.
What do you drop it on? College tuition for the kids? A new car? A swimming pool?
Well, the executives at Robb & Stucky Interiors hope you'll buy a cocktail table.
And they're not offering just any cocktail table. It's a 50-inch by 41-inch slab of 200 million-year-old petrified conifer from northern Arizona. And this weekend, when Robb & Stucky has its grand opening at Town Square on Las Vegas Boulevard, it'll be a veritable bargain compared with its regular price of $44,000.
The cocktail table — a matching end table is on sale for $7,000 — is one small sampling of the rarefied atmosphere inside Robb & Stucky, a 93-year-old Florida business that made its name selling high-end furniture and crafting interiors. The company's new Las Vegas location is its first store in Nevada, and its 28th overall. Along with 90,000 square feet of furniture from sources as varied as Indonesian craftsmen and designer Ralph Lauren, the store houses 17 interior designers just waiting to draft a custom decorating plan for every room in your home.
Alan Reinken, vice president of Robb & Stucky's Western region, said the company is here to capitalize on Las Vegas' status as one of the country's fastest-growing cities. Also, Las Vegas has an emerging core of million-dollar homes in its suburbs and growing legions of vacation-home owners who've scooped up pied-a-terres in Strip high-rises or on private golf courses. Considering its growth in recent years, the luxury market in Southern Nevada is underserved in the furniture and design sector, Reinken said.
But Las Vegas is also an epicenter of the nation's stumbling housing market, which means now might not be the ideal time to open an upscale furniture store.
"It's a gutsy move, there's no question about it," said Joel Naroff, president of Naroff Economic Advisors, a Holland, Pa., consulting firm that counsels businesses on development and expansion strategies. "Starting up a high-end business as we go into either a recession or a significant economic slowdown is a risk, because you're not going to have as many people making high incomes as you would have in a strong economy."
There is logic in launching a business like Robb & Stucky, though, because long-term trends show more growth at the upper end of the income spectrum, Naroff added. The question is whether Las Vegas in particular, with its free-falling home prices and dropping retail sales, is the optimal market for a high-end venture today.
So far, Reinken said, Las Vegas has been very good to Robb & Stucky, which also has stores in Florida, Texas, Arizona and Costa Rica.
About 1,000 people have stopped by the store since it opened quietly without advertising on Feb. 1, he said. Local sales in Robb & Stucky's first week have put the store on the fast track toward its first month's sales goals. Among the earliest purchases: An $11,000 sofa, a $5,000 work of art and an $8,000 set of patio furniture.
The sales "indicate Las Vegas will be very good market for us from day one," Reinken said.
Triassic-era cocktail tables aside, you won't necessarily need a trust fund to swing a purchase at Robb & Stucky.
The store has sofas beginning at $900, with a strong concentration of couches in the $2,000 to $3,000 range. It also sells more-affordable accessories, including hand-painted African trays for $20 and crystal candlestick holders for $75.
Broader price points aren't Robb & Stucky's only tactic for drawing in buyers. Executives believe their speedy delivery services will also win them new customers. The company keeps its North Carolina warehouse stocked with $100 million in furniture, so it can fill virtually any order within a week. That's in stark contrast to most furniture sellers, who don't even make a dining-room set or sectional until a buyer orders it. The manufacturing process often adds weeks or months to a delivery date.
Town Square's central location on Las Vegas Boulevard near Sunset Road should also reel in a diverse customer base, Reinken said. Company executives initially considered opening separate stores in Summerlin and Henderson, but decided instead that one central location with a Las Vegas Boulevard address would generate the most traffic among both locals and tourists.
Town Square executives said they expect Robb & Stucky to bring new shoppers to the center, which debuted in November with about half of its 150 stores open and suffered slow traffic as a result. With the opening of Robb & Stucky, Town Square now has four of its six anchors online. Borders and Whole Foods are scheduled to follow in coming months.
"Aside from having incredible home furnishings, Robb & Stucky is also marking its debut in Las Vegas with this store, and that's important in terms of defining the type of center Town Square is," said Vicki Rousseau, the center's marketing director. "We want to create opportunities to bring something new to the market and to our shoppers."
Robb & Stucky officials seem keen on making their store, with its wood-and-tile floors and Swarovski crystal-studded walls and ceilings, a must-see stop.
They encourage consumers who aren't in the market for new furniture to stop by. The store maintains a full-time "visual crew" of four to make sure it's looking shipshape at all times. A second-floor cafe serves up coffee and freshly baked cookies. Design seminars for the public are on tap for the store's "community room."
And even if 75 percent of the people who stop by Robb & Stucky don't buy today, Reinken said he believes they'll remember the store when they are ready to purchase. Welcoming them now will yield sales later, he said.
Perhaps much later. The typical consumer could need several years' worth of savings to afford Robb & Stucky's more aspirational items.
There's a table topped with a 127-inch slab of teak wood from Indonesia, on sale during the grand opening for $10,000 (regular price: $15,000). A king-size bed with a massive headboard of hand-carved mesquite is on sale for $33,000, but usually sells for $47,000. For $35,000, you can own a dining room table featuring a two-inch-thick block of mesquite, covered with hand-carved, diamond-shaped mesquite tiles. Another dining table, this one on sale for $13,000, features Italian tiles from the 17th century at its center. A smaller, cocktail-table version allows consumers to "buy a piece of antiquity for $4,000," Reinken said. And in its lines, the store overlooks no details: It finishes and paints the insides of drawers, and recesses and finishes the backs of cabinets.
It's all part of elevating the tastes of consumers, Reinken said.
"We're going to create a market by showing people what's available to them. We create interest. We create desires."
Contact reporter Jennifer Robison at jrobison@reviewjournal.com or (702) 380-4512.