Main lender for Hooters Hotel to become owner
February 17, 2012 - 3:38 pm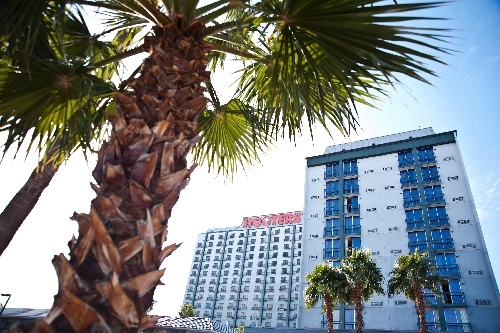 There were no outside bidders on Friday for the Hooters Hotel at a U.S. Bankruptcy Court auction, meaning the off-Strip resort's main lender, an affiliate of Los Angeles-based Canyon Capital Realty Advisors, will become the owner.
A March 30 closing date is scheduled.
Canyon Capital won the sale at a price of $60 million made under a process known as credit bidding. Bankruptcy rules allow a secured creditor — one holding collateral to back a loan — to bid the amount of its debt dollar for dollar without adding any cash.
Both the outgoing ownership and Canyon Capital have agreed to keep operations running as usual during the transition, while everyone else owed money by Hooters will be paid in full.
"Everything will be just the same on March 31 as on March 30," Hooters President Michael Hessling said.
Earlier in the case, sale price estimates went as high as $80 million. In 1972, it was built at a cost of $8 million.
"We had a number of serious parties that were interested," said Matthew Sodl, managing director of the investment firm Innovation Capital, which was retained to market Hooters Hotel. "But when Canyon said it would credit bid $60 million, that chilled the market. The way they did it was out of bounds."
A STUNNING BID
Typically, he said, a lender will announce the size of its bid at the start of the auction. In that event, would-be buyers are already in the courtroom and hopefully have their "competitive juices flowing," he said.
But Canyon Capital stunned Sodl and Hooters' representatives by announcing their opening bid in a hearing last month that set the auction rules.
Sodl said a couple of entities were ready to bid as recently as this week, but Canyon Capital and Hooters' ownership deemed that they did not meet the minimum qualifications. He declined to elaborate.
Canyon executives would not comment after the hearing on their strategy or what they will do with the 696-room property. But at the January hearing, Canyon Capital attorney Lance Jurich said, "We think (the $60 million bid) will eliminate several lowball bidders.
Canyon Capital had also fought hiring Sodl.
Through credit bidding, Canyon Capital could have gone as high as $127.9 before putting in fresh cash. By contrast, court papers earlier in the case had placed a $46.6 million value on the property, rising to $63.9 million when all its inventory and back accounts were included.
Although Canyon Capital has not said what it will do with Hooters, it has made a practice of taking over downtrodden commercial properties of various types and trying to revive them.
INVESTING IN PROJECTS
In one example, Canyon Capital and a partner provided a $56 million loan in 2007 that financed the purchase of what was the off-Strip Debbie Reynolds Hotel and Casino. This was converted into the Greek Isles Hotel and Casino, but it went into Chapter 11 two years later after a default. Canyon Capital took over and reflagged it as a Clarion Hotel.
In separate local connection, Canyon announced last year it would join with former tennis star Andre Agassi in a $500 million venture to build charter schools across the country.
In a different segment of Friday's hearing, U.S. Bankruptcy Court Judge Bruce Markell turned down a request to slash Canyon Capital's potential deficiency claim, the difference between what it is owed and what Hooters is worth that can be collected from former owners.
Last year, the Nevada Legislature enacted a law that would limit deficiency claims to what a mortgage holder paid for the loan if it was not the original lender. Markell ruled that the law didn't apply because bankruptcy sales are much different than foreclosures, which are governed by state law.
Further, he found that U.S. Bank had always been Hooters' creditor as the trustee for the bonds that finance the mortgage and did not come in buy purchasing the bonds at a discount.
Canyon Capital has bought 98 percent of the bonds, raising the total it was owed to about $181 million, including interest. It has never disclosed what it paid, although Hooters said in court documents that it amounted to 22 cents on the dollar.
Contact reporter Tim O'Reiley at toreiley@reviewjournal.com or 702-387-5290.
HOOTERS HOTEL
• Location: 155 E. Tropicana Ave.
• Size: 696 rooms, including 17 suites, 556-car parking garage
• Gaming: 29,000-square-foot casino, 590 slots and video poker machines, 20 table games
• Employees: 701, as of Aug. 1
• History: Opened in 1973 as Howard Johnsons
Went through several name and ownership changes
Purchased in 2004 when it was called the San Remo
Reopened in 2006 as Hooters after a $190 million renovation
Aug. 1, 2011, filed for Chapter 11 bankruptcy protection
• Financial: $43.7 million in net revenues, $73 million loss in 2010, according to the last reported results
LAS VEGAS REVIEW-JOURNAL