Maloofs really want Las Vegas NHL team
January 29, 2015 - 12:21 pm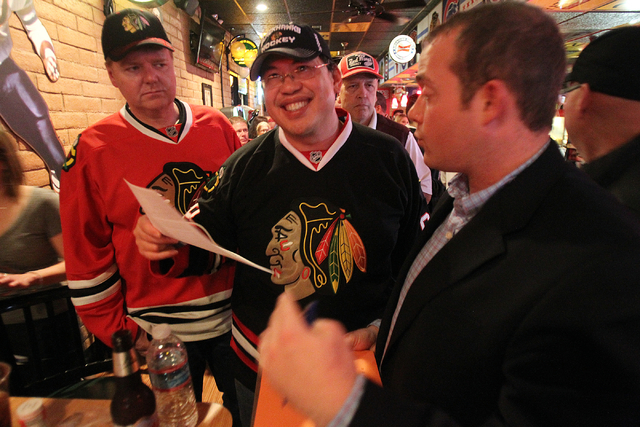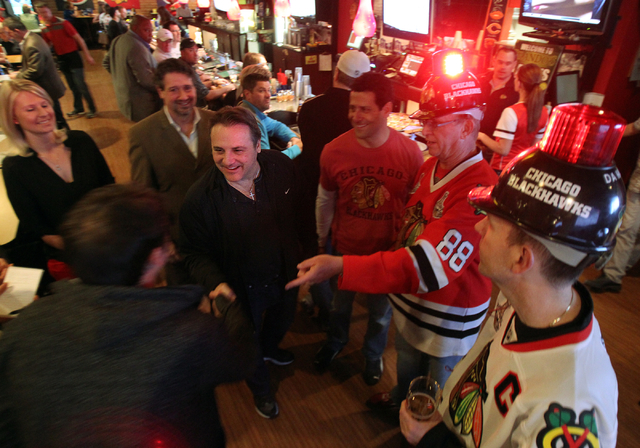 Faceoff for the Chicago Blackhawks-Los Angeles Kings game was just minutes away on TV when Gavin Maloof stepped behind the long bar at Brando's Sports Bar, gripped a megaphone handle and implored the packed house of hockey fans to jump on the Las Vegas NHL ticket deposit bandwagon.
"Stop by our desk to sign up for tickets," Maloof told hockey fans Wednesday evening at the Chicago-themed sports bar on Blue Diamond Road. "This is a historic event. We are trying to get the first major league sports team in the 150 years of the state of Nevada. And it will be at the finest arena in the world."
Maloof's short pep talk triggered a roar of approval from fans, many wearing Blackhawks hockey sweaters. Las Vegas residents and brothers Gavin and Joe Maloof, owners of the NBA's Sacramento Kings from 1998-2013, are joining forces with Jacksonville, Fla., mortgage company owner Bill Foley in a campaign to start an NHL expansion franchise in Las Vegas. It would play in the arena under construction behind New York-New York on the Strip. The arena, being built by MGM Resorts International and Los Angeles-based AEG, is set to open in April 2016.
While Foley would serve as the team's managing general partner, the Maloofs are providing the Las Vegas marketing horsepower.
Wednesday's outing at the hard-core sports bar will be a typical stop along the ticket deposit circuit. The Foley-Maloof team is trying to generate at least 10,000 season ticket deposits to show NHL brass that Las Vegas is a viable big-league hockey market. Fans are being asked to pay a 10 percent deposit on season tickets, with the cheapest deposit being $150.
If the NHL does not award a team to Las Vegas, fans will get their money back. If Las Vegas does draw a franchise, the money will be kept as a deposit for a ticket plan.
"This is ground level, grassroots," Gavin Maloof said.
Added Joe Maloof, "We're trying to create a lot of excitement. We're reaching out to the fans."
Those fans included Marvin Tay, a 47-year-old computer software engineer from Las Vegas who was literally buying into the ticket deposit drive.
Tay had his credit card out for Todd Pollock, the ticket sales director hired by Foley to run the deposit campaign. Pollock was collecting names and contact information for the ticket sign-up launch that officially begins Feb. 10.
"They always say Las Vegas is a place of dreams, and I have been a hockey fan for years," said Tay, a former eight-year resident of Chicago, wearing a Blackhawks sweater. "If there's a sport I see supporting for a long time, it's hockey."
The campaign includes a core group called the Las Vegas Founding 75, local business leaders charged with each lining up at least 60 fans willing to buy a ticket deposit.
"The phone calls keep coming in, and the hockey fans are coming out of the closet," said Todd Barrett, one of the Las Vegas 75 who has signed up 62 people for the ticket deposits.
While Pollock explained the ticket deposits to fans, the Maloofs held court at their bar table, schmoozing with fans. Their down-to-earth style of chatting with everyday fans was reminiscent of the approach by Ultimate Fighting Championship President Dana White, who also enjoys shooting the breeze with locals, one-on-one.
"I've seen Gavin talk with janitors, and I've seen him talk with presidents, and he talks the same way to both," Barrett said. The Maloofs "set the tone for the fan base. It's these types of environments where they have the most fun."
Indeed, Gavin Maloof said he and Joe are off to another hockey campaign pit stop tonight, when they visit the Italian American Club.
"There's not a place we won't go to," Gavin Maloof said.
Contact reporter Alan Snel at asnel@reviewjournal.com or 702-387-5273. Follow him on Twitter: @BicycleManSnel

Rooftop hockey at the Plaza never got off the ground
More coverage
Complete coverage of the various stadium and arena proposals.