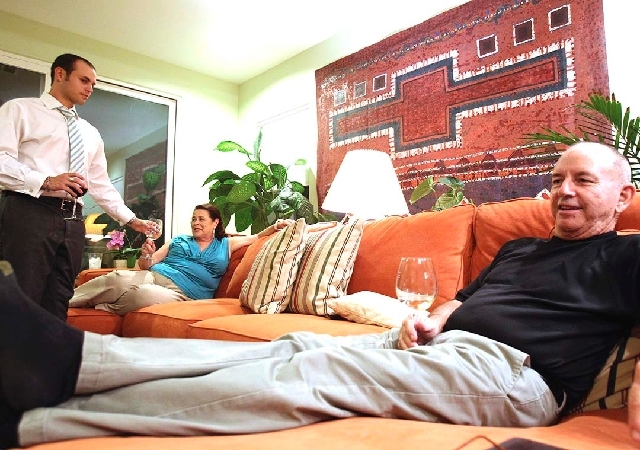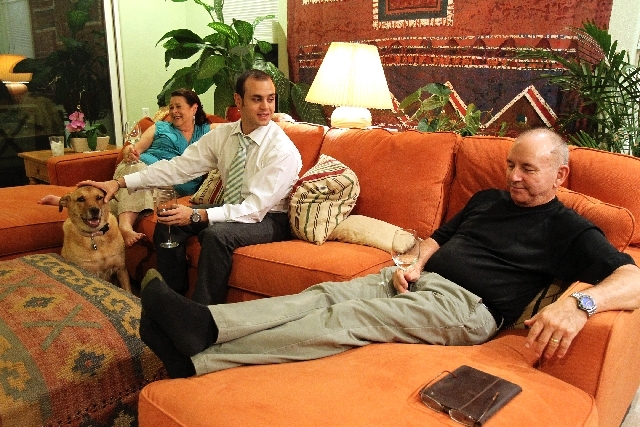 Andrew Baca looks at the world today and frets over what he sees.
Federal debt grows at eyebrow-raising levels. Jobs are scarce. Economic instability reigns. A Web marketing business he launched as a UNLV undergraduate closed as the recession peeled away clients. Plus, Baca's still wrangling down debt from finishing his master's in informatics at UNLV. It's all enough to send a Millennial running back into the soft, easy cocoon of his parents' arms.
That's exactly how Baca, 27, senior manager of the Las Vegas Sands Corp.'s digital marketing program and project management, ended up back home in June, after two years of renting a place on his own. Baca knows it's not the traditional path; in past generations, he'd go from that apartment into his first home. But he said he's too nervous to take that step.
"The outrageous amount of federal debt is a major concern of mine, and I don't see enough economic indicators to make me feel comfortable about a 30-year commitment," he said. "Given the enormous amount of projected debt, I don't see how the economy is going to get better. I could purchase a home soon, but I would rather pay down debt and save, for liquidity and for security."
That refrain peals across the land: A Thursday report from the Pew Research Center found record numbers of young adults living with their parents. That means they're not forming their own households. And the economic fallout could be huge.
"If you continue to live with mom and dad, you're not going to take out a lease on an apartment, or you're not going to buy a home," said Richard Fry, a Pew senior research associate. "And when you get your own place, consumer spending goes with that, too, in terms of buying appliances and furniture."
There are also important social implications in fewer households, said Jed Kolko, the chief economist at real estate website Trulia.
"If young adults are living with their parents out of economic necessity, they would probably be happier if they weren't living at home," Kolko said. "They'd be more on their way to economic and financial independence if they were in a position to rent or buy on their own."
The problem is, legions of Millennials aren't in that position. It'll be up to lenders, builders, parents and the economy to get them there. It could be a Herculean task, given the sheer numbers.
household formation slows
Pew's report found that 36 percent of people ages 18 to 31 — that's 21.6 million Millennials — lived with their parents in 2012. That was up from 32 percent, or 18.5 million, before the recession's 2007 start, and it's the highest share in at least four decades.
So young adults aren't forming households at the usual rate: The nation typically adds 1.1 million new households a year, but from 2008 to the first quarter of 2011, Americans created just 450,000 new households, a July report from Trulia shows. Kolko counts 2.4 million missing households in 2013, up from 900,000 missing households in 2008. That's equal to more than two years of typical household formation gone missing, and the majority of them are younger adults who aren't heading up their own households. That's partly why housing starts dropped from 1.4 million in 2008 to 600,000 in 2011, Kolko said.
From the first quarter of 2012 to the first quarter of 2013, household formation ticked up, but remained well below average, at 521,000.
Experts blame a blend of economic and social trends.
Pew's report points to a big jump in the number of Millennials going to college. Thirty-five percent of people ages 18 to 24 were in college in 2007. That share jumped to 39 percent by 2012, Fry said. Students either go to school locally and stay home with mom or dad or live in a dorm on campus, but either way, the Census Bureau counts them as living at home.
But higher college attendance means more Millennial debt. Nearly half of Nevada college students graduate with tuition debt, with an average burden of nearly $20,000 in 2011, according to the national Project on Student Debt. Those loans make it tougher to save for a down payment and keep debt-to-income ratios low on a mortgage application. A recent report from the Federal Reserve Bank of New York found that home ownership fell twice as fast from 2008 to 2012 among 30-year-olds with student debt as it did for loan-free 30-year-olds.
Nor can you stash cash for closing or qualify for a mortgage if you're jobless. An Associated Press analysis found that nearly 54 percent of people under 25 with a bachelor's degree were unemployed or underemployed in 2012. And though unemployment in Nevada is high in general, at a June average of 9.6 percent, young adults especially feel the pinch. The 2012 jobless rate averaged 15.2 percent for Nevadans 20 to 24, and 11.3 percent for 25- to 34-year-olds, the U.S. Bureau of Labor Statistics reports.
Wages for college grads ages 25 to 34 are also down, falling 9.6 percent in inflation-adjusted figures from 2000 to 2010, to $40,875, according to a Wall Street Journal analysis. Credit scores don't help Generation Y's case, either. The average credit score of people ages 25 to 34 is roughly 630, according to credit-tracking website Credit Karma. That's well below the 700 to 720 many lenders require.
a CHANGE IN PERSPECTIVES
But there's more to lower household formation than economics.
For one thing, there's just less of a stigma to moving home than there used to be, Fry said. Sixty percent of Millennials in a 2011 Pew study said they or someone they knew had to move home for economic reasons.
"A majority of young adults have experienced it on some level. It's the norm, not the exception. It's not unacceptable anymore to live with your parents," Fry said.
Jason Dorsey, a Generation Y expert at the Center for Generational Kinetics in Texas, said blaming the economy "gives everyone an excuse." The fact is, Millennials are "delaying all the big decisions that are the check boxes you mark on the way to adulthood," he said.
Compared with prior generations, Millennials graduate from college later, enter the workforce later, marry later and have kids later. The typical 28-year-old is three to five years behind past generations in terms of work and life experiences, said Dorsey, a Millennial who bucked the trend and moved out of his parents' house at 17.
"Millennials' parents have the philosophy that they want life to be easier for us than it was for them," he said. "They have not cut us off, which is what really forces people out into the world. In past generations, when you were 18, you were out. People essentially became adults faster. As long as people allow their kids to be dependent on them, they'll be dependent. Entitlement is 100 percent a learned behavior, and that's what's missing in these conversations. Parents complain to us, but on the flip side, they give their kids gas cards to pay for their gas."
All of those economic and sociological factors are why just 9 percent of people ages 29 to 34 got mortgages for the first time from 2009 to 2011, according to the Federal Reserve. That's roughly half of the 17 percent with first-time loans in 2002.
But the trend is reversible, observers said. Millennials will eventually catch up in household formation, and that will unleash pent-up demand for apartments and homes, Kolko said. There's already evidence that Generation Y is getting bullish about owning.
wanting homes, lacking means
In Trulia's American Dream survey from July, 59 percent of Millennials said buying a home is the best investment, up from 40 percent in 2011. The age group improved its outlook more than the general population. Sixty percent of all Americans said a home is the best investment, compared with 47 percent two years ago.
Millennials really do want to buy, agreed Rob Pistone, a senior sales associate with Coldwell Banker Premier Realty in Las Vegas. They just can't. Pistone said he gets plenty of calls from 20-somethings who are married or in the military and are especially serious about owning. But they get sticker shock when they see what the payment will be, and that's if they can get a loan, Pistone said.
"A lot of people would rather buy than rent, and I think that's true for Millennials," he said. "If everyone could qualify for a loan, I don't think you'd see this problem. I get calls from Millennials every day, and I tell them they'll have to work out a loan first."
So it's important for young buyers and their sales agents to be persistent when they apply for a mortgage. Pistone recently worked with a 27-year-old who'd just graduated law school knee-deep in student loans. The bank initially rejected the attorney's application because of his college debt, but Pistone found a lender who got the underwriter to consider the fact that the lawyer's student-loan payments were deferred. The attorney qualified.
Homebuilders can help, too. Pistone said builders should reach out to Millennials with offers to help with closing costs, or with mortgages that carry smaller payments in the first two or three years.
Builders also need to remember that Generation Y wants a different kind of housing, said Dorsey, whose group helps businesses understand how to appeal to Millennials. Smaller, low-maintenance homes, especially condos, are popular with the under-34 set, he said. Still, they want luxury, too — think granite countertops or stainless-steel appliances.
And don't underestimate the power of marketing. Homebuilders and apartment developers have to use Twitter and other social media to give their brand a personality, Dorsey said. Millennials take online apartment reviews seriously, and they look for peer feedback on everything from Wi-Fi speed to whether they can walk to their favorite haunts or grocery stores. Free concert tickets for referrals could get Generation Y's attention, too.
"Developers have to think about how to create more of an experience around their property," Dorsey said. "They can sponsor community events, or offer discounted tickets that create a sense of destination. "We're an 'experience' generation."
PERHAPS A MATTER OF TIME
Time will also encourage Millennials leave the nest.
Pistone said he sees evidence that investors aren't buying as much, and that'll make life easier for young homebuyers.
"Millennials are often the lowest on the totem pole when it comes to offers," he said. "Sellers are selective. They see a first-time buyer using (Federal Housing Administration) financing, and it's hard for that buyer to compete with someone who's buying with cash, or putting down 20 percent."
Still, short of a pickup in the business climate, it'll be difficult to coax some Millennials off of the sidelines.
Baca said he looks forward to owning a home and having a family — someday. He doesn't know when.
"The answer is sustained economic improvement. If, for some reason, I lose the job I have, I'm not sure I could support a mortgage," he said. "If the job market were better for people my age, that would encourage me to buy."
Contact reporter Jennifer Robison at
jrobison@reviewjournal.com or 702-380-4512.
Follow @J_Robison1 on Twitter.