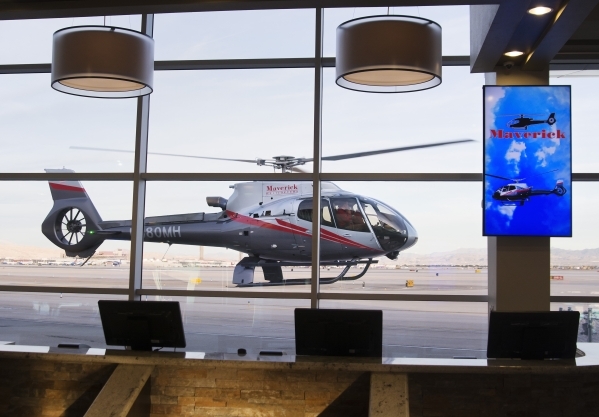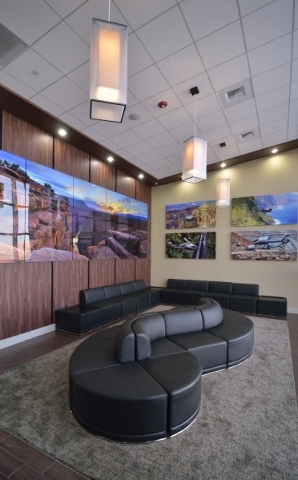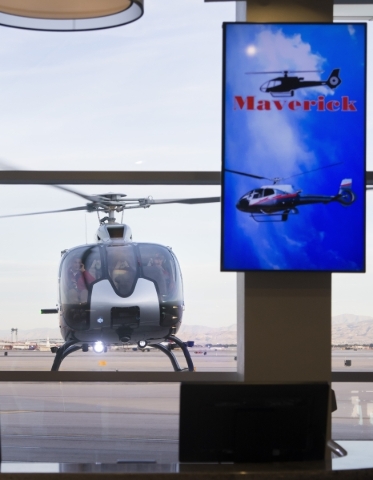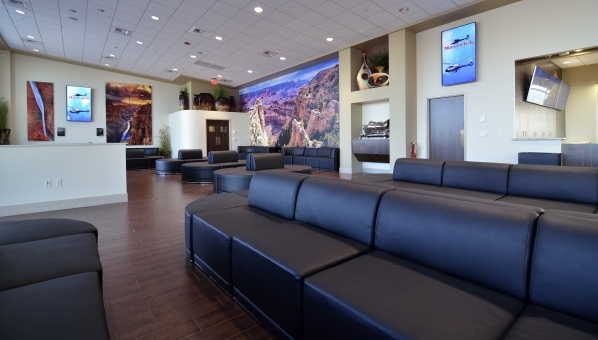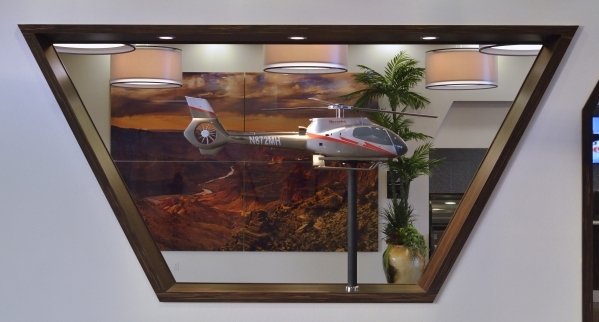 Competition is soaring in Las Vegas' Grand Canyon air tour industry with the pending opening of Maverick Aviation Group's new helicopter terminal on the west side of McCarran International Airport.
Maverick executives this week held a two-night open house for guests to give local dignitaries, resort executives and the media a chance to see the $5 million, 6,000-square-foot facility, which officially opens to passengers on Nov. 30.
"We're really pleased with how it came together," said Maverick President John Buch as guests enjoyed hors d'oeuvres and desserts from Cut and Taste and specialty cocktails by Belvedere Vodka on Thursday night.
It's the second high-end helicopter terminal to open on McCarran's west side in 1½ years. Sundance Helicopters opened its terminal's doors in May 2014 and recently added the ability to host parties and special events.
Maverick's facility offers flexible space, and its most striking feature is its two-story, floor-to-ceiling windows that look out onto McCarran's runways.
"I don't think there's a better view of planes coming in and going out," Buch said. "We're right next to where the runways intersect."
The view east from the terminal overlooks the ends of runways 1R, 16L and 7L, 25R, a perfect place to see takeoffs and landings, day or night.
The new terminal also features a private room for VIPs and group events, a cafe, a registration desk with twice the capacity of the previous terminal just west of the new building, leather couches and a courtyard for group and corporate events.
The terminal also will have an expanded gift shop with branded items, handmade Native American crafts and a separate photo and video desk for passengers to buy pictures and videos from their flights. The terminal's walls are covered with scenic gallery photographs by renowned landscape photographer Peter Lik and several video screens with information and images from the Grand Canyon and the Strip.
Buch said Maverick welcomes the competition because his company's founders have always been proactive in having the best equipment and best procedures in the industry.
"Greg and Brenda Rochna always consider safety first in our business and that sometimes means spending more for equipment or spending more time to do things better than the established standard," Buch said.
The strategy has worked well for Maverick, which is the top helicopter air tour performer in the market, flying 97,289 passengers in the first nine months of 2015. The company has a 26.2 percent share of west McCarran terminal business compared with 24.4 percent for rival Sundance.
Maverick will continue its operations at Henderson Executive Airport and at the Grand Canyon. The company also opened an operation in Maui earlier this year.
Maverick also upgraded its ground fleet to limousine coaches and it holds exclusive contracts to transport passengers to the Las Vegas Motor Speedway for NASCAR races and the Electric Daisy Carnival.
Plans are underway to remodel the old terminal building into group space. When that facility operated as the company's terminal, Maverick operated three helicopters.
Contact reporter Richard N. Velotta at rvelotta@reviewjournal.com or 702-477-3893. Follow @RickVelotta on Twitter.