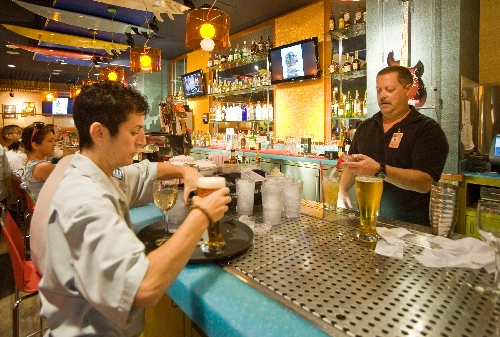 Airplane passengers are arriving at airports earlier than ever, anticipating long wait times due to increased security — and they're hungry for more than fast food fare.
McCarran International Airport has responded to customer demands for sit-down restaurants by adding recognizable brands like Chili's and California Pizza Kitchen, as well as concepts like Burke in a Box from chef David Burke and Sammy's Beach Bar & Grill from rocker Sammy Hagar.
Randall Walker, Clark County's director of aviation, said security checkpoints do not usually take very long, but in the wake of Sept. 11, 2001, passengers expect the worst and arrive with plenty of time to spare before takeoff.
"People are worried about the untypical, so they tend to show up to airports a little earlier than they used to," Walker said. "Between having more time and worrying that they won't get any food on the airplane, they want a good dining experience before they start their travel."
HMSHost, McCarran's master food and beverage concessionaire, began upgrading McCarran's restaurant offerings in 2004, and has promised to spend up to $15 million on the dining expansion.
McCarran planned to open an upscale restaurant in partnership with a well-known chef in the D gates, which is the only area the airport has space for a sit-down eatery, but the recession halted that development. Walker said the airport still intends to add a restaurant in the D gates when the economy recovers.
Jean Hertzman, a professor of food and beverage management at the University of Nevada, Las Vegas, said airports that install sit-down restaurants may also be acting out of self-interest.
"I don't think they're really concerned with the satisfaction of the guest, but they can keep them in a restaurant instead of fighting for seats at the gates," Hertzman said.
Other airports are also adding dining options.
Delta Air Lines is putting 13 new restaurants, bars and cafes in its LaGuardia Airport terminal by next summer, opening the first four this morning.
There's a wine bar at Philadelphia International Airport, a seafood restaurant at San Francisco International Airport, an Asian bistro in Tucson International Airport. Ike's, a local favorite in Minnesota, offers sit-down service at Minneapolis-St. Paul International Airport.
The first thing passengers will see when they pass through Delta's LaGuardia terminal is Prime Tavern, a steakhouse by Michael Lomonaco, executive chef of the Porter House in Manhattan and formerly of the World Trade Center's Windows on the World.
The lack of food options at LaGuardia, one of the nation's busiest airports, disappointed travelers, Lomonaco said.
"The terminal really needed some new restaurant concepts," he said. "It was long overdue for an overhaul."
Restaurant standards such as chopped salad, chicken wings and hamburgers are available, but now so are creamed spinach, jumbo shrimp cocktail and New York strip steak, for about the same prices as on the Porter House menu.
Next is the food court, offering fresh burgers for $6 by Pat LaFrieda, the meat purveyor who created burgers for Shake Shack, and pizza from the DeMarco family, which owns the popular Brooklyn pizza joint DiFara's. (A slice of pizza is $5 there, too.)
As passengers walk down the corridor to their gates, a French bistro offers roasted beets, lobster court bouillon and crème brûlée. One of the bistro's chefs, Lee Hanson, said a smaller version of the bistro exists at JetBlue's JFK terminal and is popular there.
"There's nothing fancy about it," Hanson said. "It'll just be a little more variety for people."
Michael Coury, the concept chef for OTG Management who recruited the chefs at JFK and LaGuardia, said he's trying to break the mold of "horrible" food in airports.
"The whole point of travel is that you're looking forward to going somewhere," Coury said. "Why can't that start as soon as you get to the airport because you're going to have great food and wine and beer?"
Consumer expert Joe Brancatelli, a columnist for the business travelers' website joesentme.com, said the changes are part of an effort to make dining at LaGuardia similar to dining in New York City.
"What you want is a sense that your airport terminal is indistinguishable from your midtown (Manhattan)," Brancatelli said.
It is unlikely passengers will confuse McCarran for the Strip, but high-quality airport cuisine might encourage them to spend a few extra dollars while in town.
"It's a necessary evil; you've got to eat while you're in the airport," Hertzman said. "It's not something that you generally look forward to … I think that is the goal of the airports; they're trying to upgrade so people will spend more money during their time."
The Associated Press contributed to this report. Contact reporter Caitlin McGarry at cmcgarry@lvbusinesspress.com or 702-387-5273.