McCarran passenger numbers unchanged in November
December 25, 2013 - 9:09 am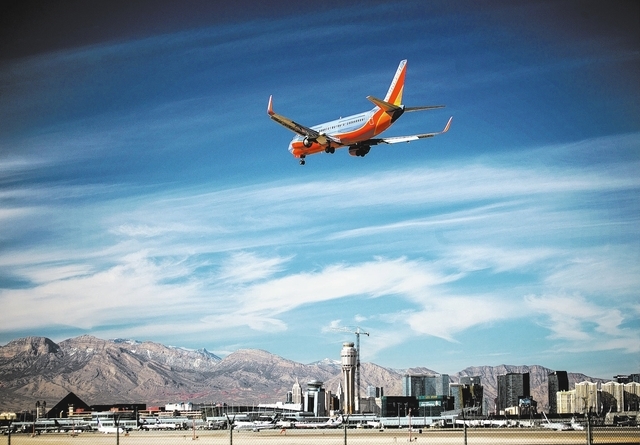 The recent modest uptick in passenger traffic at McCarran International Airport was halted in November, as the numbers year over year were unchanged, figures released Tuesday show.
During the month, the 3.31 million passengers who left or arrived by plane marked a 0.0 percent change from the same month a year earlier. The visitor industry benchmark had increased four of the previous six months, but by no more than 2.6 percent.
In October, the Clark County Department of Aviation, which operates McCarran, posted a 1.2 percent gain from the same month one year earlier. Year-to-date, passenger traffic is up 0.2 percent to 38.5 million, compared with 38.4 million last year.
Domestically, smaller carriers Virgin America, Sun Country and Spirit all posted double-digit passenger gains, with Spirit topping the chart with a 24.7 percent increase in November, compared with the same month last year. Alaska was off 2.4 percent in November.
Spirit's surge was enough to knock Las Vegas-based Allegiant from the No. 5 spot among largest carriers. Allegiant's flier count was down 2.7 percent for November and 1.3 percent for the year; the carrier has concentrated most of its recent growth in the Eastern United States.
Flier counts for the more established airlines were mixed in November, with United, American and Delta posting gains, while US Airways, JetBlue, Hawaiian and Frontier all reporting declines.
Frontier was the only domestic carrier to post a double-digit-percentage decline (12.8 percent) in November.
Southwest and AirTran, which are commonly owned and managed, reported mixed passenger counts for November. The two airlines account for 40 percent of the local market.
Southwest posted a 1.8 percent decline in passenger traffic, while AirTran increased 4.7 percent last month.
Overall, domestic traffic rose 0.2 percent for the month but is still off 0.3 percent for the year.
Foreign travel, usually a bright spot at McCarran, declined 2.6 percent to 248,072 fliers in November, as some carriers did not schedule flights to Las Vegas. Philippine Airlines, Britain's Thomas Cook and VivaAerobus of Mexico were among the six airlines that did not register any passenger traffic in November either because of seasonal schedules or ceased service.
Korean Airlines, Aeromexico and Air Canada posted modest flier count increases; Virgin Atlantic and Sunwing reported double-digit-percentage declines.
However, Canada's WestJet, which now accounts for nearly a third of the international traffic, saw its passenger traffic jump 5.4 percent. This leaves the airline on track to hit 1 million Las Vegas fliers for all of 2013.
Contact reporters Chris Sieroty at csieroty@reviewjournal.com or 702-477-3893. Follow @sierotyfeatures on Twitter. Tim O'Reiley at toreiley@reviewjournal.com or 702-387-5920.