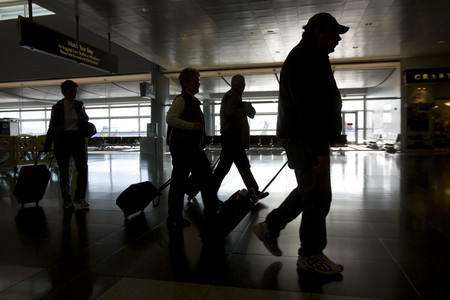 The number of passengers using McCarran International Airport in 2009 fell 8.2 percent compared with 2008 — the single-largest one-year percentage drop.
Almost 40.5 million passengers came through the airport in 2009, down from the more than 44 million reported in 2008, according to figures released Thursday by the Clark County Department of Aviation.
The percentage decrease continued a two-year dip in McCarran's passenger counts.
The 2008 figure was a 7.7 percent drop compared with the all-time high of 47.7 million passengers who came through McCarran in 2007. Last year's decline had tied 1981 for the largest single-year drop.
A primary reason for the declining passenger totals is due to cutbacks by airlines serving McCarran.
Janney Montgomery Scott gaming analyst Brian McGill, who has been following the airport's figures and how they affect tourism, said McCarran has fallen from a peak of 85,000 incoming and outgoing seats per day in March 2007 to 62,000 seats in January, a 27 percent drop,
The airlines, he said, will not add anymore flights into Las Vegas until there is a demand by consumers and current flights sell out on a regular basis.
The good news?
McGill thought most of the cutbacks in flights in and out of McCarran planned by US Airways, the airport's No. 2 air carrier, have already been implemented. US Airways said in October it would reduce service in and out of McCarran by nearly half, the second time in two years that the Tempe, Ariz.-based airline said it was cutting service to Las Vegas.
"We're still seeing weak hotel demand and until a turnaround starts to prove itself, there will not be any changes by the airlines," McGill said. "The airlines need to see a true rebound in the demand for visiting Las Vegas before they will begin to add back service to and from Las Vegas."
McCarran's 2009 total was the lowest figure since 2003, when nearly 36.3 million passengers came through the airport. The 2004 figure of 41.4 million marked the first time the airport drew more than 40 million passengers.
In December, nearly 3.1 million passengers came through McCarran, a 2.1 percent drop compared to the nearly 3.2 million passengers who used the airport in December 2008. In the same month a year ago, passenger traffic fell more than 14 percent due to the recession.
McGill said Las Vegas is still absorbing the nearly 7,000 hotel rooms added at the end of last year, the largest chunk coming from the almost 6,000 rooms associated with CityCenter. Average daily room rates are still down.
With airline capacity declining, McGill said the tourism industry continues to rely on drive-in customers, who demand lower room rates.
"It doesn't make any sense for the airlines to add more long-haul flights until the demand returns, and we may not see that for several months," McGill said.
Four of McCarran's five top air carriers showed declines in their 2009 passenger totals.
Southwest Airlines, McCarran's No. 1 air carrier, saw its passenger counts drop just 1.1 percent, from 15.7 million in 2008 to almost 15.6 million in 2009. US Airways was down 34.9 percent, much of it due to cutbacks in flights.
American Airlines, McCarran's fifth-ranked carrier, served 2.2 million passengers in 2009, a 5.3 percent increase compared with 2.1 million passengers in 2008.
Contact reporter Howard Stutz at hstutz@reviewjournal.com or 702-477-3871.