Nevada home-sales dip leads U.S.
February 15, 2008 - 10:00 pm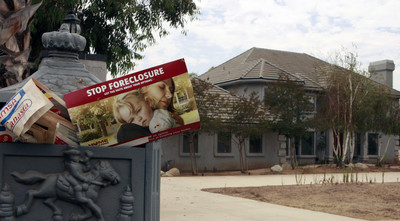 WASHINGTON — Sales of existing homes fell in 45 states during the October-December quarter, with metropolitan areas showing growing weakness, a real estate trade group said Thursday. Nevada led the nationwide pace with sales down 44 percent.
The fourth-quarter data from the National Association of Realtors underscore the breadth of the housing market's slump.
South Dakota was the lone state to show a sales increase. Existing home sales there rose 8.9 percent from the same quarter a year ago. Sales were unchanged in North Dakota. No sales figures were available for Idaho, Indiana and New Hampshire. Sales also fell in Washington, D.C.
Median home prices fell in more than half of the 150 metropolitan areas surveyed. Out of the 77 that experienced declines, 16 showed double-digit percentage drops, the trade group said. The largest price declines were found in Lansing, Mich.; Sacramento, Calif.; Jackson, Miss.; and Riverside, Calif., which posted price declines of 17 percent to 19 percent.
Lawrence Yun, the trade group's chief economist, attributed the declines in median prices to mortgage market problems that mushroomed last fall, making loans more expensive for borrowers looking to take out "jumbo" mortgages larger than $417,000, the maximum size of mortgages that government-sponsored mortgage companies Fannie Mae and Freddie Mac can purchase and market as securities.
"The continuing crunch in the jumbo loan market that began in August has disproportionately reduced the number of transactions in higher price ranges," Yun said in a statement.
Nationwide, existing homes sold at an annual rate of 4.96 million units in the fourth quarter, down 21 percent from the sales pace of the fourth quarter in 2006, the Realtors group said.
Besides Nevada's 44 percent, Wyoming was down 42 percent. Other states with big declines were New Mexico, down 39 percent, Oregon, down 38 percent and Arizona, down 37.6 percent.
SALES DECLINES
Nevada, down 44 percent.
Wyoming, down 42 percent.
New Mexico, down 39 percent.
Oregon, down 38 percent.
Arizona, down 37.6 percent.