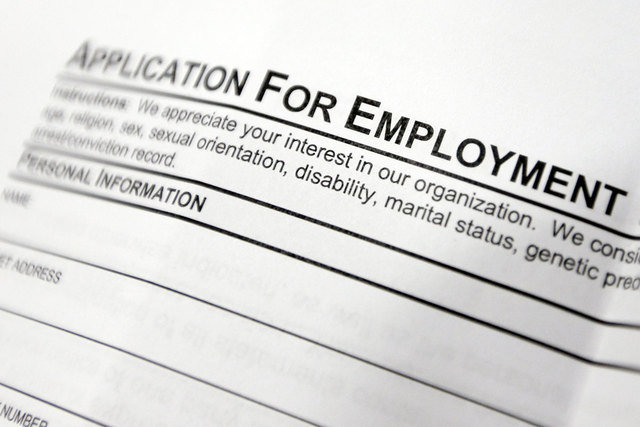 A tepid July for job growth couldn't derail a year's worth of employment gains across Nevada.
Despite shedding a seasonally adjusted 200 jobs in the month, employers have added 44,600 jobs year over year, the state Department of Employment, Training and Rehabilitation said Friday.
Those results made for the 43rd straight month of annual increases, said Bill Anderson, the employment department's chief economist. In fact, July was the sixth consecutive month with year-to-year gains of more than 40,000, a streak the state hasn't seen since the boom in mid-2006.
The Silver State's unemployment rate stayed at 7.7 percent from June to July, but was down 2.2 percentage points when compared with July 2013.
Joblessness in the Las Vegas Valley increased from from 7.9 percent in June to 8.2 percent in July, though the rate isn't seasonally adjusted and can be more volatile than the state's rate. Unemployment also can rise even amid job gains if the labor force grows and more people are looking for work. The Las Vegas labor pool grew by 6,000 people from June to July, reaching 996,000 people.
As in the rest of the state, the year-to-year drop in local unemployment was 2.2 percentage points.
Year over year, the valley's jobs base was up 25,700 positions.
That job formation may continue: The state could be primed for an economic boost from the rest of the nation through the end of the year, the employment department said. The national Consumer Confidence Index increased in July for its third straight month, reaching its highest reading since October 2007. That's important to Nevada because improving consumer sentiment typically means more discretionary spending — a boost to an economy that relies on travel and tourism.
Of the state's ten major employment sectors, construction grew at the fastest year-to-year pace, improving by 13.4 percent, or 7,500 jobs. But its 63,900-job total was still well below a 2006 peak of nearly 150,000 positions. Other big growth sectors included business and professional services such as employment agencies and law firms, which added 12,000 positions, and leisure and hospitality, which added 10,600 jobs.
Only the mining industry cut jobs, paring 300 positions from a statewide workforce of 15,800.
Still, Nevada continued to struggle in July with above-average joblessness.
The national unemployment rate was 6.2 percent in the month. The U.S. Bureau of Labor Statistics hadn't released July figures by late Friday, but as of June, Nevada had ranked among the top three states for joblessness since early 2010.
Include discouraged workers who have quit looking for a job and underemployed part-timers who would rather have full-time work, and Nevada's jobless rate through the second quarter was 16.2 percent, tied with California for No. 1. Nationally, the unofficial rate was 12.9 percent.
Contact reporter Jennifer Robison at jrobison@reviewjournal.com. Follow @J_Robison1 on Twitter.