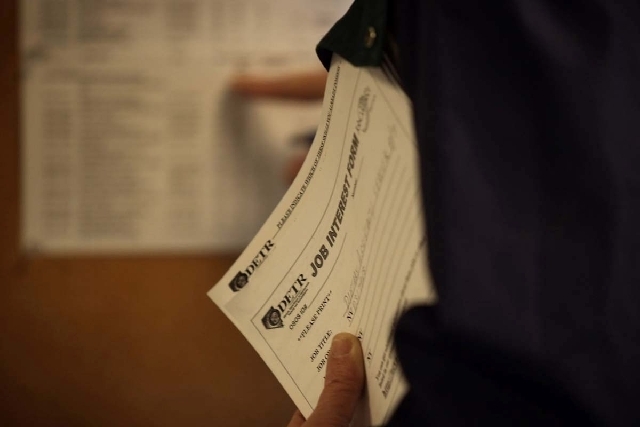 Nevada has gained ground in the battle for a jobs recovery, but it still has vast territory to recapture.
A Friday report showed joblessness dipping to a five-year low in November, even as economists warned it could be years before the state approaches anything close to its boom-era job levels.
"We were hit harder during the recession than essentially every other state, so it's going to take us a while to completely crawl out of our hole," said Bill Anderson, chief economist with the state Department of Employment, Training and Rehabilitation.
The employment department did report considerable progress in November. Joblessness fell to 9 percent statewide, down from 9.3 percent in October and 10 percent in November 2012, for its lowest level since November 2008. In Clark County, the rate dropped to 8.6 percent, down from 9.4 percent in October and 9.8 percent a year ago. The employment department doesn't seasonally adjust local rates, so the county's figures can differ from state statistics.
The numbers show the drop in unemployment came mostly from job growth, rather than people leaving the labor force, said Steve Brown, director of UNLV's Center for Business and Economic Research. Employers added a seasonally adjusted 9,500 jobs from October to November, bucking the historical average of 700 job cuts in the period. Retail hiring was especially strong, surging past pre-recession levels. Retail employment peaked at 139,800 in 2007, fell to a low in 2010 of 127,200, and bounced back to 143,400 in November.
"One of the things going on in the economy is simply that spending is accelerating," Brown said. "If we look at uncertainty measures in the overall economy, consumer confidence picked up quite a bit after we got past the (federal) government shutdown (in October). Fourth quarter consumer spending looks like it's going to come in pretty strong, and we're seeing that here in Nevada."
An improving housing market has helped, said Brian Gordon, a principal in local research firm Applied Analysis. The local median home price is up roughly 25 percent year over year, and that has consumers "feeling better about their personal balance sheets," Gordon said. So people are more confident about spending.
Retail wasn't the only bright spot. Health care employment was up 3,600 jobs year over year in November, Anderson said. Implementation of the Affordable Care Act, which is designed to increase the number of insured, should spur additional demand for medical services and boost jobs further in coming months, he said.
In fact, pretty much every sector in Nevada's economy is expanding. Overall, Nevada had the nation's 11th strongest job growth year to year in November, at 1.8 percent. Its jobless drop of one percentage point was the 10th steepest decline.
But those numbers mask just how far Nevada has to go before it's even close to recovery. The state has regained just a quarter of the 170,000 or so jobs it lost in the recession, Anderson said. Nearly 123,000 Nevadans, including 85,100 Las Vegans, were out of work and looking in November. Nevada's jobless rate remains well above the national average, which stood at 7 percent in November. Include discouraged workers who have dropped out of the labor force and underemployed part-timers who would rather have a full-time job, and the state's unemployment rate was 18.1 percent through the third quarter, compared with 14.1 percent nationally.
What's more, while the United States is poised to reach its official jobs-recovery mark sometime in 2014, the Silver State is years away from full restoration, local experts agreed. That's partly because much of the state's job loss was in construction, and a "significant share" of those jobs won't be coming back for the foreseeable future, Gordon said.
"The pace of growth in construction activity is wildly different than it was at the peak of the market, and that's much of the cause for our sustained, elevated unemployment levels," he said. "That dynamic will have to improve over time, as construction will continue to lag its pre-recession peak."
Still, 2014 should bring progress. As the nation's economy improves and more Americans have disposable income for travel, Nevada should benefit, Brown said. Joblessness here could fall below 8 percent by the end of next year, he predicted.
"Consumer spending is picking up. If investment spending on structures picks up, then the U.S. economy is in a really good position to just take off," Brown said. "It's probably going to be like being in an old Chevrolet when someone stomps on the accelerator."
The Silver State has had the nation's highest jobless rate in all but one month since May 2010. Friday numbers from the U.S. Bureau of Labor Statistics show that Rhode Island joined Nevada in a tie for first place in November.
Contact reporter Jennifer Robison at jrobison@reviewjournal.com. Follow @J_Robison1 on Twitter.