New corridor linking gates to inspections area opening soon at McCarran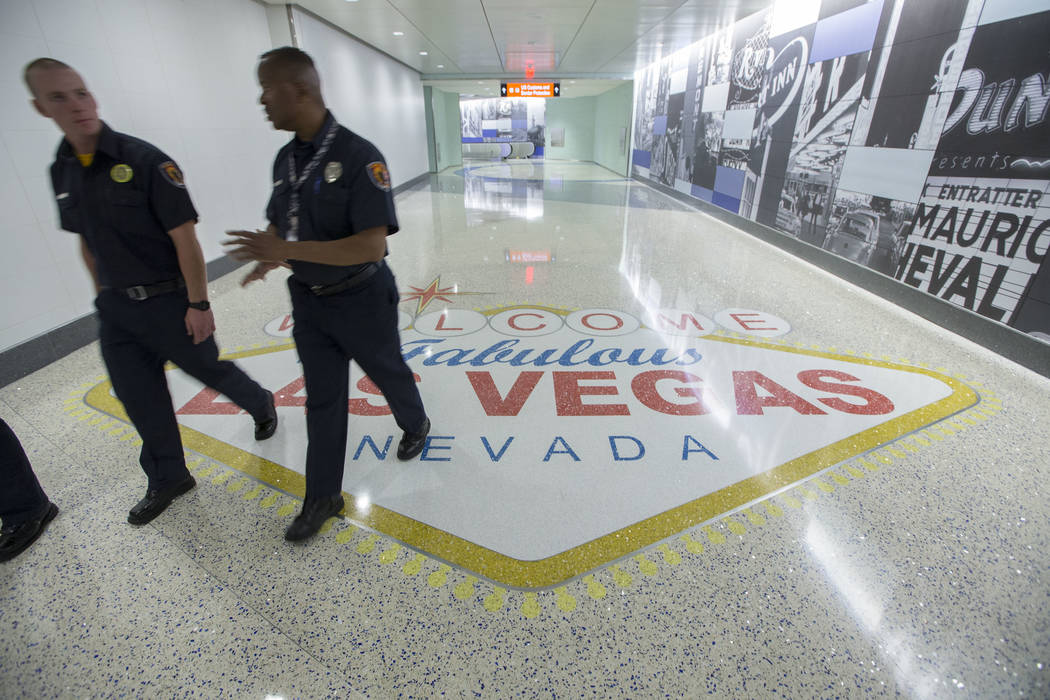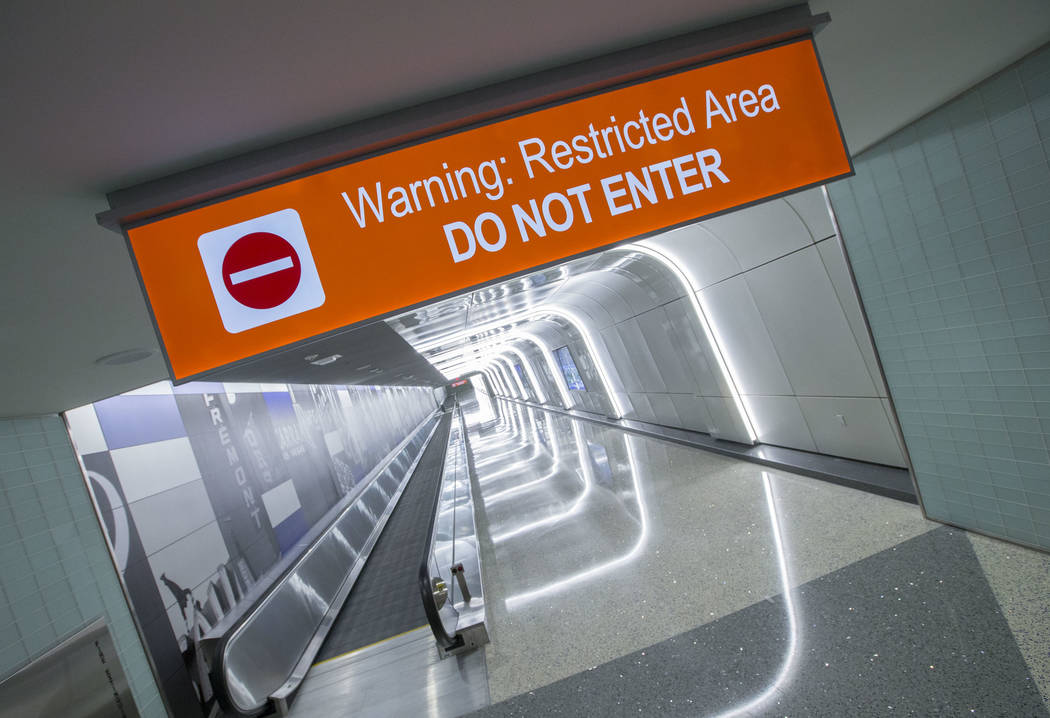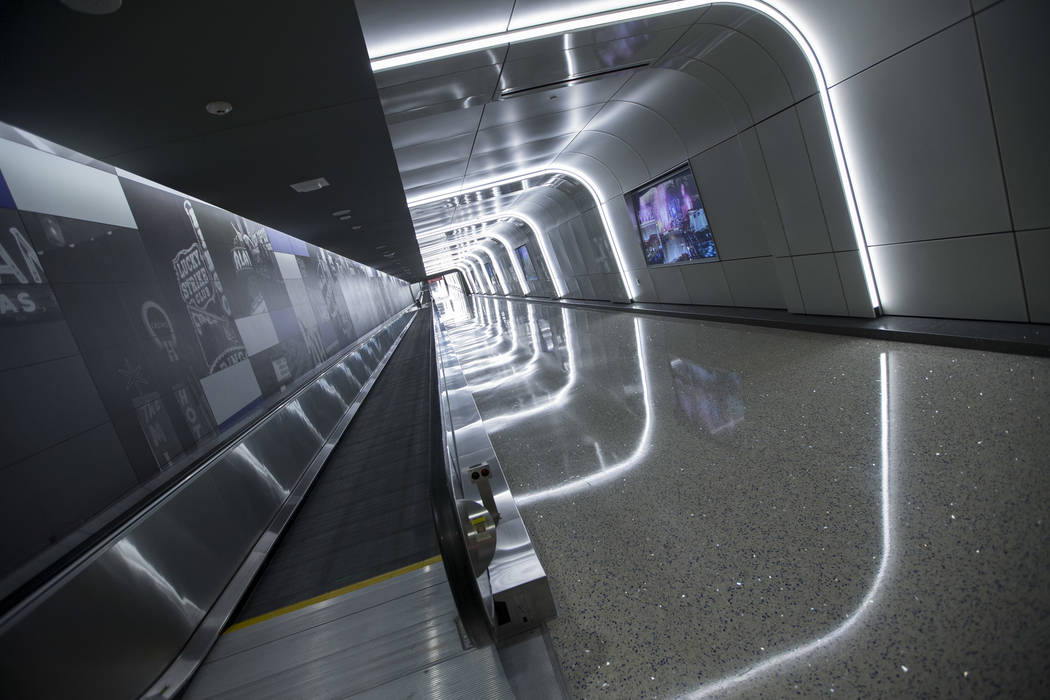 Vintage photos of the Desert Inn, Aladdin, Riviera and other bygone casinos will be the first images overseas travelers will get to see of Las Vegas before they're allowed to step foot out of McCarran International Airport.
The black-and-white pictures line a modern, brightly lit 995-foot-long corridor set to open June 5, linking seven newly configured airline gates in the D-Gate Concourse to the airport's U.S. Customs and Border Protection station in Terminal 3.
Crews will spend Memorial Day weekend polishing up a few final touches to the completed $51 million project, which doubles the number of gates available to international carriers.
"I think it was a very visionary project for us to have," said Rosemary Vassiliadis, director of Clark County's Aviation Department.
"There are times when all our existing international gates are filled at Terminal 3, and yet we're still seeing tremendous growth in international travel," Vassiliadis said. "This is going to give us the flexibility we need so that we don't hinder that growth."
'Strategic asset'
Construction started last year to reconfigure eight gates that previously accommodated small planes parking at the D-Gate Concourse, a remote building in the airport's midfield that is accessible only by trams connecting to Terminals 1 and 3.
Crews removed Gate D-23 from the structure's northeast corridor, creating space for the seven remaining gates to accommodate wide-body jetliners typically used by international carriers, including the Boeing 787 Dreamliner.
Gate D-22 is now fitted with a dual-level bridge to potentially handle the Airbus A-380, a double-decked jetliner with an enormous wingspan.
Airport spokesman Chris Jones said that one air carrier has expressed interest in landing the megasized A-380 at McCarran but declined to say which one. Korean Air and British Airways are the only carriers that fly through Las Vegas and also have A-380s in their fleets.
Glass-paneled walls will keep the gates "sterile" when used by international travelers, who will be guided to a new tunnel leading to the federal inspection area.
Metal panels, terrazzo flooring and a moving walkway line the shiny corridor. Black-and-white images of 1960s-era Las Vegas line a wall to the left of the tunnel, while new color pictures of the Strip, Hoover Dam, Las Vegas Motor Speedway and other local landmarks are displayed to the right.
Designs are underway to build a walk-through duty-free shop between Gates D-16 and 17 by the end of the year.
"McCarran is a strategic asset for Southern Nevada that positions our region as a hub for international business activity, goods movement, and foreign investment," said Jonas Peterson, president and CEO of the Las Vegas Global Economic Alliance. "These improvements will broaden our reach and further strengthen our position as a global destination to visit and to do business."
Preparing for the future
The new gates are opening as overseas travel takes off in Las Vegas. International flights arriving or departing McCarran carried 3.49 million travelers in 2016, a significant leap from 2 million international travelers reported in 2009, airport officials said.
Those increases are expected to continue well into the foreseeable future, aviation consultant Mike Boyd said.
"When it comes to growth, McCarran is the one airport in America where you can't see any end," said Boyd, president and CEO of Boyd Group International in Colorado.
"The growth at McCarran will only continue over the next 20 years simply because it's Las Vegas and what the city has to offer," Boyd said. "It's going to be an airport that will continue to grow, and they've done a good job anticipating that growth."
Contact Art Marroquin at amarroquin@reviewjournal.com or 702-383-0336. Follow @AMarroquin_LV on Twitter.
McCarran International Airport's latest project opens June 5
7: New "swing gates" capable of handling domestic and international travelers
995: length, in feet, of a tunnel connecting the D-Gate Concourse to the federal inspection facility in Terminal 3
$51 million: Cost of the project
3.49 million: Number of international airline passengers arriving or departing McCarran International in 2016
Source: Clark County Department of Aviation