New tech thrives at AVN, but phone sex remains strong
February 2, 2018 - 1:49 pm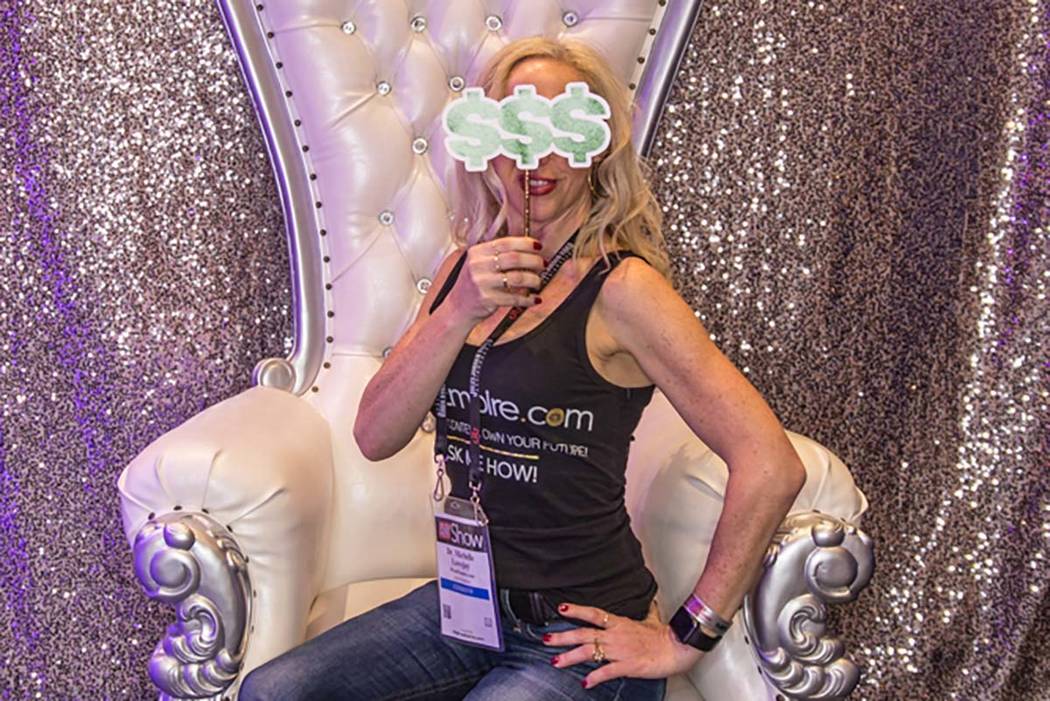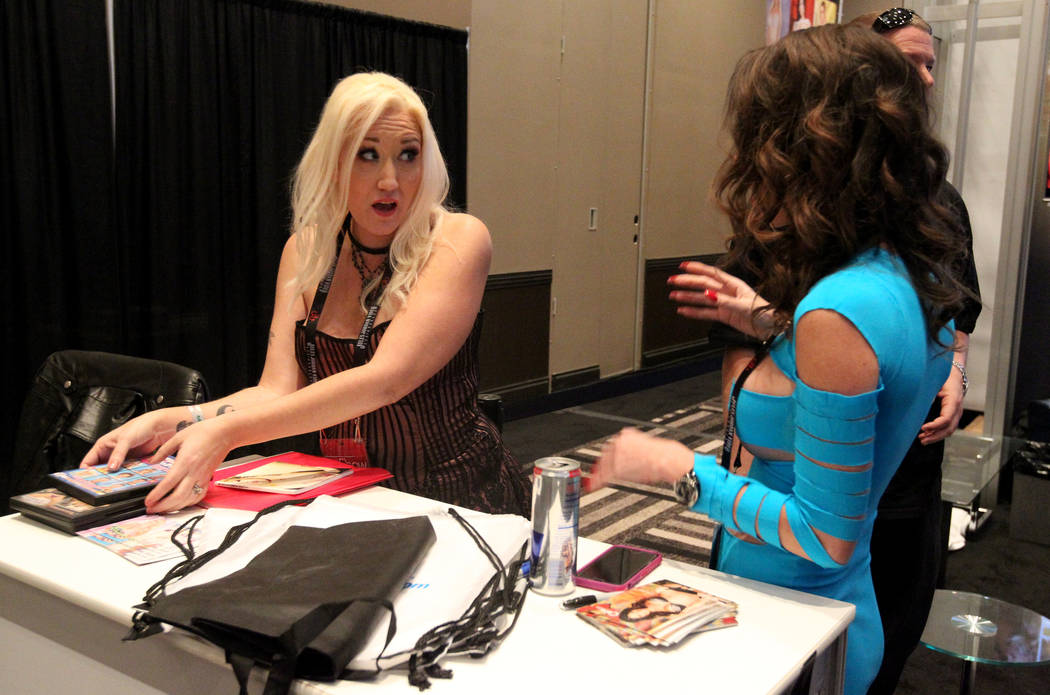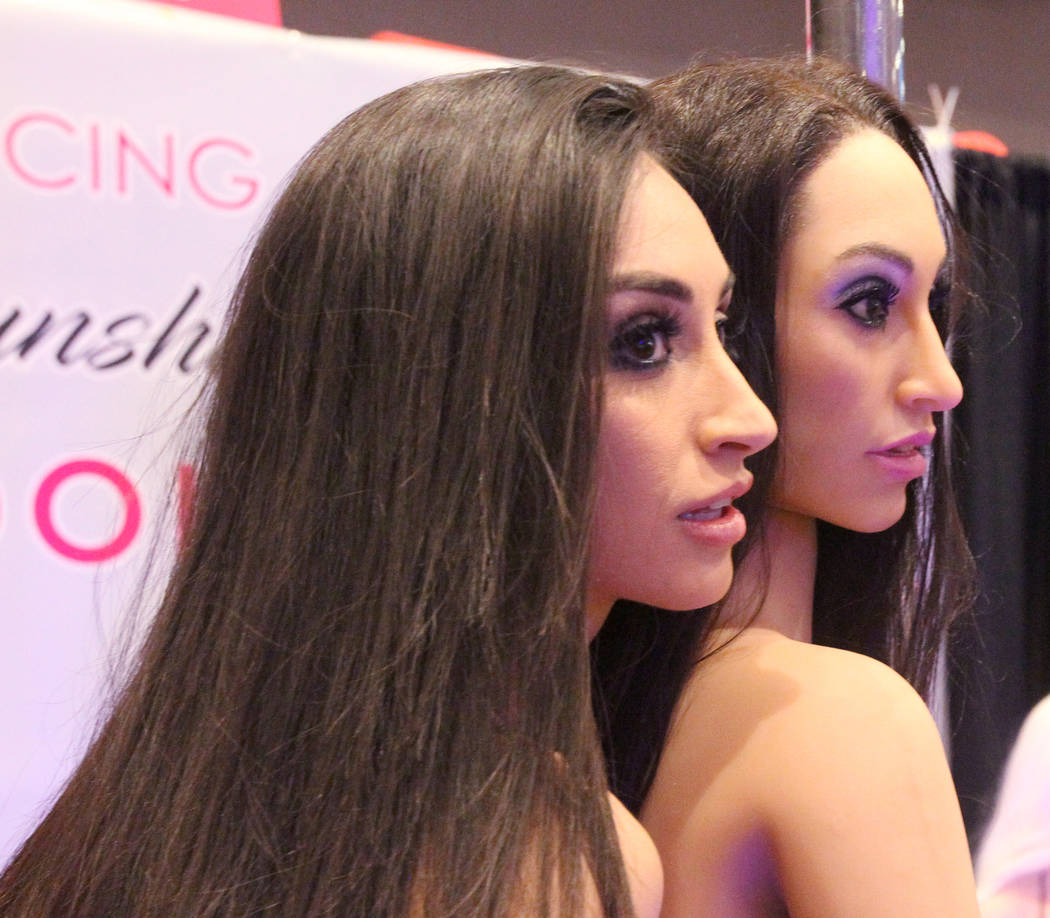 Michelle Lovejoy looked like she had mistakenly walked into the AVN Adult Entertainment Expo at the Hard Rock Hotel last week.
The 45-year old sex industry worker from California was dressed in blue jeans, a tank top and black-rimmed glasses as she hung out at a lounge on the show floor.
Around her were more than 1,000 young actresses and livestreaming stars sporting bikinis, thongs, fishnet stockings and lingerie. They mingled and photographed with their fans as Lovejoy looked on.
"They are all known for their face and I am not. Nobody here knows who I am,'' Lovejoy said with a bit of pride.
The AVN Show, which attraced more than 50,000 people over its four days, offered the very latest in sex industry technology, from virtual reality adult movies to 3-D printed, lifelike dolls of porn stars. The 2018 show ran from Jan. 24-27.
The V in AVN stands for video, underscoring just how visual the show is. The fans come to the show to see their favorite stars in the flesh and photograph them.
Which all makes Lovejoy's appearance so unusual. She is a "sex phone artist,'' as she described herself. She doesn't see her clients and they don't see her.
It's all verbal contact, but not the kind one may typically associate with phone sex. She doesn't moan or ask them to make love as was common when the service first appeared en mass in the 1980s. Rather, she berates them and insults them.
Lovejoy says she pulls in more than six figures annually by telling grown men that they are wimps and losers. Her base is $1.99 a minute, but charges more depending on the type of call. She also sells MP3 recordings. The salary would imply she outearns many, if not most, women at the AVN show.
Still ringing
In an age when streaming video of adult stars in real time is as simple as pressing a button, phone sex seems as archaic as a horse-pulled carriage on streets today.
Yet, iWantEmpire.com began offering phone sex as a service just over a year ago to complement its video clips offering. Co-founder Jay Phillips said callers are not necessarily looking for a "more hardcore connection. They are often looking for just a human connection.''
Phillips invited Lovejoy, one of their top phone earners, to Las Vegas to promote the service to the tens of thousands of fans visiting the AVN Show.
''I can't tell you how many people say, 'Phone sex, who calls phone sex anymore?' People think this industry is completely dead and obsolete. My phone is ringing just as much as ever,'' said Lovejoy, who doesn't use her real photo on the iWantEmpire.com site.
Lovejoy says her typical client is a manager who spends a good part of his day bossing other people around. Her average call lasts 10 to 15 minutes — though some can last hours — during which she tells the men how much their subordinates hate them.
"It is very theraputic for them. They eat it up. It is a very niche product,'' she said.
"These men are not losers sleeping in their mother's basement. Many are highly successful. It is not a poor man's game," she said, adding many call regularly.
Browsing iWantEmpire.com turns up the profile of Valeriesins, whose photos indicate she is a voluptuous brunette though the voice on the other end could be anybody, including Loveyjoy's.
Valeriesins charges $3.99 per minute to "ignore you'' and $9.99 a minute to "remind you why you are a loser,'' according to the website.
Lovejoy previously worked in the music industry doing radio promotions. Her job entailed calling male radio producers and persuading them to play certain records. It would hone the necessary skills for sex phone work, she said.
After she lost her job 13 years ago, an acquaintance recommend trying phone sex, pointing out that a friend had just sold such a company for $1 million.
"It was sink or swim. I looked up phone sex online and said, 'I think I can do this.'''
A changing industry
The business is "nothing like it was 30 or 20 years ago, but it's still around,'' said Clyde DeWitt, a Las Vegas-based attorney who has been focusing on the adult entertainment industry for decades.
The phone-sex business thrived back in the 1980s when 976 and 1-900 numbers were created with recordings of a sexy voice, said DeWit.
High Society magazine set one up and received a peak of 19 million calls in April, 1983, said DeWitt. Several competitors set up shop, receiving on average 5 million calls a month in the mid 1980s.
Curious children caused parents grief and financial hardship as 4-figure and even a few 5-figure phone bills started arriving in the mail, he said. To fight the problem of minors dialing, Congress passed an amendment requiring the use of credit cards to pay for the calls.
By the late 1980s, live women — and even a few men with high-pitched voices — replaced the pre-recordings and its has been pretty much that way since, said DeWitt.
Lovejoy says phone sex will be around as long as couples can't talk with one another openly about their sexual fantasies.
''It will never go away. There will always be somebody wanting to have phone sex.''
Contact Todd Prince at tprince@reviewjournal.com or 702-383-0386. Follow @toddprincetv on Twitter.