Newport Lofts: California flair, Las Vegas address
September 20, 2007 - 9:00 pm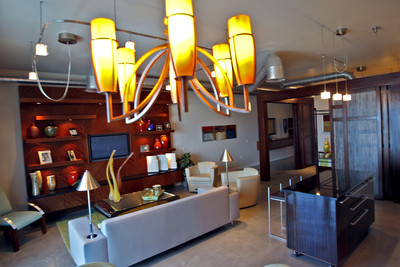 Developer West Seegmiller wanted to design Newport Lofts with a Southern California flair since that's where more than half of his buyers are coming from.
The demographic profile of his buyer is the 35- to 45-year-old male professional, many of them single, from Los Angeles looking for a second home in Las Vegas.
"They want to go into a look they're familiar with," Seegmiller said during a tour of the 23-story, 168-unit Newport Lofts at Casino Center Boulevard and Hoover Avenue. "In California, Newport Beach has a certain cachet, a certain eclectic surf culture and art culture, so there's a cachet that comes with Newport that Southern Californians instantly recognize."
About 20 full-time residents live at Newport Lofts, he said. One-fifth of the buyers are investors; the rest are second-home owners.
Home Builders Research reported 32 escrow closings at Newport Lofts in July at an average price of $536,315.
Seegmiller, who developed Newport Lofts in a joint venture with SoHo Lofts developer Sam Cherry, said he's sold all but 44 of the units at Newport, with 81 escrow closings in the last six weeks. His fallout, or cancellation rate, is about 3 percent, compared with a national average of 27 percent, he said.
Prices start from the mid-$500s a square foot. A penthouse suite recently sold for $2.1 million, or about $700 a square foot, which is about as low as you'll find for a penthouse, Seegmiller said.
Newport Lofts sales executive Tiffany Shleifer said all the units come with Italian cabinetry and upgraded, top-brand appliances.
"We did not go with one line because we want the best of each appliance," she said. "You get a Subzero fridge, Wolf microwave, Bosch dishwasher and KitchenAid gas range. Not to mention Kohler sinks and tubs, Dormbracht fixtures and LBL lighting. It really doesn't get much better."
Seegmiller said he knows about the criminal reputation of downtown Las Vegas, but like Rich Gustafson, developer of the mixed-use Juhl project nearby, he thinks the area will become self-policed by local condo residents and property owners.
It happened along Figueroa Street in Los Angeles, a notorious corridor of bums, drug dealers and prostitutes on a scale that makes Fremont Street look like Town Center Drive in Summerlin.
The Chevrolet dealership was told by General Motors to relocate to a better neighborhood, local museums saw attendance drop significantly and the University of Southern California, an area hallmark, had trouble recruiting students.
Business owners and residents formed an alliance and walked around the area picking up trash and warning people about leaving exposed valuables in parked cars. They dressed up street lamps and made other improvements to the neighborhood, Seegmiller said. More than $1.5 billion in investment has been poured into the area since 1998.
In his second-quarter luxury condo report, real estate consultant John Restrepo said there are 3,523 existing mid-rise and high-rise units in Las Vegas, 10,237 units actively selling and 13,508 units canceled or suspended. The downtown area has 120 units completed (SoHo Lofts), 2,214 actively selling and 1,735 cancelled or suspended.
Breslin Builders was general contractor for the $115 million Newport Lofts project.