NV Energy files grandfather options, but rooftop solar groups cry foul
February 2, 2016 - 11:55 am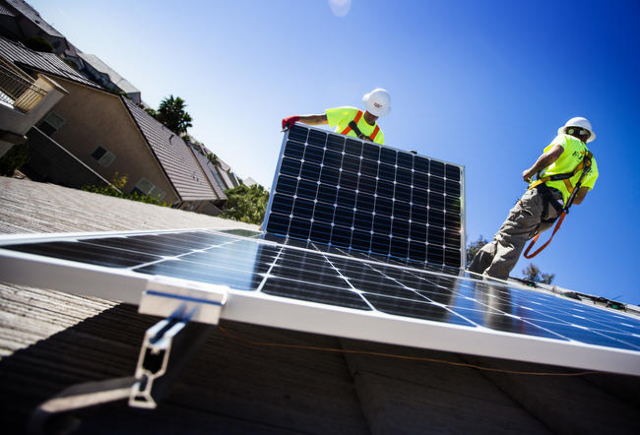 CARSON CITY — NV Energy has proposed to state utility regulators seven different options to grandfather in rooftop solar customers who installed systems before new, less generous net metering rates took effect on Jan. 1.
From gradual changes over four years to delaying any changes to original net metering customers for 20 years, the options were filed Monday by NV Energy executive Shawn Elicegui with the Nevada Public Utilities Commission.
But rooftop solar groups are crying foul over a recommendation from the company, doing business in Southern Nevada, to grandfather in only those customers who signed up for net metering by Sept. 10, 2015. The filing says this was the last date on which a rooftop solar customer was included in a former 3 percent cap on net metering systems adopted by the Nevada Legislature.
PUC Commissioner David Noble will conduct a hearing on the grandfathering issue on Monday and then forward his recommendation to the full panel of three appointees of Gov. Brian Sandoval.
Commissioners have been besieged by rooftop solar customers who believed they would be able to remain under the previous, more favorable net metering rate when the new tariffs took effect on Jan. 1. Net metering allows rooftop solar owners to receive a credit for the excess electricity their systems generate.
The commission voted last month to rehear the issue.
The Alliance for Solar Choice, which is participating in the rehearing process, issued a statement saying that NV Energy's filing is inconsistent with its announcement last week that net metering customers who applied for the program prior to Jan. 1 would be grandfathered in for up to 20 years.
"NV Energy dangled a carrot in front of its customers last week, but the monopoly isn't actually committed to treating all Nevada homeowners fairly," said Dale Matz, a North Las Vegas solar homeowner.
TASC said in its statement that the filing contradicts NV Energy's press release last week that recommended "that rooftop solar customers who installed systems prior to the PUCN's orders be allowed to remain on the old net metering rules… [and] also recommend that customers who submitted valid applications prior to the PUCN's order be provided the same opportunity."
The rooftop solar coalition also filed testimony that contradicts the findings of the PUC that non-rooftop solar customers subsidize solar customers in Southern Nevada in the amount of $623 dollars a year.
The PUC did find that a subsidy exists and was the basis for the new rates.
TASC says in its filing that solar customers are not only less costly to serve but they also provide benefits to other ratepayers, producing $12.08 a month in benefits to all ratepayers.
"This is now the second bait and switch from Berkshire Hathaway's Nevada utility," said Bryan Miller, Sunrun senior vice president of public policy & power markets and president of The Alliance for Solar Choice. "Gov. Sandoval's commission should grandfather in all solar users permanently and overturn the entire anti-solar decision."
There are 15,728 interconnected net metering customers at Nevada Power Co. in Southern Nevada, and 2,536 customers with Sierra Pacific in Northern Nevada. This number includes a small percentage of large businesses that pay under a different rate. The new rate for residential customers also cover small businesses and some small nonprofits.
Contact Sean Whaley at swhaley@reviewjournal.com or 775-461-3820. Find him on Twitter: @seanw801