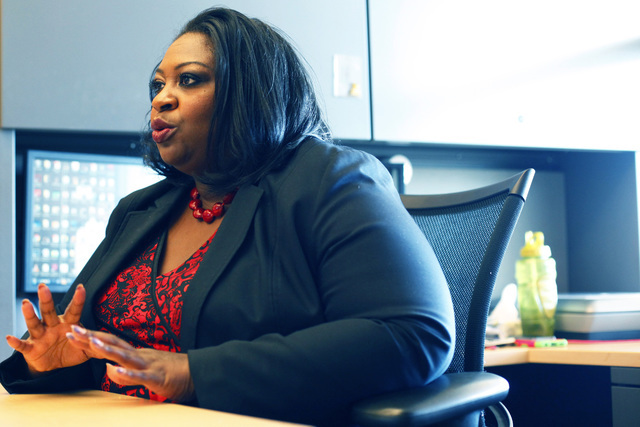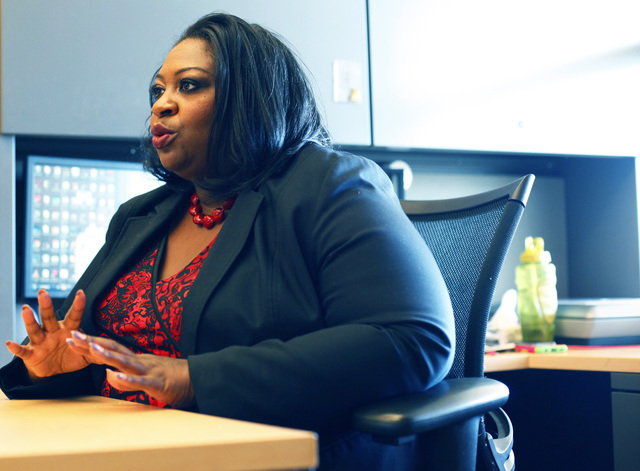 As the local economy recovers, the face of Nevada's employment department has good news to deliver.
Mae Worthey, 43, works as the public affairs manager for the Nevada Department of Employment, Training, and Rehabilitation.
The department administers an unemployment insurance program, manages an equal rights commission, and conducts labor market research. The department also helps disabled Nevadans find work, among other functions.
Worthey, who handles media relations and marketing for the department describes herself as a "one-woman shop" for the staff of more than 800.
She looks forward to helping Nevadans find fulfilling work, Worthey said.
"Having a job is the most important goal that most people have," she said.
Worthey grew up in Maplesville, Alabama — a town of less than 1,000 — but her family has had Las Vegas ties since the 1960s when some of them moved from the South to work in the casino industry.
The Alabama native moved to Las Vegas 17 years ago for a marketing job after working at newspapers in Michigan and Georgia.
"I came here with the intention of visiting and I never left," said Worthey.
Worthey holds a communications degree from the University of Alabama, a master's in public administration from UNLV, and as of last month, a doctorate in Organizational Leadership from the University of La Verne.
Worthey has one son named Ryan, 13, who she said admires the work she does.
Before joining the employment department in 2006, Worthey did communications work for UNLV and the State Bar of Nevada.
"When I first started my job, we had one of the lowest unemployment rates in the country," said Worthey. "Everybody had a job who wanted a job."
Donald Soderberg, director of the Employment Department, praised Worthey for juggling communications work for the diverse departments and for her poise in communicating the department's research to the public.
"Clearly it was never an easy job to be the information officer during the recession when the news was bad," said Soderberg.
Worthey said she remembers the high number of calls during the recession from desperate job seekers as well as reporters that wanted to tell the story.
It was sometimes disappointing to go on camera because she felt like there was nothing she could say to to make people feel better, she said.
"Now, things are coming back and we're doing better economically and I'm able to provide some of that good news and that's always a great feeling," said Worthey.
Contact Alexander S. Corey at acorey@reviewjournal.com or 702-383-0270. Find @acoreynews on Twitter.