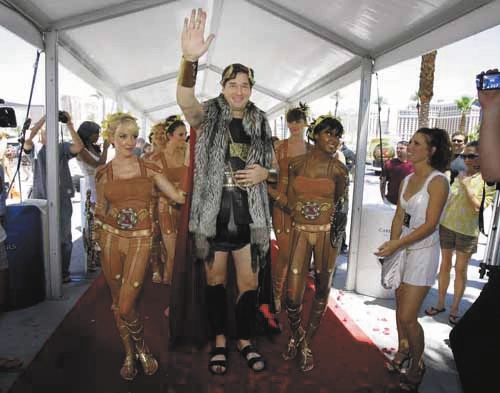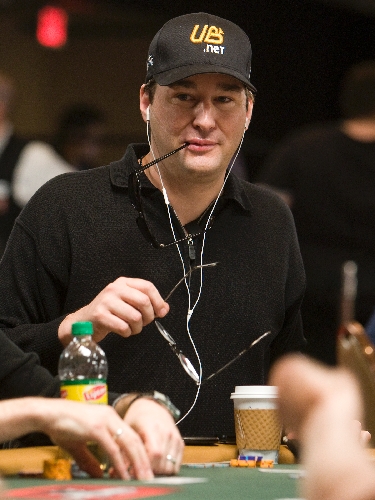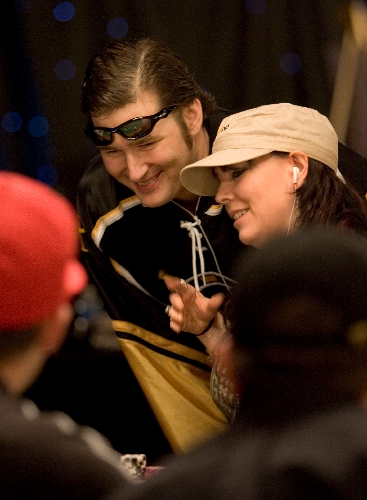 Russian banker and World Series of Poker newcomer Vladimir Schmelev won nearly $1 million as runner-up in the Poker Players Championship event, took seventh place in the Seven Card Stud World Championship a week later, and earned respect.
Schmelev also earned a Phil Hellmuth Jr. tongue-lashing.
For Hellmuth, the tirade directed at the rookie was mild compared to outbursts witnessed in past tournaments that earned him the nickname, "Poker Brat."
A profanity-filled beat-down of a relatively unknown player during the 2008 Main Event caused tournament officials to issue Hellmuth a reprimand. The incident led to the establishment of a new discipline system.
Schmelev brought on the wrath of Hellmuth during Day 2 of the Limit Hold'em World Championship. He eliminated Hellmuth with a queen-high flush and took the last of his 38,000 tournament chips.
Hellmuth was bothered by the way Schmelev played the hand. He dropped a few f-bombs as he left the Rio's Amazon Ballroom, muttering to himself as he navigated the back hallways of the hotel-casino's massive convention center. After a few minutes, he arrived inside the Pavilion Ballroom. Once there, Hellmuth found his seat and chips for Day 1 of a no limit hold'em event he entered.
Playing two events simultaneously is not uncommon for Hellmuth.
The incident with Schmelev was now in the past.
"Gentlemen, you're in trouble," Hellmuth announced to the other eight players at his table who had looks of bemusement and intimidation. "I busted out of the other game and now all my concentration is here."
The players realized this World Series of Poker event had taken a new twist.
The atmosphere at a poker table changes when Hellmuth arrives.
"That's the way it always is. I'm used to it," Hellmuth said
• • •
Phil Hellmuth Jr. wants to be known as the best poker player in the world. Ever.
With a record 11 World Series of Poker individual champion bracelets and more than $6 million in winnings, Hellmuth is on his way.
But for Hellmuth, who will be 46 on July 16, success is also measured through business. The brand he is selling is Phil Hellmuth Jr. It has allowed him to become a millionaire several times over and offers a quiet existence away from the gambling tables for his family — wife, Kathy, a doctor at Stanford University, and his two sons.
Outside the poker room, Hellmuth is not the Poker Brat.
"That's my persona and there are times I have to get away from it," Hellmuth said. "Through all the craziness, what I know is that I'm a good husband and a good father and I do a great job with my kids. I wanted to be famous and I wanted to make a fortune, and I've done that. I enjoy the attention and I think I'm perfectly suited for it."
A few years ago, the attention got to Hellmuth and he "flipped out" during a family trip to Monterrey, Calif. He eventually took his family to Canyon Ranch Spa near Tucson, Ariz., and after four days, with the help of others, figured out his troubles.
"There is your persona and then there's the real you," Hellmuth said. "I was living inside my persona too much. I'm really a family guy and that is No. 1 to me."
The blowups, he said, remain in the poker room.
*****
Hellmuth discovered he was a brand at age 24. He became the then-youngest player to capture the $10,000 buy-in No-Limit Hold'em World Championship Event in 1989 during the 20th World Series of Poker at Binion's Horseshoe.
His youthful brashness and overconfident personality turned off hardened poker types. But Hellmuth kept poker legend Johnny Chan from winning an unprecedented third straight title. Hellmuth imagined poker would increase in popularity.
"I was the one guy in the mid-1990s who thought poker would get big, but I honestly didn't think it would get this big," Hellmuth said.
He capitalized on the growth by becoming a brand.
Hellmuth kept on winning World Series of Poker bracelets, including three in 1993; authored a New York Times best-selling book on poker; landed endorsement deals; and drew legions of fans to his personal website and UltimateBet poker website, where he is the featured professional among several well-known names, including Annie Duke.
Televised poker on cable and late-night network television latched onto the Hellmuth train and fans watched to see his antics, such as one of his legendary temper tantrums.
On his personal website, Hellmuth sells updated copies of his poker self-help manual and logo merchandise bearing his personal PH logo and trademarked, "Poker Brat." He also sells items with the UltimateBet logo, including a hockey jersey similar to one he often wears during tournaments.
Unlike poker contemporaries, such as Doyle Brunson and Phil Ivey, Hellmuth shuns the legendary high-limit cash games found in the private room at Bellagio. He'd rather concentrate on tournament play and televised poker.
"The TV stuff is fun, but it also builds the brand," Hellmuth said. "Ivey and Doyle are amazing players. They both have won fortunes on the side games and my hat is off to them. They are doing it in poker and I'm doing it in business."
During the 2009 World Series of Poker, Hellmuth's image was placed on 12 million cans of Milwaukee's Best beer that were sold throughout the country.
Hellmuth recently struck a handshake deal with Aria President Bill McBeath to wear the CityCenter hotel-casino's logo on his baseball caps during the 2010 World Series of Poker.
McBeath said the deal was easy for Aria. Hellmuth will command ESPN's tournament television coverage. Also, his tables are drawing cards for poker fans.
The night he reached the agreement with Hellmuth, McBeath gave the poker superstar a suite at Aria. Hellmuth tweeted positive comments about the room to his more than 39,000 followers on Twitter.
"The next day, our casino marketing guys said they heard from customers that Phil was being sponsored by Aria," McBeath said. "It was like speed of light."
McBeath understands brand awareness, which is what Aria gets through Hellmuth. Some three dozen people stopped Hellmuth at Aria for an autograph or photo the night they were discussing the deal.
"Poker guys like Phil and Doyle and Ivey, are rock stars," McBeath said. "Take away Kobe Bryant and Michael Jordan, bar none, Phil Hellmuth is the most recognizable guy in sports."
Hellmuth's entrances on Day 1 of the Main Event have become crowd-pleasing productions. One year he arrived in a military vehicle dressed as Gen. George Patton. Another year, he was outfitted as Caesar. The costume coincided with advertising campaigns for UltimateBet.
Whether recognition is enough to become poker's greatest player is subject to debate.
Hellmuth's 11 World Series of Poker bracelets are only in hold'em events, and his last was in 2007. Hellmuth says the tournament is the most important event he plays.
"I want more bracelets than anybody else," Hellmuth said.
Poker analyst Norman Chad, who has been calling the World Series of Poker since 2003 for ESPN with broadcast partner Lon McEachern, said Hellmuth needs to win a non-hold'em event to quiet critics.
"He's regarded by many in the poker community as a one-trick pony," Chad said. "But Phil is better than he's given credit for. He has made countless final tables in non-hold'em events. He needs that bracelet, though, to silence some of his detractors."
McEachern has been impressed by Hellmuth's marketing abilities, which have won over the public despite his lack of a title outside hold'em.
"Phil wants to always show us that he is still relevant in the poker universe, and so far he has done that," McEachern said. "Watching Hellmuth is like waiting for a volcano to blow — you know it will but are never sure when. What I like about Phil is that he is what he is. He will not change who he is for media purposes or because it may not be popular with the other players and you have to respect that."
*****
Hellmuth is an easy spot during the World Series of Poker, and not because of his 6-foot, 4-inch frame and his normally all-black attire. His table draws the largest crowd. If Hellmuth is in a good mood, he'll banter with onlookers.
"I can't believe a guy on the rail is questioning my hand," Hellmuth said as he contemplated action during a hold'em event. A player raised preflop and Hellmuth immediately re-raised all-in. The player looked perplexed.
"I'm just trying to double up on you," Hellmuth said while also conducting a media interview. He then took a minute to exchange greetings with 2001 World Series of Poker champion Carlos Mortensen.
After a few minutes the other player folded, showing Hellmuth a queen-10, off-suit. Hellmuth showed he wasn't bluffing, flipping over ace-king of spades.
Most of the unknown players he faces learned poker on the Internet, which Hellmuth turned to in order to step up his game.
"I studied with the Internet guys and I learned everything they're doing," Hellmuth said. "It was helpful to see the mathematics. To me, it's more of an elegant way of deciphering poker. There are still some basic principles which they don't seem to get, which is great for me."
Contact reporter Howard Stutz at hstutz@reviewjournal.com or 702-477-3871.