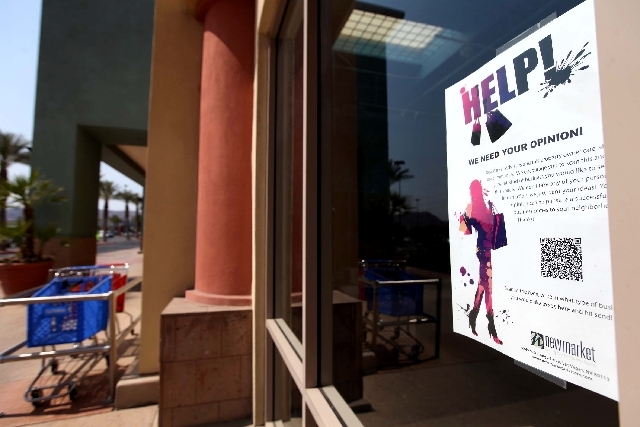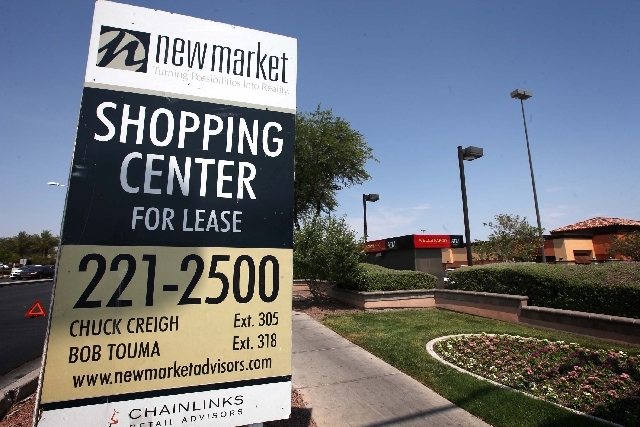 Traditional retail leasing may be getting a little more democratic.
NewMarket Advisors has taken to soliciting ideas for tenants from consumers in all of its vacant retail spaces throughout the Las Vegas Valley.
The commercial real estate firm started the practice in mid-May just ahead of the International Council of Shopping Centers' trade show, and it has worked well so far, said principal Charles Creigh.
At the Stephanie Street Power Center at the northwest corner of Warm Springs Road and Stephanie Street, bare windows are adorned with fliers requesting the public's feedback: "Help! We need your opinion!"
A brief description explains that passers-by should scan the accompanying QR codes and offer feedback if they have an idea of what should fill the space.
Creigh said the fliers are meant to inspire collaboration between customers and owners, because retail leasing is becoming more than just filling space, as a result of increased online competition.
"Retail is a changing business. You have to be on top, and you have to be innovative when you compete against Internet retail," Creigh said.
The Stephanie Street Power Center is filled mostly with powerhouse tenants such as Total Wine, Old Navy, Barnes & Noble, DSW and Nordstrom Rack. A few empty spots are left, and Creigh wants to fill them with what the public wants.
"I'm in the middle of doing a grocery store there now. The feedback we got was find a grocery store, and we did," he said. "That was pretty cool."
Not all feedback is helpful.
"I've had some weird things," Creigh said.
Some suggestions he has received, such as a magic shop, bowling alley or flea market, may be impossible dreams, especially if there are no entrepreneurs looking to open that type of business.
Devon Shaw spends a lot of time in the Stephanie Street Power Center, but he says he has never seen anyone scanning the QR codes on the fliers at the few vacant spaces. Shaw is a salesman at Rooms 2 Love Furniture, which opened in March, and he also works in the warehouse at the Michael's at the opposite end.
"If I could suggest something, maybe a sports store or store for kids or something, just to get a little more substance in the area," Shaw said.
He said the center already sees a lot of customers, with the furniture store benefiting from people visiting Total Wine. An Outback Steakhouse is under construction at the front of the shopping center, and a Galaxy Golf will open soon near DSW.
Creigh said he knows of no other companies in Las Vegas that use QR codes to solicit the public's opinion.
"We're just trying to figure out ways of doing both social media and creative ways to find new tenants for spaces," he said.
Bryan Wachter, director of public and government affairs for the Retail Association of Nevada, said he hadn't heard of companies using this strategy before, but he called the QR codes a clever idea.
"I think that's a great tool," he said.
Wachter said the codes could be a great way to get the word out to people who are thinking of starting a business and looking for retail space.
Contact reporter Laura Carroll at lcarroll@reviewjournal.com or 702-380-4588. Follow @lscvegas on Twitter.