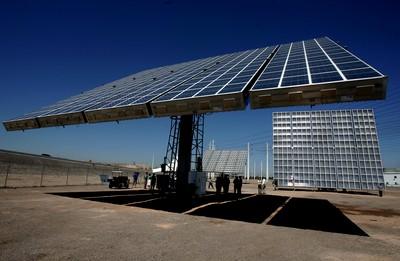 Las Vegans can start breathing easier late next year.
The Environmental Protection Agency on Wednesday announced that Nevada Power Co. agreed to spend $60.7 million to cut nitrogen oxide emissions at a Las Vegas power plant by 2,300 tons yearly.
The utility will install pollution control equipment at the Clark Generating Station to settle a federal Clean Air Act complaint. The pollution controls will reduce nitrogen oxide pollution by 86 percent on four natural gas-fired units at the power plant, which is located on the northeast corner of U.S. Highway 95 and Russell Road.
The first two units will get the pollution reduction upgrades by the end of 2008. The second two units are scheduled to have the new equipment installed a year later.
In addition to installing the equipment, the local electric company agreed to pay a $300,000 fine to the Environmental Protection Agency and contribute $400,000 to Vegas PBS Educational Technology Campus for solar power panels.
The power plant upgrades will reduce nitrogen oxide, which leads to ozone and haze, both in the Las Vegas Valley and downwind in the Grand Canyon, said Robert Folle, compliance manager at the Clark County Department of Air Quality. Nitrogen oxide creates breathing problems for people with asthma.
"It wouldn't be trivial at all," Folle said about reducing nitrogen oxide emissions by 2,300 tons a year. "They are doing what's good for Las Vegas and what's good for air quality, which we're totaling supporting."
However, if Nevada Power had not agreed to cut air pollution from the power plant units, EPA would have contested the issues in court, said Ivan Lieben, EPA assistant regional counsel.
Roberto Denis, senior vice president of Nevada Power parent Sierra Pacific Resources, said: "We wanted to improve on environmental performance and improve for the future, rather than litigate on the past. We live here. We work here. We breathe this air."
The Clark plant agreement is the second major air pollution agreement that Nevada Power has reached with regulators this year. The company in April announced that it settled a case with the Nevada Environmental Protection Division and federal officials over the Reid Gardner Generating Station, a coal-fired plant 50 miles northeast of Las Vegas.
Nevada Power said it will spend $84.2 million cleaning up emissions from the Reid Gardner. The new equipment will curtail nitrogen oxide pollution by 855 tons yearly.
As part of the Reid Gardner settlement, the utility also promised to give the Clark County School District $4 million for energy conservation projects and to pay a $1.1 million fine to the Nevada Department of Environmental Quality.
With the Clark station matter resolved, no other EPA cases involving Nevada Power remain pending.
The Clark station generating units were completed in the 1970s, 1980s and 1990s, but Denis estimated their useful life will continue until about 2024.
The Clark plant agreement stems from allegations that Nevada Power was supposed to obtain a permit and install emission controls when it replaced turbine blades at Clark station in 1992. A so-called "new source review" is required whenever an new power plant is built or an existing one is significantly modified.
"This case is further evidence that the EPA is fully committed to enforcing new source review and clean air requirements to the maximum extent possible," said Wayne Nastri, administrator for EPA's Pacific Southwest Region.
Nevada Power disagreed with the agency's contention that it needed a permit but the company decided to settle rather than fight it in court.
Nevada Power intends to seek recovery of the $60.7 million it will spend on environmental controls through higher rates, but the company's shareholders will absorb the $300,000 fine and $400,000 charitable contribution.