Proposed stadium tops list of Las Vegas business stories in 2016
January 1, 2017 - 12:36 am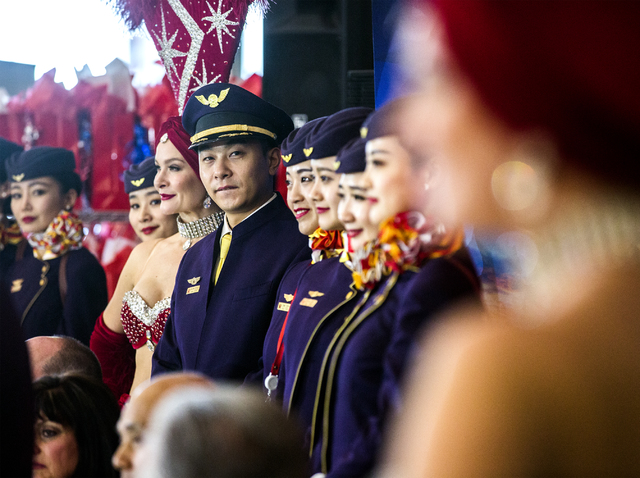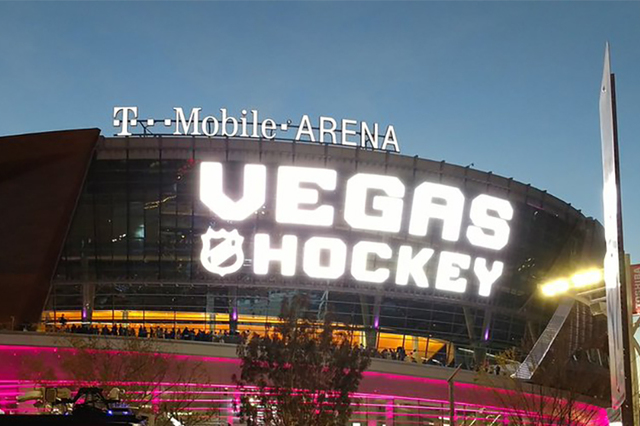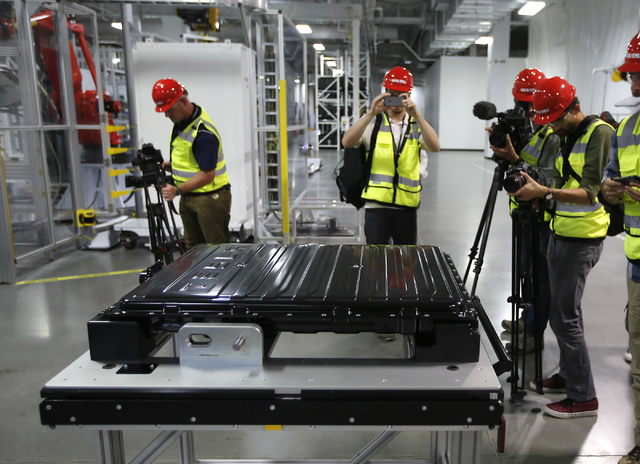 A 65,000-seat stadium that could be home to the Raiders of the National Football League easily emerged as the No. 1 local business story of 2016.
The demise of free hotel parking on the Strip, the opening of T-Mobile Arena and various angles to the ongoing growth in Southern Nevada rounded out the top 10 stories of the year. The top business stories were selected by the reporters and editors who cover the business community.
1 Proposed stadium
When the Southern Nevada Tourism Infrastructure Committee first met in late 2015, a domed stadium wasn't on the panel's radar. Previous proposals for a stadium were focused on providing a venue for large-scale special events and a new home for UNLV's football team.
When representatives of Las Vegas Sands Corp. and Majestic Realty unveiled their vision of the project in January, they added a major-league component: the Oakland Raiders.
Over the next nine months, the 11-member committee studied the possibility of building a $1.9 billion, 65,000-seat stadium that could host concerts, UNLV and an NFL team. The committee's final report, issued to Gov. Brian Sandoval, recommended a plan that required $750 million in public support.
The public funding was controversial because it was a greater amount than a $650 million contribution from Sheldon Adelson's family and $500 million from the Raiders and the NFL.
The Nevada Legislature met in special session, five weeks before the November election, and barely reached the two-thirds majority needed to approve an increase in Clark County's hotel room tax to fund bonds to build the stadium.
As 2016 came to a close, a stadium authority board had been appointed, and the Raiders were preparing to file an application with the NFL to relocate the team to Las Vegas and begin playing in the new stadium by 2020.
2 End of free parking on the Strip
In mid-January, MGM Resorts International stunned longtime residents and visitors by announcing plans to do away with a hallowed Strip tradition — free parking.
Southern Nevada's largest casino company announced a $90 million parking initiative to upgrade technology in existing garages by adding fees of between $8 and $10 a day in self-parking lots and steeper rates for valet parking. But Nevada residents were allowed to dodge the fee if they had a Nevada driver's license and had it scanned upon entry to the garage.
The fateful start-up date came in June — and customers hated it, threatening boycotts of MGM properties.
More properties joined the ranks later in the year. In November, Caesars Entertainment said it would implement self-park and valet fees in 2017, Wynn Resorts said it would impose a cost on valet parking in mid-December, and The Cosmopolitan planned valet and self-park charges next year.
3 Opening of T-Mobile
Arena proposals had come and gone for months in Southern Nevada before one finally caught hold.
It was the 20,000-seat, $375 million T-Mobile Arena, a collaboration by MGM Resorts International and Los Angeles-based AEG, the company that developed the Staples Center in downtown Los Angeles.
Located adjacent to New York-New York and the Monte Carlo, T-Mobile Arena opened in April and was an immediate hit, booking 77 events before an opening-night concert by a Las Vegas band, The Killers.
In November, it was the scene of the announcement of the naming of Las Vegas' new National Hockey League franchise — the Vegas Golden Knights — which will play in the arena starting next year.
T-Mobile didn't have the last word in arena announcements. In May, Las Vegas Sands Corp. and Madison Square Garden revealed plans to build a 17,500-seat concert arena venue near The Venetian, due to open in 2018.
4 Rooftop solar
Nevada rooftop solar customers in 2016 got a reprieve from escalating rates when state utility regulators reversed course and agreed to continue more favorable assessments for 20 years.
The Public Utility of Commission of Nevada in September grandfathered in as many as 32,000 existing residential rooftop solar customers, quelling the contentious issue that erupted in 2015 when the PUC created a separate rate class for net metering customers.
5 Shifting fortunes in Macau
While Southern Nevada's economy began to gain steam, Macau's continued to sputter as a Chinese central government crackdown on corruption resulted in 26 months of revenue declines from previous years.
But that began to change in August, which, not coincidentally, was the month the first of two resorts built by Las Vegas companies opened their doors.
The $4.2 billion, 1,700-room Wynn Palace got rave reviews when it received its first guests Aug. 22.
Las Vegas Sands' $2.7 billion, 3,000-room Parisian Macao, with a half-scale replica of the Eiffel Tower, opened 22 days later Sept. 13.
Gaming revenue has steadily increased in Macau since the two openings, and analysts are optimistic the trend will continue when the $3.1 billion MGM Cotai resort opens across the street from Wynn Palace next spring.
6 Faraday and Tesla
Less than a year after state lawmakers met in special session to approve incentives for electric car startup Faraday Future, the project in North Las Vegas came to a halt.
The company, financed largely by Chinese entrepreneur Jia Yueting, in November confirmed that construction of the proposed $1 billion plant at Apex Industrial Park was on hold until 2017. Faraday Future, headquartered in Gardena, California, said it was focusing resources on completing a prototype. But the company also reportedly missed payments to a contractor, raising questions about its financial stability.
In Northern Nevada, electric car maker Tesla is steaming ahead on construction of a massive battery factory, a joint partnership with Panasonic Corp.
Tesla, led by billionaire entrepreneur Elon Musk, plans to build batteries for its electric cars as well as stationary energy storage packs, which will allow homes and businesses to store electricity generated by the sun.
7 Aviation growth
Steady growth on domestic flights and expanded international service could lead to a new annual record for airline passengers traveling through McCarran International Airport. While the final 2016 tally won't be available until late January, the nation's eighth-busiest airport is on pace to break its record of 47.8 million passengers, set in 2007.
Several international carriers expanded service, but local tourism officials have high hopes for Hainan Airlines, which launched nonstop service between Beijing and Las Vegas in December. The service offered by China's largest privately held airline could become the first of many offering direct flights to Las Vegas, tourism officials said. Qatar Airways recently announced plans to launch service between Las Vegas and Doha, Qatar, sometime within the next two years.
8 New Strip casino projects
New casino projects had a mixed year.
Lucky Dragon, a 200-room Asian-themed hotel, opened in November on Sahara Avenue just west of the Strip, and casino developer Steve Wynn unveiled plans in April to build Wynn Paradise Park right near his Wynn Las Vegas and Encore resorts. The $1.5 billion project, slated to open in 2020, would feature a 1,000-room hotel and 38-acre lagoon.
Plans for Alon Las Vegas have called for a 3.4 million-square-foot, 1,100-room project next to Fashion Show mall. But the project, which has shown almost no progress since developers acquired the site in 2014, was dealt a big blow in December when primary financial backer Crown Resorts backed out.
Next to Alon, Resorts World Las Vegas is supposed to be a Chinese-themed megaresort. But that, too, has shown little visible progress, though developer Genting Group bought the site in 2013.
9 Big sales
Big, enclosed malls are supposed to be dying off, we're told — everyone just shops online, right? But investors couldn't buy enough malls on tourist-choked Las Vegas Boulevard in 2016, and they paid big bucks.
Indianapolis-based Simon Property Group and Atlanta's Invesco acquired The Shops at Crystals for $1.1 billion in April. New York investment firm TIAA acquired a 50 percent stake in Fashion Show for about $1.25 billion a few months later. And in October, Illinois-based Miller Capital Advisory and California public pension fund Calpers bought Miracle Mile Shops. The sales price was said to be around $1.1 billion.
By comparison, over the past five years only a handful of U.S. malls sold for more than $1 billion apiece, according to research firm Green Street Advisors.
10 Tourism growth
The Las Vegas Convention and Visitors Authority expects 2017 to be the year Las Vegas breaks 43 million in visitation. The organization ended 2016 with about 42.8 million visitors, continuing a trend of record-setting visitation numbers since 2013.
"The thing that continues to drive Las Vegas is constant reinvestment and evolution of the product," said Kevin Bagger, executive director of the research center for the LVCVA. "I mean the hotels don't stand still."
The opening of T-Mobile Arena, Lucky Dragon, Topgolf and other properties helped push visitation upward along with a strong convention market, he said.
The Review-Journal is owned by the family of Las Vegas Sands Corp. Chairman and CEO Sheldon Adelson.
Review-Journal writers Sandra Chereb, Nicole Raz, Eli Segall and Richard N. Velotta contributed to this report.
Top Ten Business stories of 2016
1. Proposed stadium
2. End of complimentary Strip parking
3. Opening of T-Mobile Arena
4. Rooftop solar
5. Shifting fortunes in Macau
6. Faraday and Tesla
7. Aviation growth
8. New Strip casino projects
9. Big sales
10. Tourism growth