Prudential Americana experiences its best year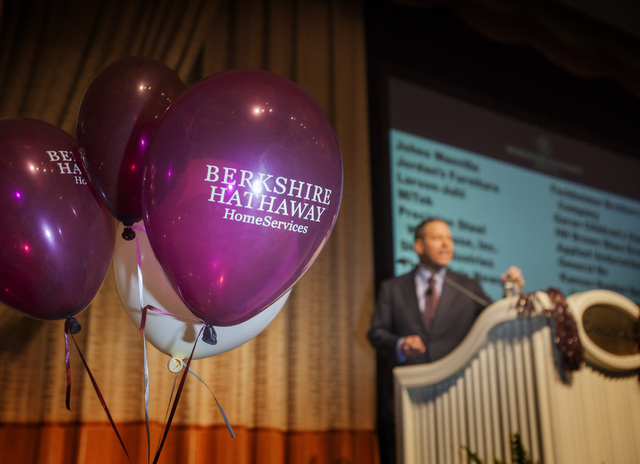 Prudential Americana Group, Realtors had its best sales year ever in 2013, but that wasn't the only big news coming out of the real estate brokerage's March 13 sales meeting at Encore.
The company also announced that it plans to rebrand itself under one of the nation's best-known corporate nameplates.
The brokerage — the nation's fourth-largest Prudential Real Estate franchise — will rename its Nevada operation Berkshire Hathaway Home Services-Nevada Properties. Its Arizona division will become Berkshire Hathaway Home Services-Arizona Properties. The new name takes effect April 29.
Berkshire Hathaway is a 330,000-employee holding company headed by well-known investor Warren Buffett. Berkshire Hathaway bought the Prudential Real Estate brand in October 2012.
CEO Mark Stark said little will change in how the brokerage operates, or in what clients experience when they work with sales agents. What the rebranding will do is give agents the benefits of identifying with one of the world's "most incredible, respected and trusted companies."
Berkshire Hathaway also owns or invests heavily in businesses including NV Energy, Southwest Airlines, Starbucks, Coca-Cola, Google and Apple.
"There's such a high level of respect for the Berkshire Hathaway name, and we're going to reap the benefits of that," Stark said.
The new brand should also help Prudential Americana Group grow from about 1,500 agents to around 2,000 by the end of this year.
"The opportunity for acquisitions and agents across the board is amazing. I haven't even made the (name) switch yet, and I'm having people contact me saying, 'I want to meet with you,' " Stark said. "Not too many things get me this pumped or excited. I'm just a kid in a candy store right now with so much opportunity."
Prudential Americana Group also celebrated at the sales meeting its brokerage record of $2.5 billion in sales volume in 2013.
Its top 10 individual agents for sales were Mark Weinberg, Avi Dan Goor, Stacey Heroy, Jana Shore, Lianna Alvarez, Nichole LaVigne, Rochelle Vannoy, Virginia Krieger, Jay Bravin and Melissa Machat.
Its top 10 teams were Shapiro &Sher Group, The Mullin Group, The Napoli Group, The Tonnesen Team, The McGarey Group, The Carver Team, Brown Blanfeld Group, Team Egbert, Adams &Vogel and The Craig Tann Group.
The brokerage's Summerlin office won Branch of the Year honors for the third straight year.
■ Burke Construction Group wrapped up work on a manufacturing and research and development center for computer-platform designer VadaTech. The 70,000-square-foot plant sits on 3.5 acres at 198 N. Gibson Road. On top of research and factory space, the $11.7 million building has a coffee bar, an employee cafeteria, a reading lounge and an employee fitness center. Burke's Travis Schultz managed the project. Jeff Gerber of PGAL Architects designed the facility.
■ Commercial brokerage NAI Vegas added to its executive team. Mark Musser has joined the company as a partner. Musser has been involved in the marketing and sale of about $300 million in retail, office, land and apartment transactions in his 13-year local career. He's also worked with Apartment Realty Advisors, The Bentley Group Real Estate Advisors and Marcus &Millichap Real Estate Investment Services.
■ The Urban Land Institute Nevada, a nonprofit group that focuses on best practices and issues in land use and real estate development, is holding a mixer for professionals under age 35. The institute's Young Leaders Group will meet from 4:30 p.m. to 7:30 p.m. April 1 at Born and Raised, a lounge and tavern at 7260 S. Cimmaron Road. Representatives of Pulte Homes, Wells Fargo, Marcus &Millichap and Sen. Dean Heller's office have signed up to attend. To register, call 800-321-5011.
■ Brokers with CBRE helped The Gramercy in southwest Las Vegas close its first major office lease.
Brad Peterson represented The Gramercy in its $14.7 million lease of 65,000 square feet to HMS Holdings Corp., a publicly traded provider of cost containment solutions for the health care industry. Darren Lemmon represented Texas-based HMS, which is scheduled to move more than 250 employees into the space near Russell Road and the 215 Beltway in the early summer. The brokers described the lease as a "long-term" deal.
HMS has a local office at 7501 Trinity Peak Drive.
Executives with The Gramercy's developers, The Krausz Cos. of California and Las Vegas-based WGH Partners, said they're in lease negotiations with other national and local companies.
Construction started back up on The Gramercy in September, five years after work stopped on the mixed-use residential and commercial project, originally called Manhattan West.
■ From yoga studios to barbecue restaurants, brokers with Colliers International had a busy week doing deals.
Dean Willmore, SIOR, represented Oro Pama LLC in its $2.79 million sale of a 30,253-square-foot industrial property on 1.44 acres at 1541 Pama Lane. Xavier Wasiak of Jones Land LaSalle represented buyer EdgeConneX LLC.
David Grant helped landlord E.S. &R.E. Berger Family Trust ink a lease on 4,136 square feet of retail space at 585-C College Drive to Urgent Care Extra-College and Horizon LLC. Eric Berggren of Newmark Grubb Knight Frank represented the tenant in the $1.02 million deal.
Grant represented landlord Aliante Marketplace LLC in its $700,000 lease of 4,200 square feet of retail space at 6905 Aliante Parkway to Las Vegas Yoga LLC dba Bikram Yoga Las Vegas.
Taber Thill, SIOR, represented tenant Warmington Residential Nevada in its lease of 4,368 square feet of office space at 6725 Via Austi Parkway, inside the Marnell Corporate Center. The agreement is valued at more than $400,000.
Chris Connell represented tenant B&Stine LLC dba Dickey's Barbecue Pit in its lease of 1,800 square feet of retail space at 10345 S. Eastern Ave. Carina Roper of Weingarten Realty represented the landlord, Weingarten Nostat of Texas, in the $300,000 deal.
Contact reporter Jennifer Robison at jrobison@reviewjournal.com. Follow @J_Robison1 on Twitter.