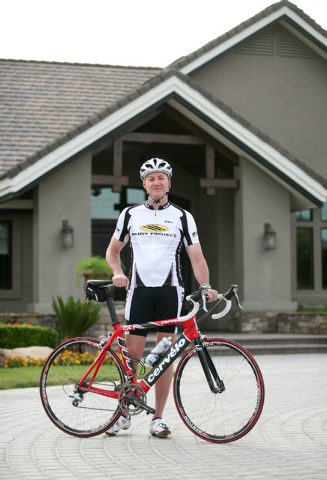 Kevin Burke and Burke Construction Group know something about surviving the Great Recession.
Burke, 51, the company's president and CEO, is celebrating his 25th anniversary with the company, that itself is marking its 30th in Las Vegas.
Burke Construction had 105 employees at its height in 2007. Today, the company has 62 full-time workers, but is in position to ride the growth in construction taking place this year.
"We track a lot of economic data, and we thought that turn would happen sometime in the first quarter of 2014, and it has," Burke said. "It's far from where we were. When you were in a construction depression in 2008 to 2011, just having that regrowth and the new sprouts that we're experiencing is significant. We will grow in this market 10 percent this year, which is significant."
Burke Construction is a commercial general contractor that services the hotel/casino industry, hospitality, public works, and retail/office/industrial sector. It also builds for the senior care market, including senior housing and multifamily projects.
Burke Construction is headquartered in Las Vegas and has offices in Washington state and North Dakota to take advantage of the booming oil and gas industry. It's licensed in 26 states and presently building in California, Nevada, Washington, North Dakota, Texas, New Jersey and Georgia.
Kevin Burke, a Kansas native, studied mechanical engineering at Kansas State University, but a chance to work for a construction company started by his brother Tim in 1984 resulted in a project manager's position in Dallas in 1989 before he moved to Las Vegas in 1990 to move up the ranks of the firm. He became president in 2000 and took over as CEO when his brother died in an accident.
Your brother made you start at the entry-level position?
I started out on the bottom and learned the business inside and out. Those of us who knew him well — there was no nepotism in the company. It was quite the opposite. You have to do it better, quicker, faster than everyone else.
How did you survive the recession?
We were always diversified across a number of different (sectors). The one thing we were not diversified in was geography. With the beginning of the downturn, we opened up two offices — one in Washington and one in North Dakota tied to the big oil and gas boom taking place there.
Do you regret focusing on Las Vegas?
The mistake we made, and won't make again, was Las Vegas captivated us. There was more work here and opportunities that we could take on. When we went through that building boom from 2000 to 2008, we were doing work here, a little bit of work in California and a little bit of work in Arizona. We had all we could take and then some right here in our own backyard.
How long will it take to get back to where you were?
It will take a while in Las Vegas. Our revenue corporately is back to where it was in 2007 buoyed by the Washington market and North Dakota market. After what we've been through the last four to five years, it's time for celebration. It got us very excited. We had a phenomenal 25-year run and tough four to five years. We are set up to have a phenomenal run as we go forward.
What is your most visible project?
The most notable one we won multiple awards for is the Cashman Equipment headquarters on St. Rose Parkway in Henderson.
What do you do for fun?
Road biking. I absolutely love it. I love getting up early in the morning and riding the Red Rock Loop or from my house in the northwest valley up to Indian Springs.
How far do you ride?
It could be anywhere from 30 and 50 miles.
What attracts you to it?
I went to the Ironman triathlon championships. A friend of mine was competing. Just being over there I identified with cycling and it got me re-enthused about it. I love being out on my bike. I love the time away and getting a good workout in. Las Vegas is a great place to cycle.
What else do you like to do?
We live out in the protected horse ranch area in the northwest part of the valley. We have a great property. If I have been traveling a lot during the week, we love just staying home and entertaining with friends and our friends love coming over to the house and enjoying the view. When you go out there, it's like you're out in the country.