Reid tells Nevadans stimulus plan will aid economy
February 18, 2009 - 10:00 pm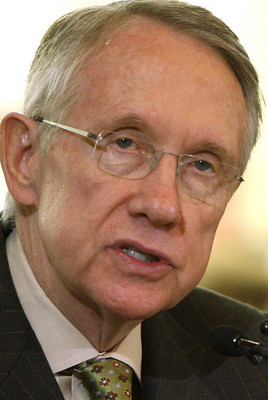 Senate Majority Leader Harry Reid, D-Nev., who helped persuade Congress to pass the $787 billion stimulus package, assured attendees of a Nevada State Bank-sponsored conference Tuesday that the program will help lift the country out of its economic malaise.
"This is not going to be a Great Depression," Reid told 600 attendees of the bank's Opening Doors 2009 conference at Mandalay Bay. "This is a recession we're going to work our way out of. I think the economy is going to get better."
"(President) Obama is betting on the economy getting better. Some of the Republicans are betting on the economy getting worse. Republican governors all over America are pulling for this legislation."
Nevada's senior senator also said that Obama is going to announce a $50 billion program today to help alleviate the home foreclosure debacle. He did not disclose any details of the program.
However, he said the plan will be particularly important in Nevada, where one out of 75 homes is in foreclosure, about twice the national rate.
Reid outlined for the gathering highlights of the stimulus legislation, which he predicted will increase jobs and boost small businesses.
One provision of the bill that Obama signed into law Tuesday allows businesses to cancel debts without incurring income taxes on any money that is not repaid to a borrower, he said.
Another gives first-time home buyers an $8,000 tax credit that can be kept if the buyer doesn't sell the home within three years. "That's something that's going to stimulate the purchase of homes," Reid said.
In a Feb. 9 analysis in the journal Tax Notes, however, Martin Sullivan said he doubted the Republican-backed provision would make a "significant dent in the credit market crisis." Instead, he said, the provision creates an incentive for lenders to foreclose on homes because lenders may be able to get a higher price by selling the house.
The senator said the stimulus bill includes another provision designed to jump-start the renewable energy industry, including solar power developers.
Congress previously granted the solar energy industry a 30 percent tax credit, but that measure lost its potency when the economy continued to collapse and few businesses had income to shelter from taxes. The stimulus bill allows developers to get grants for 30 percent of their investments even if they have no profits to create tax liabilities.
The legislation also includes a streamlined loan guarantee program for renewable energy and an investment tax credit of 30 percent for renewable power equipment manufacturers.
Reid said the stimulus bill includes $1 billion for small businesses, and John Scott, Nevada district director of the Small Business Administration, explained several changes for SBA loans.
Fees for SBA loans will be reduced or eliminated, Scott said. He said he is waiting for details on the size of the cuts as officials write regulations for the SBA provisions.
The SBA loan guaranty for 7(a) loans, which are the most popular SBA loan product, will be increased up to 90 percent of the loan amount from 75 percent to 85 percent currently. The government expects the higher guaranty will create an incentive for banks to make SBA loans and third-party investors to buy SBA loans from banks, Scott said.
Scott said he hopes that the new provisions generate more SBA loans. The total for SBA loans in Nevada declined from $277 million in 2007 to $209 million last year. The number of SBA loans dropped to 758 from 1,200 in 2007.
The SBA official attributed the decline to reduced demand for business loans, tighter lending standards at banks and the failure of some financial institutions. Silver State Bank, the Henderson-based bank that the government seized in September, was one of the area's top SBA lenders for several years.
Congress budgeted $6 million for SBA microloans ranging from $500 to $35,000 each and another $24 million to provide technical assistance to businesses after they receive loans.
Supporters were encouraged to see money budgeted for microloans, Scott said, because of fears during the Bush administration that the government might cut funding for microlending programs. The Nevada Micro Enterprise Initiative uses these funds to make loans to small businesses in Nevada.
Taking a broader perspective, Barron's, the weekly business tabloid, criticized the stimulus package, because only 25 percent of the $787 billion will be used in the current fiscal year, according to the Congressional Budget Office.
"It's just impossible to do it any other way," Reid told the Review-Journal, noting the difficulty of starting all the programs at once.
Reid said 80 percent of the money will be used during the first 18 months, but he said some programs, such as funding for high-speed passenger railways, will take longer than that. The United States is alone among developed countries in lacking an extensive passenger rail system, he said, noting that one potential route would connect Las Vegas and Los Angeles.
In other comments, Reid defended the president's criticism of executives from companies who have received federal bailout money taking business trips to Las Vegas.
"We shouldn't have these companies that got billions of dollars be out junketing whether it is Disneyland or anywhere else," Reid said.
"Because of the greed of Wall Street and others, we're in the situation we're in," Reid said. "Financial institutions are going to be regulated fairly significantly."
Contact reporter John G. Edwards at jedwards@reviewjournal.com or 702-383-0420.