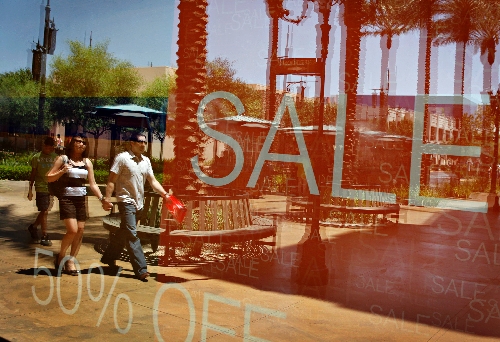 The retail market remains sluggish in Las Vegas as high unemployment and tight consumer spending hamper any chance of economic recovery, forcing businesses to close and driving up vacancy at shopping centers across the valley.
Retail performance dipped again in the second quarter. Some 345,000 square feet of space — roughly the size of three or four Wal-Mart Supercenters — was returned to the market, Colliers International brokerage reported. Vacancy rose to 10.1 percent on 43.7 million square feet of retail space, compared with 7.9 percent in the year-ago quarter.
Clark County posted a quarterly average of $82,583 in taxable sales per retail employee during the recession, down from $90,329 before the recession. The average dropped to $77,448 in the first quarter.
"There is no doubt that Southern Nevada's retail market is taking a beating in 2010," Colliers research director John Stater said Tuesday. "It looks like office was the first segment to get hit, then industrial and now retail seems like it's caught in the midst of a hard-core recession."
Asking rents have been reduced to $1.66 a square foot per month, down from $1.89 in second quarter 2009, but the current environment of falling taxable sales and high unemployment is keeping retailers from opening new stores, Stater said.
With depleted income, several shopping centers in Las Vegas have gone into default, including the $500 million Town Square developed by Florida-based Turnberry Associates.
Deutsche Bank, through the Ballard Spahr law firm in Las Vegas, filed a notice of default and election to sell under deed of trust in June with the Clark County Recorder. A breach of obligations has occurred and the entire debt is immediately due and payable, according to the filing.
Attorney David Barksdale of Ballard Spahr said the deed of trust's senior secured lenders instructed his firm to file for foreclosure. He would not comment on details or negotiations.
County records show Town Square is owned by Turnberry Centra of Davie, Fla. It's on 93 acres at 6601 Las Vegas Blvd. South, with a last sale price of $25 million in January 2004.
"Active negotiations continue with Town Square Las Vegas lenders regarding the outcome of the foreclosure," Turnberry Associates general counsel Mario Romine said from Florida.
Other retail centers in foreclosure or receivership include Renaissance West Shopping Center, 4001 S. Decatur Blvd.; Renaissance III Shopping Center, 3220 E. Flamingo Road; Simmons Marketplace, 5465 Simmons St..; strip retail at 7220 W. Azure Drive; Sahara Pavilion North, 4604 W. Sahara Ave.; Stephanie Beltway, 11 Stephanie St.; Ann Professional Plaza, 3820 W. Ann Road; Craig Promenade, 525 W. Craig Road; and Barcelone, 8701 W. Charleston Blvd.
Bank of America took back Village Square shopping center at Sahara Avenue and Fort Apache Road from Triple Five Development in December. Triple Five also defaulted last year with Keybank National on a $27.6 million loan for vacant land in the northwest valley that was planned for the Great Mall of Las Vegas.
Commercial mortgage defaults continue to mount and could take down major banks, real estate industry analysts have predicted.
The Federal Deposit Insurance Corp. raised its estimate of the nation's troubled banks to 775 in May, up from 702 in the first quarter. Roughly 97 percent of all active banks, or 7,721 banks, had at least some exposure to commercial real estate in the first quarter.
Delinquency rates on commercial mortgage-backed securities, or CMBS, continued to set new historic highs and commercial property prices declined again after showing signs of moving up in recent months, Washington, D.C.-based Urban Land Institute reported.
CB Richard Ellis brokerage reported 11.3 percent retail vacancy in the second quarter and asking lease rates of $1.70 a square foot, down 21 cents from a year ago.
No new retail space has been completed this year. The only major retail development under construction is Tivoli Village with the first phase scheduled for completion in March.
Leasing volume has reached nearly 1 million square feet, including significant leases such as Big Lots in the southwest submarket and dd's, a division of Ross Dress for Less, in the central east.
"I think everybody feels the momentum and interest is greater than last year," CB broker Penny Mendlovic said. "It's still challenged."
Most of the national anchors have put their deals on hold. In-line tenants, or the smaller stores that fill in a shopping center, no longer have equity and capital available to open new businesses, she said.
Net absorption — the amount of space leased minus space vacated — has trended more negative than last year, Colliers reported. Gross absorption is almost 400,000 square feet lower than a year ago.
Retail leasing activity picked up when tenants were moving around looking for cheaper rent or to downsize because they didn't need as much space, Stater said.
"What we're seeing now is much less of that activity, so we're getting a lot more stuff coming on the market," he said. "It's not so many people who are moving from one space to another, but rather people who are simply going out of business."
A second-quarter retail market report from brokerage Marcus & Millichap said cautious consumer spending and soft tenant demand will push the vacancy rate up 90 basis points this year to 11.6 percent. Last year, retail vacancy surged 220 basis points.
Contact reporter Hubble Smith at hsmith@reviewjournal.com or 702-383-0491.