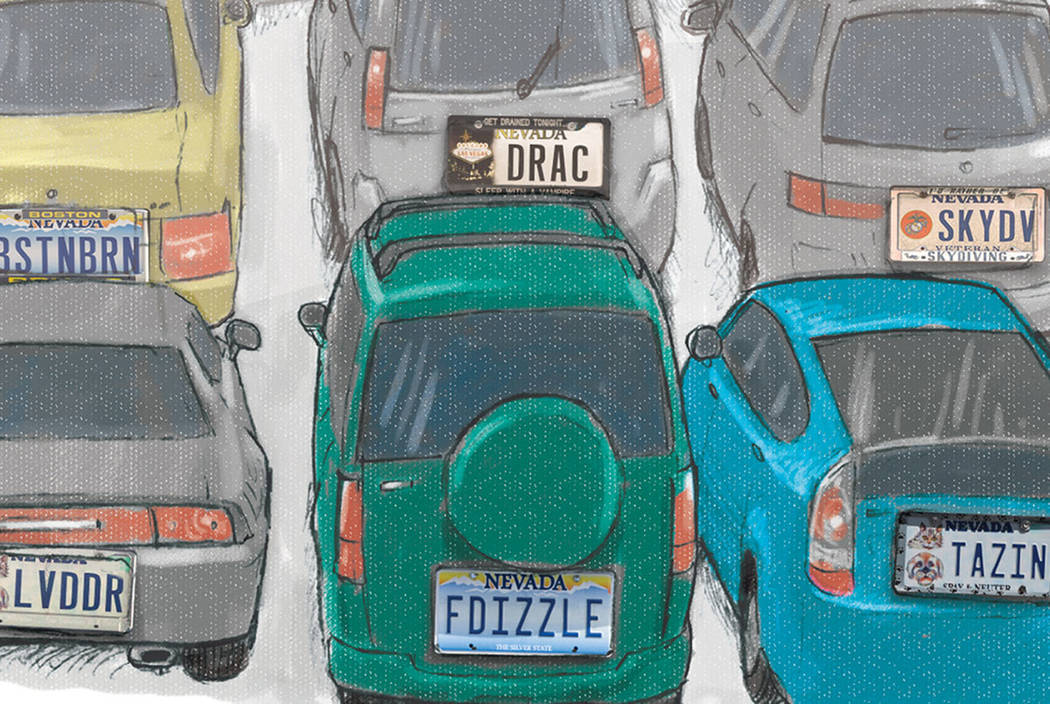 When Douglas Murphy decided to buy a vanity license plate in 1982, he hit a snag generations in the making. The Murphy family name proved too common for a simple plate.
He spent weeks having a state employee friend run different combinations of his name through a computer to see what hadn't been taken.
He eventually settled on the plate he has to this day, AKAMURPH (also known as Murph).
Murphy has earned praise for his plate over the decades. Valet parkers at one of his regular restaurants have taken to calling him "AKA."
"It was well worth it," he said. "I would never sell it or even turn it in."
Murphy owns one of the tens of thousands of vanity plates on Nevada's roads.
He and other readers reached out to the Review-Journal to share their stories after the newspaper published findings that Nevada consistently ranks No. 3 among percent of cars with vanity plates on the road.
The ranking was based on about 30 states that self-reported the number of vanity plates on its roads. About one in 10 cars on Nevada's road has a state plate with a custom message on it.
A reader who declined to give a name sent in photos of vanity plates for ATOM and B52H. The Air Force veteran said the plates come from days spent around Boeing B-52H bombers that carried atom bombs.
Some who see the license plates assume the reader was involved in the bomb tests held in Nevada.
Marco Velotta, son of Review-Journal reporter Rick Velotta, sent in a photo of his plate UOFNV (University of Nevada). The graduate has had the plate for about six years. He said he was shocked it wasn't taken.
Velotta was part of the Pride of the Sierra Marching Band, regularly attended games against rival UNLV and continues to work professionally with faculty members.
Sometimes, future students and interested parents will come up to him to ask about life at University of Nevada.
"It's a conversation starter," he said. "I'm always glad to share my experience on campus."
Contact Wade Tyler Millward at wmillward@reviewjournal.com or 702-383-4602. Follow @wademillward on Twitter.
SOME STANDOUT PLACES FROM AROUND THE VALLEY
— NOCHEEZ
— CHURCH
— YALLA
— BIGGUY
— POOLGUY
— STRMTPR (Storm trooper, villains from the "Star Wars" franchise)
— KITSCH
— KHUTZPA
— BATMAN
— THENUTS
— ORNGJCE
— WWJD4US (What would Jesus do for us)
— BOMHAIR
— ESTEEM
— WERNUTZ
— LINEMKR
— OHHHGOD
— BUDLITE