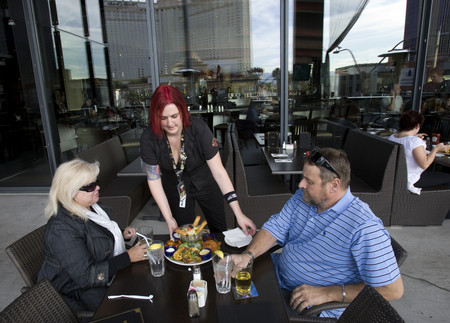 A 16.5 percent drop in September taxable sales doesn't look much prettier for the Southern Nevada economy than a month earlier.
"It's just another sign that a lot of people are having a hard time in the Nevada economy," said Bryan Wachter, director of government affairs for the Retail Association of Nevada. "We're not seeing anything that gets our heart pumping yet."
Taxable sales dropped 17.7 percent statewide in September from the same month last year, the Department of Taxation reported Tuesday.
The state collected an extra $38 million in revenue from last year's sales tax amnesty program, bringing the percentage drop down to 16.9 percent.
Sales tax revenues plummeted 18.9 percent in August after adjusting for tax amnesty recoveries in August 2008.
Taxable sales in Clark County plunged 16.5 percent in September from the same month last year.
"The numbers simply reflect what's going on with the economy in Nevada," said Brody Leiser, a spokesman for the Taxation Department.
"September tax collections continue to reflect that Nevada is heavily impacted by the current national economic recession," Gov. Jim Gibbons said in a statement. "We must all work together to stimulate our economy by creating jobs and getting Nevadans working."
But analysts saw a few glimmers of good news.
Wachter pointed to a 0.5 percent increase nationally in Black Friday holiday spending over last year.
John Dobra, associate professor of economics at the University of Nevada, Reno, noted that the Commerce Department reported a 0.7 percent increase in personal spending in October.
"I would expect October and November numbers to be slightly better," Dobra said.
Bob Potts, assistant director of the Center for Business Economic Research at the University of Nevada, Las Vegas, agreed.
September 2008 was the last month before the individuals began curtailing travel because of the financial industry meltdown, Potts said.
The center is looking forward to seeing how October and November taxable sales compare to figures in weak months last year, he said. Those taxable sales reports will give analysts the first comparison of bad months versus bad months, rather than bad months against good months.
Stephen Miller, chairman of the economics department at UNLV, said the latest numbers point to the need for long-term changes. People are buying more goods over the Internet and avoiding taxes for local and state government, he said.
Congress needs to push through legislation to collect sales taxes on those transactions, Miller said.
In addition, Miller said, more money is going for services, rather than goods. So the state Legislature needs to consider eliminating some of the sales tax exemptions for services to broaden the tax base, he said.
While Gibbons has promised to oppose new taxes, "these are not new taxes," Miller said.
Another problem experts cite is Nevada's reliance on tourism and gambling.
The gold mining industry in Northern Nevada provides some counterbalance as prices of bullion continues to climb.
"Twelve-hundred dollar gold is great," said Dobra, who is also director of the Natural Resource Industry Institute at UNR. "It's going to generate an increase in gross proceeds (taxes on mining). Having it there certainly supports rural Nevada in terms of employment." It also provides tax revenue for urban areas."
However, the entire $3 billion value added by mining in Nevada last year would not fill the gap between state spending and revenues if the state took all of it, he said.
Dobra does not expect the Nevada economy to start recovering until middle or late 2010.
Contact reporter John G. Edwards at jedwards@reviewjournal.com or 702-383-0420.