Sales down but not as much
February 24, 2010 - 12:00 am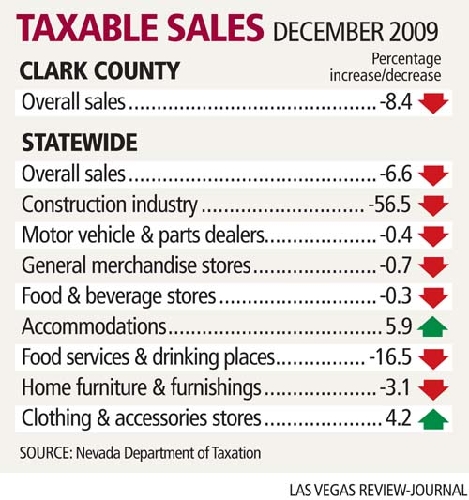 Christmas holiday sales brought little cheer to Nevada as the state recorded another decline in taxable sales for December, according to data from the Department of Taxation.
While sales dropped 6.6 percent to $3.7 billion, December brought the end of double-digit declines stretching back more than a year in the Silver State.
Clark County sales decreased 8.4 percent for December from levels in the same month a year earlier.
Stephen Miller, chairman of the economics department at the University of Nevada, Las Vegas, said the numbers could mean the state's economy has finally hit bottom.
"The probabilities are on the side of it bottoming out, and it's going to turn around next year," he said.
Taxable sales and gaming revenues appear to be flattening out, he said. "The number that is not flattening out is construction employment," Miller said.
The latest Taxation Department report also shows that Nevada so far is beating the projection of the state's Economic Forum for gross revenue collections from sales and use taxes.
Gross revenue collections from sales and use taxes decreased 10.51 percent for the first six months of the state's fiscal year, significantly less than the 13.4 percent plunge the Economic Forum predicted. This could reduce the challenge of trying to balance state revenues and spending.
"December tax collections continue to decline; however, after 14 months of double-digit percentage declines in sales taxes over the prior year, we have a single-digit decline of under 7 percent for December," Gov. Jim Gibbons said in a statement. "While some indicators are beginning to show signs of a thaw in the state economy, Nevadans continue to experience high unemployment rates and the highest foreclosure rate in the nation."
He promised to press for more efficient and leaner state government.
Construction industry sales decreased by 56.5 percent statewide, followed by a 28.2 percent plunge for merchant wholesalers of durable goods, the department said.
Washoe County, where Reno is located, experienced an 8.9 percent decrease in December sales. Nye County, which includes Pahrump, saw taxable sales slip 3.8 percent. Sales in Carson City, the state's capital, dived 14.5 percent.
Sparsely populated Humboldt County, which has Winnemucca as its county seat, posted the biggest gain as taxable sales more than doubled to $64.8 million from $28.4 million in the previous year. Elko County enjoyed a 37.5 percent increase.
In Clark County, sales of motor vehicles and parts dipped 0.7 percent from the same month in the prior year.
Taxable sales for wholesalers of durable goods, one of the largest categories, sank 31.7 percent. Utilities ratcheted down 40.1 percent. Building construction taxable sales fell 78.5 percent from the same month in the previous year, Heavy and civil engineering construction stumbled 69 percent. Food services and drinking places in Clark County rang up 17.6 percent less in sales than in December 2008.
On the positive side, accommodations registered a 7.8 percent increase to $124.2 million in taxable sales.
Plastics and rubber manufacturing rocketed up 411.9 percent, followed by fabricated metal product manufacturing up 184.8 percent and apparel manufacturing up 94.3 percent.
Rail transportation jumped 56.3 percent, while air transportation gained 25 percent and truck transportation fell 16.4 percent.
Motion picture and sound recording gave back 30.9 percent, but broadcasting, another small category, more than doubled its taxable sales.
Contact reporter John G. Edwards at jedwards@review journal.com or 702-383-0420.