Say hello to Aliante Station
November 11, 2008 - 10:00 pm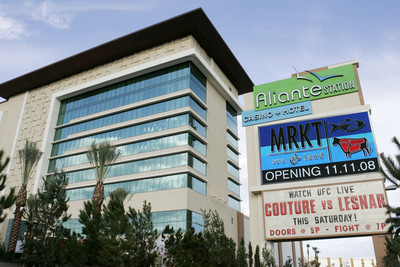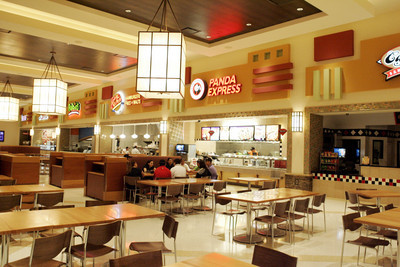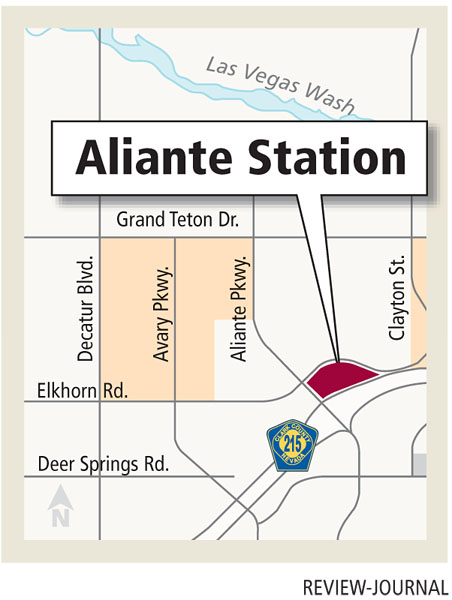 A day before its 11:11 p.m. opening, the $662 million Aliante Station was abuzz with last-minute activity.
A few dozen workers were busy Monday afternoon putting the final touches on restaurant MRKT Sea & Land and the ETA bar and lounge — two of the company-owned amenities in the new North Las Vegas locals casino.
Elsewhere in the property, a scattering of slot technicians worked on some of the 2,554 slots, bartenders were checking inventory and other employees tended to other details. The hotel desk was checking in invited guests, and, down the hall, property managers were holding last-minute auditions for beverage servers.
Despite the activity, Station Casinos spokeswoman Lori Nelson said the new property has been issued all the necessary permits. She said everything is on schedule for her company to open its 11th hotel-casino tonight following a 10 p.m. fireworks show.
Nelson said the opening has gone smoothly, thanks to experience; this is the company's third opening this decade. Green Valley Ranch Resort opened in 2001 and Red Rock Resort opened in 2006.
Company Chairman and Chief Executive Officer Frank Fertitta III said Aliante Station is the "smoothest project we've ever designed from start to finish."
Many employees share the company's enthusiasm about the new hotel-casino.
Barbara Bolton, who started working under company patriarch Frank Fertitta Jr. at Bingo Palace in 1980, said Aliante Station reflects the Fertittas' personal touch and the closeness of the workers.
"Anytime you see (the Fertitta family) if they have met you before, they say, 'Hi,'" Bolton said. "If they know who you are, they'll stop and are just as friendly, down-to-earth people."
Bolton, who is a slot shift manager, is one of nearly 350 Station Casinos employees who transferred from other company properties. Approximately 1,400 employees work at the property.
North Las Vegas Mayor Michael Montandon said the new resort is a much-needed boost for the city.
"I have heard from about as many people thrilled to be working there as I have from people thrilled about going there," Montandon said.
The opening comes as the gaming industry is struggling because of the mortgage crisis and economic downturn.
The mortgage crisis has hit North Las Vegas particularly hard. There were 1,394 foreclosures, or 48.9 percent of all housing transaction, in Aliante Station's 89084 ZIP code area for the 12 months ended Oct. 20, Chicago-based real estate research group Blockshopper.com reports.
The neighboring 89031 ZIP code had 2,342 foreclosures, or 50.7 percent, in this year's first nine months.
Station Casinos, like other gaming companies, has seen revenues tumble as consumers curtailed spending.
Station Casinos on Monday posted a net loss of $23.4 million in its third quarter ended Sept. 30, driven by lower revenues and increased interest expenses related to its large debt load, a filing with the Security and Exchange Commission shows.
The net loss reverses net income of $3.7 million in the same period last year.
A net loss of $75.7 million was recorded for the first nine months of 2008, a sharp contrast to the $41.8 million net income posted through September last year.
Third-quarter revenue fell 10.5 percent to $317 million from $354.1 million.
Nine-month revenues slid 7.4 percent to $1.01 billion from $1.09 billion.
Cash flow, defined as earnings before interest, taxes, depreciation and amortization, fell 13 percent in the quarter from last year to $108.7 million.
In a note to investors, Andrew Zarnett, a Deutsche Bank bond analyst, forecast a continued decline in company cash flow in 2009 and possibly beyond, adding pressure to some current debt covenants.
"We warn that this trend could continue into 2010 and possibly get worse before it gets better," Zarnett wrote.
Station Casinos executives did not hold a conference call to discuss the company's earnings. The locals casino company, which was taken private late last year by a joint venture between the Fertitta family and Los Angeles-based real estate firm Colony Capital, filed an earnings report with the federal government because it has publicly traded debt.
Montandon, who toured the property Thursday, said when discussions with Station Casinos began more than six years ago, he was concerned that the new property wouldn't be as nice as Red Rock Resort or Green Valley Ranch Resort.
Those concerns, however, have been put to rest, he said. Montandon called the attention to detail in the property "spectacular."
"(Station Casinos executives) had assured me (my concern about the property) was unfounded," he said. "Obviously, time was the only way to prove that. Six hundred and something million dollars later, they did it right."
Montandon, who has never been a cheerleader for expanding gaming in the city, continued: "We're very fortunate to have gotten something as nice."
Aliante Station is the fifth 50-50 joint venture between Station Casinos and the Greenspun Corp.
Contact reporter Arnold M. Knightly at aknightly@reviewjournal.com or 702-477-3893.
Slideshow