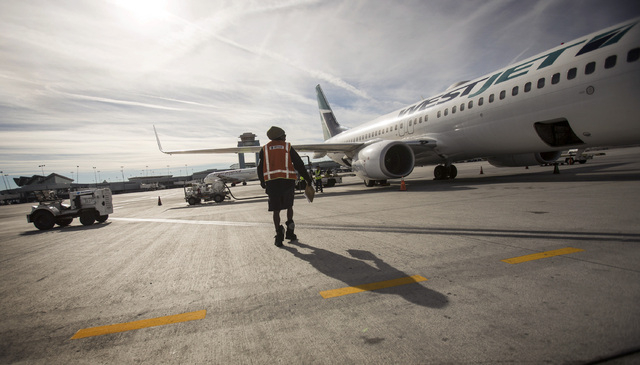 After a static 2013 for passenger counts at McCarran International Airport, the first half of this year has started to shape up as only a slight improvement.
Schedules loaded into airline reservation systems show a 1.3 percent increase in the number of seats coming into Las Vegas during the six months, according to the travel data firm Innovata. This comes to 168,000 more seats during the period, or about 135,000 more visitors assuming that 80 percent get filled, a level most airlines now achieve or exceed.
Although the year starts off faster than the average, the gains trail off toward midyear.
McCarran's in-house statistics show a similar pattern, with a 2.3 percent capacity increase during the convention-heavy January, followed by 1.6 percent in February and 1.7 percent in March. Airport managers do not look any further forward than one quarter, at least for public consumption, because they feel that the accuracy decreases after that.
However, the variation between the two sources amounts to 0.3 points or less for comparable months.
Either way, the numbers point to a visitor industry facing continued slow growth.
During 2013 through November, the visitor counts rose only 0.1 percent compared to 2012, as counted by the Las Vegas Convention and Visitors Authority, almost identical to the 0.2 percent rise in McCarran's passenger counts. The authority reports show the overall hotel occupancy rate went up only 0.2 percent and the number of nights each room was filled went down 0.4 percent.
Still, said Andrew Klebanow, a principal at Gaming Market Advisors in Las Vegas, "Any growth in the number of seats into the market is going to help. One point three percent? Great, we'll take it."
This comes against a backdrop, he said, of "no new must-see properties" that have opened in the past couple of years to stoke demand.
The importance of the airline seats, known as lift in the industry, extends beyond the raw count in the view of some experts.
"Air travelers tend to be higher value consumers as opposed to the drive-in market from Southern California," said Brian Gordon, a principal at the economic consulting firm Applied Analysis. "Assuming the airline seats can be filled, they should generate some meaningful growth (for the visitor industry) going forward."
Authority surveys have shown year after year that people who arrive by air spend more and stay longer than their ground-bound counterparts. This is due in part to many convention attendees on expense accounts and foreigner tourists flying here.
Further, the car counts at the state line at Primm have dropped in six of the last eight months, according to authority numbers, so more airline passengers help to fill the gap.
The authority has its own consultant to market Las Vegas to airlines to beef up McCarran schedules. In addition, the authority played a lead role in bringing the World Routes airline conference to Las Vegas in October in the hope that schedule planners would be impressed enough by seeing the city in person to bring in more flights.
The Las Vegas performance roughly mirrors broader airline strategy called capacity discipline. This involves keeping a lid on supply as a way to drive up fares and avoid money-losing fare wars. The strategy was adopted when fuel prices spiked upward about six years ago. Southwest Airlines, which holds nearly 40 percent of the local market, has projected about the same amount of flying this year as 2013.
Contact reporter Tim O'Reiley at toreiley@reviewjournal.com or at 702-387-5290.