Second electric car company plans manufacturing plant in Southern Nevada
February 13, 2016 - 7:56 pm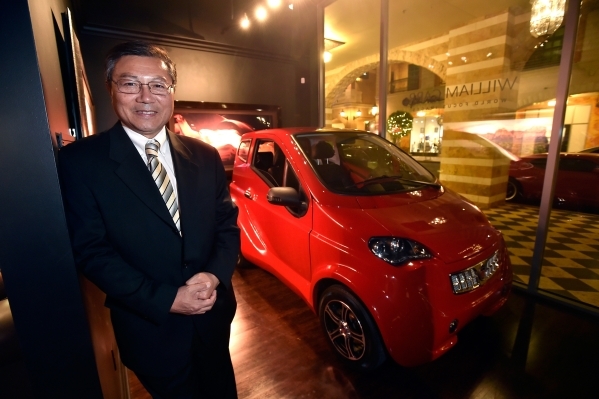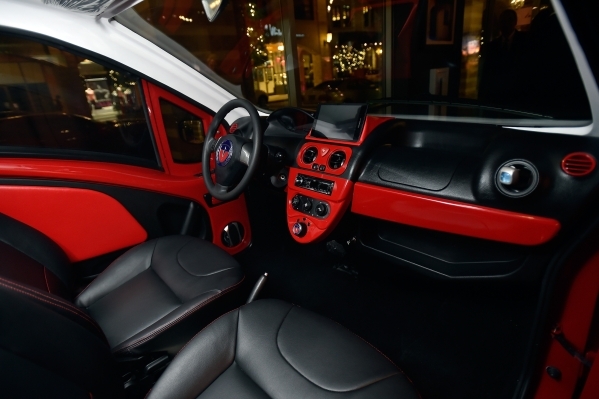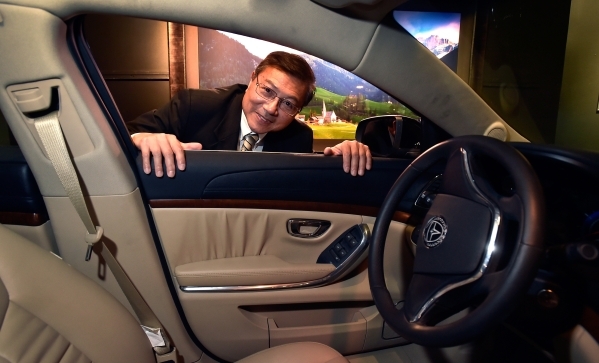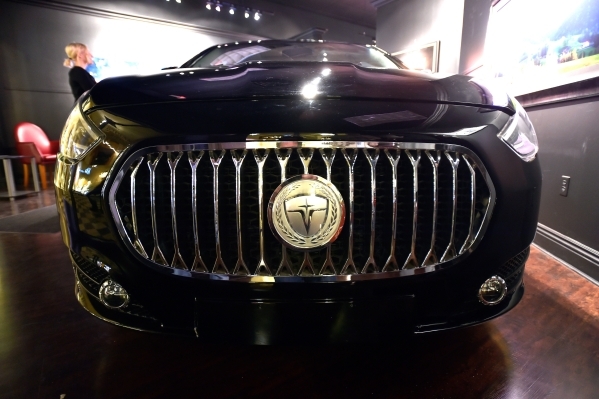 A second electric car company is planning to build a manufacturing plant in Southern Nevada, and it's further along in development than Faraday Future — it has two car models it is showing off in Las Vegas this week.
Executives with 2050 Motors, which has a distribution agreement with China's Jiangsu Aoxin New Energy Automobile Co., Ltd., said Friday they are evaluating sites to build a plant in Las Vegas.
In the meantime, 2050 plans to import cars from the company's recently completed manufacturing facility at Yancheng City in China's Jiangsu Province to sell them in the United States with Las Vegas being an initial target market.
The 2050 Motors vehicles are the first electric vehicles manufactured with carbon fiber materials. That makes them lighter and stronger than conventional vehicles, giving them added range. Company officials say their cars will have a range of more than 200 miles on a charge.
The company plans to take advantage of Las Vegas' popularity as a resort destination to show cars off to prospective American buyers.
Faraday also took advantage of big crowds in Las Vegas, unveiling a concept vehicle at a presentation prior to CES, the massive international consumer electronics show, and displaying it at the convention in early January. Faraday made a big splash in Nevada in December when it announced it was building a manufacturing plant at Apex in North Las Vegas. Tax incentives were approved for the deal by the Nevada Legislature in a special session.
2050 could also seek tax incentives, adding that it could create 3,000 jobs "in the next few years."
The public got its first look at 2050's two car models Friday and Saturday night at media and VIP receptions, but the company has invited the public to see the cars beginning Sunday . Two models, the compact e-Go and the Ibis, a luxury sedan, are on display from 10 a.m. to 5 p.m. Sunday through Feb. 22 at the William Carr Gallery at Tivoli Village, 440 S. Rampart Blvd. The company has asked that people wanting to see the vehicles register on the company's website, 2050motors.com, to avoid crowds.
Joe LaStella, 2050's senior engineering consultant, said the company has worked to keep itself under the radar until it completed five milestones: designing a car with carbon fiber, building a production plant, developing a supply chain, creating a distribution network for sales and passing U.S. Department of Transportation crash test standards.
LaStella said the company has completed the first four milestones and felt it was close enough on the fifth to show off the car as a celebration of the Chinese New Year.
"Carbon fiber is five times stronger than steel at one-third of the weight, and that's what makes this car different from anything else on the market," LaStella said.
Carbon fiber components already have been a hit with the aircraft manufacturing industry. Carbon fiber components were used to design Boeing 787 and Airbus A350 jets. The 787 is already used commercially, and proponents say it is the most comfortable plane in the sky thanks to qualities enabled by carbon fiber.
The strength of the material is expected to be a plus when vehicles undergo U.S. crash tests. 2050 is sending eight of its e-Go cars to test facilities, hoping to get clearance to sell the vehicle in the United States by summer.
Once the crash tests are completed, 2050 would build its e-Go plant. The company isn't disclosing prospective sites, but LaStella said several are under consideration and all are within the city limits of Las Vegas, even though the company's corporate headquarters are in North Las Vegas.
The e-Go has undergone crash tests in China, Japan and Europe with favorable results, but U.S. standards are more rigorous.
The e-Go got its start in 2010 when Chinese government-owned Dongfeng Motor, one of the four largest car manufacturers in China, announced an initiative to build the first affordable mass-produced carbon-fiber electric car.
Dongfeng partnered with Jiangsu Aoxin New Energy to develop the project, and Michael Hu was chosen to lead it. Hu is now president of 2050 Motors and greeted guests at Friday's event.
Aoxin hired top engineers from Italy and Germany to design the car while Hu developed 2050 to begin work on U.S. distribution.
Between 2012 and 2014, the e-Go was redesigned several times in an effort to make it conform to U.S. crash standards. Meanwhile, the companies were developing financing and in January 2014 signed an agreement with the Yancheng Municipal State-Owned Asset Investment Group to build a 200,000-square-foot, $100 million assembly plant in Yancheng. Crews broke ground in September 2014 and had the plant ready to build cars five months later.
While the plant is still undergoing inspections and improving quality-control procedures, the first e-Gos were rolled off the assembly line in November and shipped to the United States. Full-scale production is expected by spring and the cars destined for crash tests will be delivered so that the Department of Transportation and the Environmental Protection Agency can certify them by summer.
Company officials say the e-Go, which seats four passengers, would sell for $25,000 after federal energy efficiency tax credits. The five-passenger Ibis, which is 800 pounds lighter than the Tesla Model S sedan, would sell for $59,500 after tax credits, less than the cost of a Tesla.
2050 may seek state tax incentives, just as Faraday did. "2050 Motors has been negotiating for well over a year with municipalities to finalize plans for job creation. Both state governments and municipalities are offering considerable incentives for job creation," the company said in a January press release.
Steve Hill, director of the Governor's Office of Economic Development, said Saturday that 2050 Motors has not applied for incentives.
The company believes job creation is a key issue in the 2016 presidential election and recently added a section to its website calling attention to the prospect of adding 3,000 jobs.
The e-Go and the Ibis are on display at the William Carr Gallery, which has a photographic display featuring images from the Southwest and Italy. Carr, who hosted Friday's event, said he was approached by the company to show the vehicles. His gallery is the only place at Tivoli Village that has access points large enough to bring the vehicles inside.
— Contact reporter Richard N. Velotta at rvelotta@reviewjournal.com or 702-477-3893. Follow @RickVelotta on Twitter.