Silver Nugget Awards honor best in Southern Nevada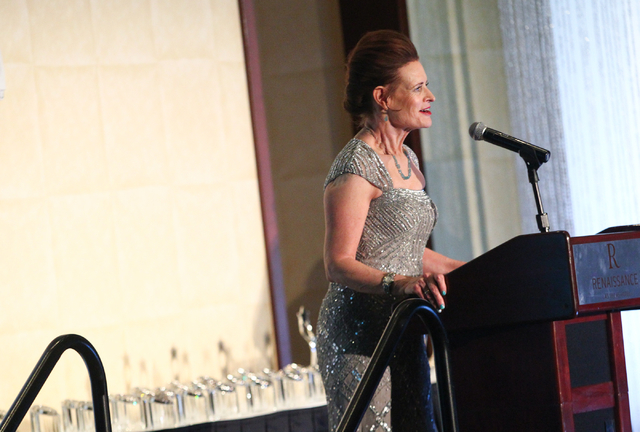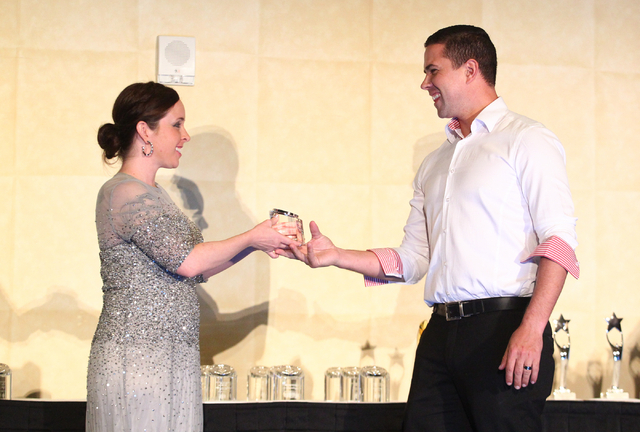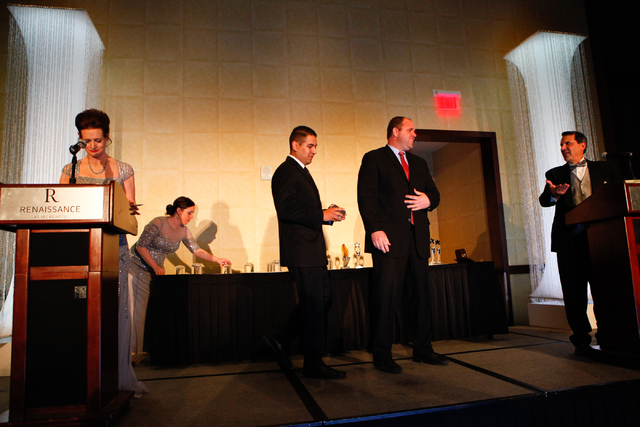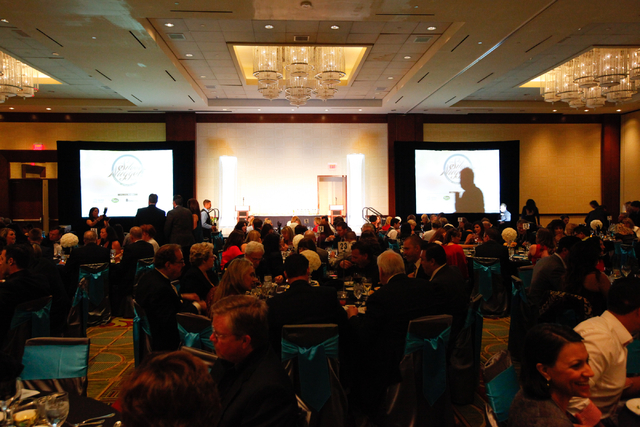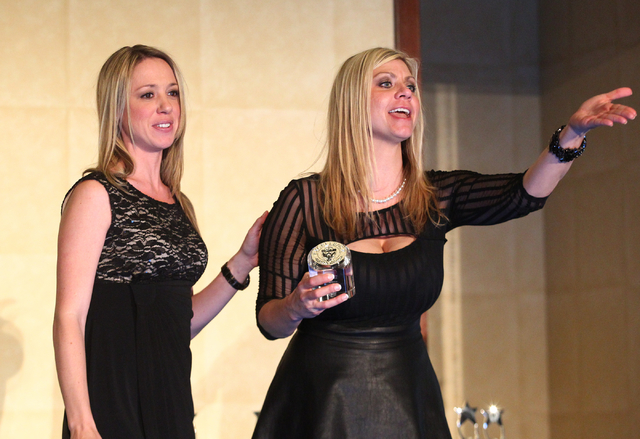 After nearly a decade of incredible highs and devastating lows, it was time for a party.
With its Silver Nugget Awards on March 29, the Southern Nevada Home Builders Association threw its first big annual awards party since 2004, and nearly 300 people came to celebrate.
"It felt really good to to be up there and not be saying, 'We've got a tough year ahead,' " said Nat Hodgson, the association's executive director. "We have some issues, but we have to fight through the negatives to find some positives and keep our head up."
Hodgson emceed the event, along with Review-Journal sales executive Claire DeJesus. The Review-Journal partnered with the association to put on the event at the Renaissance Las Vegas. Honors went to winners in 43 categories covering architecture, interior design, floor plans and sales and marketing.
Judges were David Baird, director of UNLV's School of Architecture; Samra Leedy-Keller of Chicago Title in Irvine, Calif.; and Tom Weston of Weston-Mason &Associates, a Los Angeles advertising and marketing firm.
The Silver Nugget Awards were different from their predecessor, the Homer Awards, because they highlighted the people behind the projects as much as they honored new homes themselves, Hodgson said.
"We needed to recognize what our people have been through. It's like getting the Silver Cross," he said. "The people are who make this industry. Pretty much anyone can build product, but putting passion behind it is what counts. The ones who won awards put their heart and soul into their product and made it their own."
Winners included Geoff Gorman of Harmony Homes as Sales Director of the Year; Kathy Hilty of Pardee Homes as Marketing Director of the Year; Pardee's Dennis Shavor as Construction Superintendent of the Year; and Irene Elicerio of KB Home as Customer Service Rep of the Year. Shea Homes and William Lyon Homes won multiple awards for their single-family designs, and other honorees included Toll Bros., Blue Heron Homes and Lennar Homes.
Salespeople of the year were Raymond Eng of Warmington Homes; Karen Wellman of Pulte Group; and Sherry Scanlan of KB Home.
Larry Canarelli of American West Development won the Lifetime Achievement Award.
So what can consumers gather from this year's crop of winners?
First, expect builders to tap the Internet more for sales, Hodgson said.
"The new generation, especially, wants to do everything via computer. You're going to need that ability if you want to reach that group."
As for home designs, multigenerational floor plans are only getting more popular. "Mother-in-law" suites with separate front doors and kitchenettes — one type of design Lennar won for — are in demand among all household types, from younger families with parents coming to live with them to older parents with adult children who need to move home.
The association may be able to check those trends again in a year: It's its goal to have a 2015 event as well, Hodgson said. The group plans to get feedback from members about what, if anything, it should do differently the next time around. But Hodgson said he hopes there'll be a ceremony in some form or another.
"It was just so nice. It seems like dog years in my mind since the last time we celebrated anything," Hodgson said. "It's been such a long road, and we still have a long one to go. But we needed something to celebrate. For a huge industry like ours to be dark for 10 years is a crime. It's not like we just started doing good things, but we had our noses to the grindstone just trying to do business."
■ The Bascom Group continues to add to its Las Vegas apartment portfolio.
The California investment firm closed in late March on its $22.5 million purchase of Chapel Hill, a 222-unit, Class A apartment community at 9620 W. Russell Road.
Chris Bentley and Melissa Salas of ARA brokered the deal, which was for $101,216 per unit. Brian Eisendrath and Troy Tegeler of CBRE Capital Markets arranged financing by Comerica Bank.
It's Bascom's third local buy in seven months.
■ A popular local charity has a new landlord thanks to Marcus &Millichap.
Senior associate Raymond Germain and investment specialist Candace Carrell represented a private investor in a $4.1 million purchase of a 16,000-square-foot space that Goodwill of Southern Nevada is leasing at 7420 S. Rainbow Blvd. The property is Goodwill's first local build-to-suit project.
"This was a great deal for our client, who is a private investor in the process of making the move into retirement," the brokers said in a statement. "This acquisition will provide them with a stable, management-free return for many years to come."
■ Voit Real Estate Services announced the completion of two large deals.
Jennifer Levine represented landlord Wynn Road LLC in its 84-month lease of 34,054 square feet at 5475 Wynn Road to tenant Tait Tower Manufacturing LLC. The agreement is worth $1.3 million.
Levine also represented tenant OldRock Inc. in its 120-month lease of 11,303 square feet at 6283 S. Valley Biew Blvd. OldRock plans to open a rock-climbing gym inside the space. Spencer Pinter of Colliers International represented the landlord, Valley View I, II &III LLC, in the $902,000 lease.
■ Brokers with Sun Commercial Real Estate closed on two recent leases.
Lisa Hauger represented Arizona Pain Specialists in its 68-month lease of 5,040 square feet of office space at 7220 S. Cimarron Road. The landlord in the $559,000 deal is JAMD LLC.
And Cathy Jones, Paul Miachika, Jessica Beall, Roy Fritz and Cash Jordan represented landlord Green Valley Commerce LLC in its 85-month lease to tenant Maximum Reimbursement. The lease, for 4,454 square feet of office space at 12 Commerce Center Drive, is worth $282,000.
Contact reporter Jennifer Robison at jrobison@reviewjournal.com. Follow @J_Robison1 on Twitter.