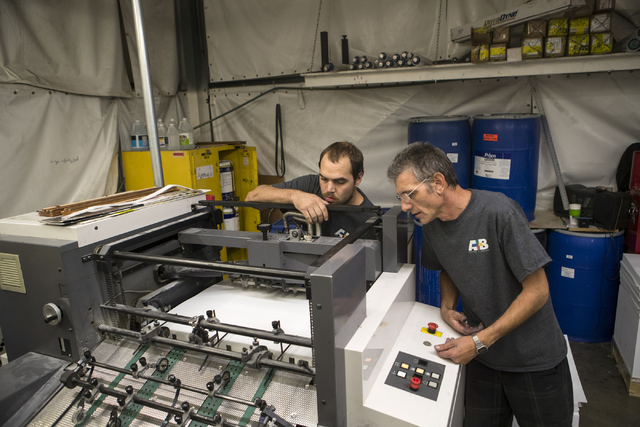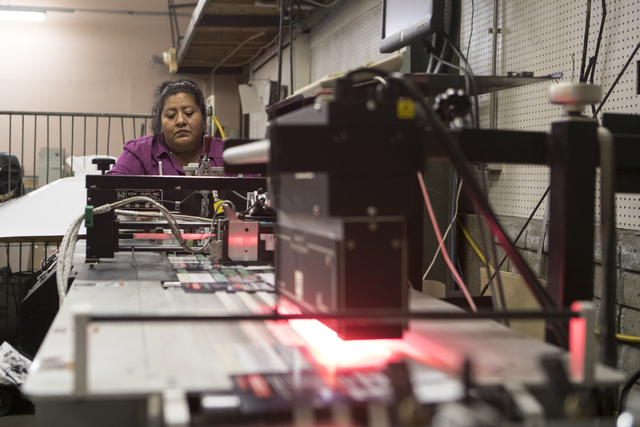 As residents are bombarded by political advertisements this election year, some key businesses are cashing in on what they see as a window of opportunity.
Kathy Gillespie, owner of A&B Printing and Mailing, said political printing has offered a steady business boost in election years.
"We got into it on a very small level in 2008. And then it just kind of exploded starting in 2010," Gillespie said.
Prior to about 10 years ago, there weren't enough printers in Las Vegas to handle political printing, she said.
"A lot of the political printing was being done in California and being shipped in here to Nevada," Gillespie said. Since then, political campaigns both local and national have reached out to her.
The company's biggest election year was 2010, according to Gillespie, partly because of the competitive U.S. Senate race between Sen. Harry Reid, D-Nev., and Republican candidate Sharron Angle.
The election year amounts to a boost of about $2 million in additional sales for her company, she said.
"It's a very small window of opportunity you get every four years or maybe every six years when there's a Senate race," Gillespie said.
The print shop owner said her company tends to print for Democratic candidates but she added that it's not exclusive.
"I won't tell you an occasional Republican doesn't come into my door," Gillespie said.
Across the Las Vegas Valley, campaign offices have sprouted up in vacant storefronts to power candidates through election day. But Jeff Mitchell, director of retail for Virtus Commercial, said filling vacant commercial space with political tenants isn't always a slam dunk for landlords.
"It can be a little hit or miss," Mitchell said.
It can make sense for leases of six to 10 months, but shorter ones of a month or two often don't justify the cost. Mitchell said in some cases, the rent collected from a one-month lease is canceled out by what it costs for a landlord's lawyer to write up the contract.
Often, Mitchell said, a short-term proposal "doesn't really justify the time and energy of those landlords for such a short term scenario."
Robert Richardson, owner of Richardson Graphics & Marketing, said the company used to get a lot of work for political yard signs and other signage, but in recent years "that's just kind of died off for us."
As campaigns have begun spending more on digital advertisements, Richardson said his company has begun emphasizing its digital advertising services to cater to this niche.
"We've seen a significant change in how they're spending their money," Richardson said of political campaigns.
Richardson said his company helps campaigns manage social media advertising and online webinars. He said political campaigns are beginning to favor social media and other online avenues because they can "grab that information and put into a database."
Contact Alexander S. Corey at acorey@reviewjournal.com or 702-383-0270. Find @acoreynews on Twitter.