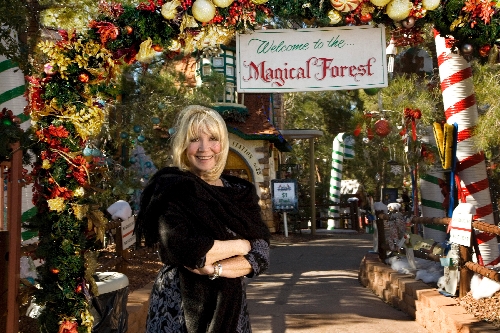 Twenty years ago, Linda Smith thought she would do something nice at the holidays for her donors who helped fund construction of Opportunity Village's new campus on Oakey Boulevard.
She borrowed a few pine trees from a nursery, added some lights and convinced students from neighboring Bonanza High School to make Christmas ornaments.
It was only going to be a weekend event.
"People came by and seemed to be charmed by it," Smith said.
The charity's donors asked her to keep the display up another night. They brought friends and family over to see the lights. More people came by a day later, including residents of the nearby neighborhoods.
The next night, Smith asked her mother to bake cookies and brew up hot chocolate for sale. She brought out a hay bale to sit on, and found a jingle bell and pot to collect donations.
By week's end, Smith raised $3,000 for Opportunity Village.
"It was just intended to say thank you to our donors," Smith said.
That little tree lighting has evolved into Opportunity Village's Magical Forest, one of the organization's most important annual events. The holiday spectacular runs from Thanksgiving to New Year's and grosses $1.5 million annually.
The Magical Forest includes dozens of lighted trees sponsored by businesses and individuals. The Forest Express train takes visitors through the two-acre park, which has a carousel, food stations and a gift shop.
The Magical Forest is one example of how Smith can turn a small idea into profitable ventures for the organization that serves people with intellectual disabilities.
Smith, who holds the titles of chief development officer of foundation and associate executive director, has been the public face of the Opportunity Village for 30 years. She originally joined the charity for her son, Christopher, now 38, who was born with an intellectual disability.
Smith has raised more than $100 million for Opportunity Village. The charity has three campuses in Southern Nevada and is self-sufficient. A study done by Las Vegas based financial consultant Applied Analysis showed the charity saves Nevada taxpayers $22 million annually because it trains individuals to join the workforce.
"The business community gets it," Smith said. "This year, we're serving about 3,000 people. Hundreds and hundreds of people have come through Opportunity Village's programs, and we have found them gainful employment in the Las Vegas Valley."
Smith, a former dancer and entertainer, was first introduced to Opportunity Village through the organization's downtown thrift store in the early 1970s. Smith's former husband, entertainer Glenn Smith, came to Las Vegas for a series of performances. While pregnant with Christopher, she volunteered part time in the store.
She didn't know Christopher would be born with a disability.
Question: What brought you to Opportunity Village?
Answer: We moved to Las Vegas permanently when Christopher was five. I remembered the original facility downtown as not being a very good place. Glenn and I decided to start raising money for Opportunity Village, and that's when we put together our first 'Concert of Love.' Glenn reached out to Wayne Newton, who was a great friend of his. Wayne did the first 'Concert of Love,' and his star power brought other entertainers. Wayne helped put Opportunity Village on the map.
Question: What is a lesson we can learn about Opportunity Village?
Answer: We have placed hundreds of disabled adults into jobs throughout the community (including food service and janitorial positions). And the great thing is that the people we serve are so grateful to have that job. When our people first get into a job, there is nervousness and a reservation at first because this person has an intellectual disability. But very quickly, that person becomes central to that company or business. They teach us lessons every day about overcoming obstacles that we never considered.
Question: Did Opportunity Village's fundraising suffer during the economic downturn?
Answer: I think we have fared very well. It goes back to this as being a local treasure started by seven families 58 years ago. We owe a lot of success to the founding families, because they didn't want to be beggars or depend on state or federal funds. We found ways of being productive and to do things ourselves. We hold very visible events (such as the Great Santa Run, concerts by Strip entertainers, and the Magical Forest) that are highly attended.
A lot of businesses are not in business anymore. A lot of home builders were involved in the Magical Forest. Businesses still have found a way to help out and support us. They might give us their shredding business or buy cookies from us at Christmas time. We can always find a way for them to come in and help us out.
Question: What type of business services does Opportunity Village offer to the community?
Answer: Our shredding business does about $1.5 million a year in destroying documents for the IRS, banks, hotels and other businesses. We also return about $40,000 a year to businesses that inadvertently throw away bank bags with cash or checks.
We gained a lot exposure nationally when we made 250,000 buttons for the Reagan-Bush Presidential campaign (in 1984). In our bakery, we sell about 25,000 cookies a week to hotels on the Las Vegas Strip.
Question: How has the Magical Forest changed in its 20 years?
Answer: In many ways, it's like operating a theme park. We have 50 different Santa Clauses, more than 100 volunteers nightly and different entertainers every night. This has become a family tradition, whether you come here to see the lights or to take family photo. It's a wonderful melting pot. This is not only important to Opportunity Village, but to the community as well. It connects them on a lot of different levels.
By the time the holiday season has ended, 200,000 people will have walked through here. They will see stories of people with disabilities and they will get an education. Every dollar raised at the Magical Forest goes to support citizens with disabilities.
We started doing field trips to the Magical Forest for at-risk schools as a legacy tribute to Cheyenne (Smith's granddaughter who died in 2008). In just three short years, we've taken about 10,000 children through the Magical Forest who otherwise wouldn't have been able to see it. (Sponsors pay for the bus trips). I feel her presence here.
Question: What do you think people would find surprising about you and your background?
Answer: As a child, I was homeless for a long time. I was born in England but we moved to Canada to escape an abusive upbringing. I taught myself how to dance.
People might see me as someone with a disabled child and that's why I do this. But that's not the reason. This is my passion and this is my life.
My show business background and my career as a dancer and a model, knowing I did that on my own, put me in a position to be a successful fundraiser.
If you set you mind to something, you can get it done.
Fundraising is all about asking. By asking someone to support Opportunity Village, I am giving them a gift and an opportunity to be part of something wonderful. You'll feel good about it at the end of the day.
Contact reporter Howard Stutz at hstutz@reviewjournal.com or 702-477-3871. Follow @howardstutz on Twitter.
NEVADAN AT WORK
Name: Linda Smith
Occupation: Associate executive director, Opportunity Village .
Quotable: "Hundreds and hundreds of people have come through Opportunity Village's programs, and we have found them gainful employment ."
VITAL STATISTICS
Name: Linda Smith.
Position: Chief development officer of foundation and associate executive director; Opportunity Village of Las Vegas.
Family: Two sons, Christopher and Jason; and husband John.
Education: Harbord Collegiate Institute in Toronto, Ontario, Canada; continuing education at University of Nevada, Las Vegas.
Work history: Former dancer, model and actress. Has spent that last 30 years as the lead fundraiser for Opportunity Village.
Hobbies: Dancing and travel.
Favorite book: "The Endurance: Shackleton's Legendary Antarctic Expedition," by Caroline Alexander.
Hometown: Blackpool, England.
In Las Vegas since: 1981.
Opportunity Village is at 6300 W. Oakey Blvd. It can be reached at 702-259-3700.