Southern Nevada economy still growing, UNLV economist says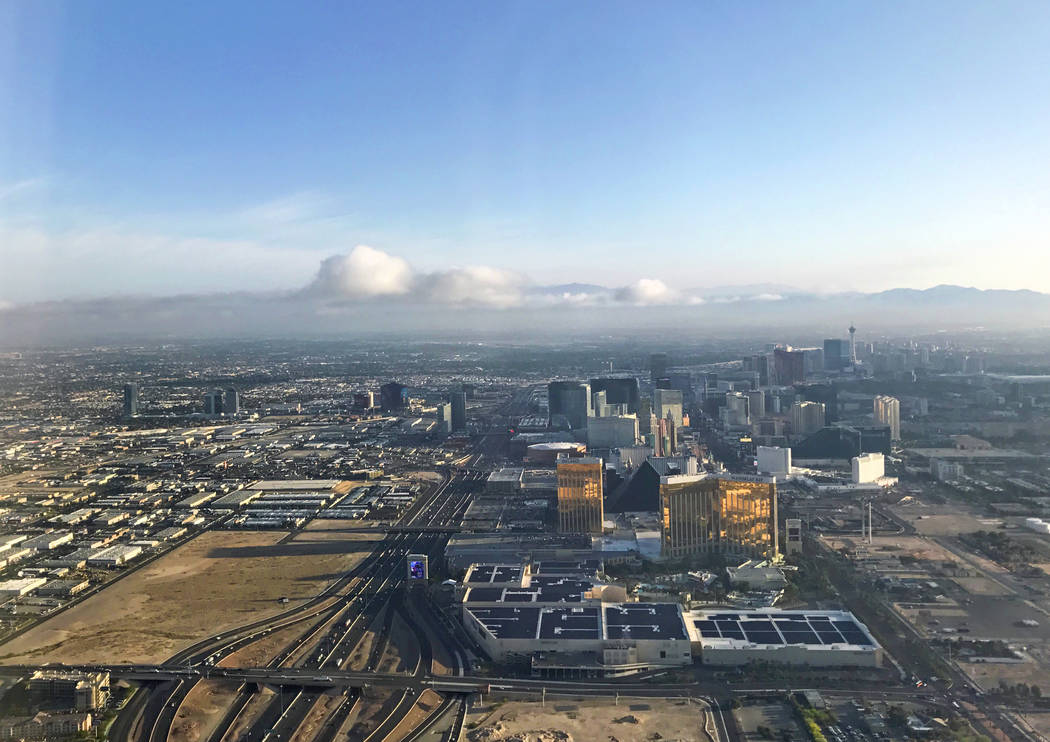 The Southern Nevada economy continues to grow but with some indicators showing slower growth.
That's the big takeaway from a midyear economic outlook being presented Wednesday by UNLV professor and Center for Business and Economic Research director Stephen Miller.
Here are key things to know from the presentation:
The slowdown
For most measures, Miller predicts continued growth for 2018 but at a slower rate than in previous years.
Specifically, population, total personal income, employment and gross gaming revenue will all grow but at a lesser rate than in previous years.
Visitor volume, on the other hand, is expected to decrease less than a percent during 2017 and then increase 1 percent in 2018.
Also, because of a 27.7 percent increase in multi- and single-family housing permits posted for 2016, Miller predicts a 4.8 percent increase for 2017 and then a 10.5 percent decrease in 2018 permits.
Miller predicts several factors that could slow the local economy. A slowdown for China or Europe will indirectly come back to slow international tourism locally, he said. A growing gap between the strength of the dollar and other nations' currencies could result in the U.S. growth rate slowing.
And a terror attack on the Strip could deter not only short-term visitors but also new residents from moving to the area.
Tourism to go beyond recovery
Tourism in Clark County has recovered 98.7 percent of its loss from the most recent recession, and Miller predicts his center's tourism index will soon exceed numbers posted before the recession.
The index is calculated based on Clark County gross gaming revenue, Las Vegas hotel and motel occupancy rates and the number of passengers boarding and leaving planes at McCarran International Airport.
Visitor volume in the county continues to hit new records, though the pace has slowed since 2015. More visitor spending and more personal income in the valley have resulted in strong taxable sales. Taxable sales are beyond the numbers posted during the recession, but the annual growth rate remains below previous pre-recession rates.
Las Vegans confident on Trump
Congress' failure in its first attempt to reform former President Barack Obama's health care law earlier this year has not deterred Southern Nevada business leaders' confidence in campaign promises made by Obama's successor.
UNLV's quarterly survey of local business leaders shows confidence President Donald Trump and Republicans will pass lower corporate tax rates, infrastructure project funding, decreased government regulations and increased defense spending.
However, between the first two quarters of this year, local business leaders' confidence in a simplified personal income tax rate fell to 39 percent.
At least we're not New Mexico
Since 1994, Las Vegas employment growth has exceeded that of nearby metropolitan areas Phoenix, Los Angeles, Denver, Salt Lake City and the slowest-growing metropolitan area of Albuquerque.
Los Angeles has consistently ranked last in employment growth in that time.
Nevada also leads each of those metro areas' respective states in employment growth, while Utah shows the fastest growth rate.
While Las Vegas led this group in unemployment rate after the recession, Albuquerque has held the top spot since 2016.
Contact Wade Tyler Millward at wmillward@reviewjournal.com or 702-383-4602. Follow @wademillward on Twitter.