Southwest Medical Associates keeps growing
December 1, 2014 - 4:00 am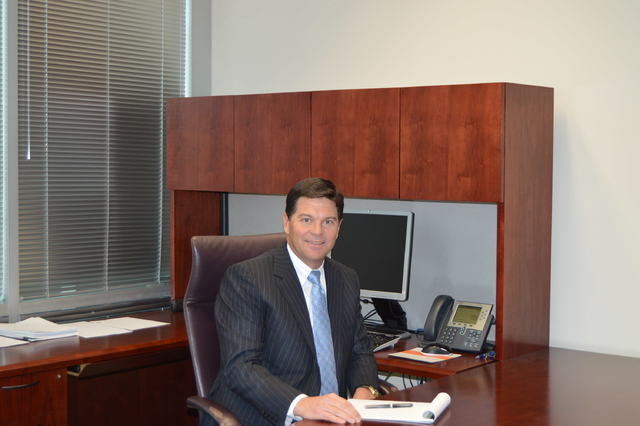 In an unsettled health care environment, Southwest Medical Associates is growing, adding five locations and 30 physicians in 2014. Its innovating – debuting shared medical appointments and a telemedicine program called NowClinic. And its CEO is crediting the Affordable Care Act for some of the gains.
Southwest Medical has had a presence in the valley since its inception in 1972. Dr. Anthony Marlon started it as a cardiology group and in the early 1980s saw the need for a local health care plan. He founded Health Plan of Nevada, which grew and became part of Sierra Health and Life and later UnitedHealthcare. It has grown into one of the largest health care plans.
Dr. Robert McBeath, a Las Vegas native and a practicing urologist, is president and CEO. Under his leadership, Southwest Medical has grown to serve more than 320,000 patients with a team of 280 multispecialty physicians and about 1,300 support staff covering 21 locations across the Las Vegas Valley.
McBeath attributes some of the growth to the Affordable Care Act.
"In the past, Medicaid eligibility rules excluded many people from qualifying for coverage, including most childless adults," McBeath said. "Under the Affordable Care Act, the pool of people eligible for Medicaid health care programs has expanded significantly."
Along with population growth and other market forces, this influx of patients with health care coverage has helped in part to spur the growth of Southwest Medical. Almost 55,000 new Medicaid patients have been added at Southwest Medical this year, he said.
One challenge affecting Southwest Medical is the shortage of physicians in Southern Nevada. According to McBeath, the state ranks 47th in the country in physicians per capita.
Despite this shortage, Southwest Medical has added 30 physicians, 20 midlevel providers (e.g., physician assistants, nurse practitioners, etc.) and 200 support staff positions to handle its growth.
New locations include:
• 4348 East Craig Road, 2225 Civic Center Drive and 5580 West Flamingo, each of which provides obstetrics, gynecology, and pediatric services. The West Flamingo location also provides care in rheumatology.
• In December, the Civic Center Drive location will add a walk-in urgent care center and adult medicine services.
• And a new Summerlin location at 10105 Banburry Cross Drive also will open in December. It will specialize in adult medicine.
Dr. Carl Allen came to Southwest Medical Associates in 1997 as staff physician. He eventually became the chief of the OB-GYN department, and today he is the medical director for specialties, responsible for overseeing nine specialty practice areas.
"We want to get services into the neighborhoods where the patients live," Allen said, pointing to the OB-GYN and pediatrics services. Some of his patients would have to take two buses just to get to his office, he said.
Convenience and providing needed services are the focus of many programs being implemented by Southwest Medical.
NowClinic is one of the ways in which patients in rural areas or home-bound patients can reach a doctor. In a Skype-like setting, patients are able to speak directly to a physician.
The group-care option called shared medical appointments means a number of patients (approximately 10 with similar conditions) can sit together in one room with a doctor and together gain information and assistance.
During the meeting, the physician talks to each patient to address his or her medical concerns. The other patients listen to the conversation for their own benefit and join in the dialogue. To ensure privacy, each participant signs a confidentiality agreement. Patients gain support from their medical team and group members who share their questions and experiences and benefit from new perspectives about their condition.
Southwest Medical's accomplishments have not gone unnoticed. The National Committee for Quality Assurance's Patient-Centered Medical Home Recognition Program has given Southwest Medical high ratings for the quality of its care.