Adelson commits personal wealth to back stadium plan
August 28, 2016 - 6:28 am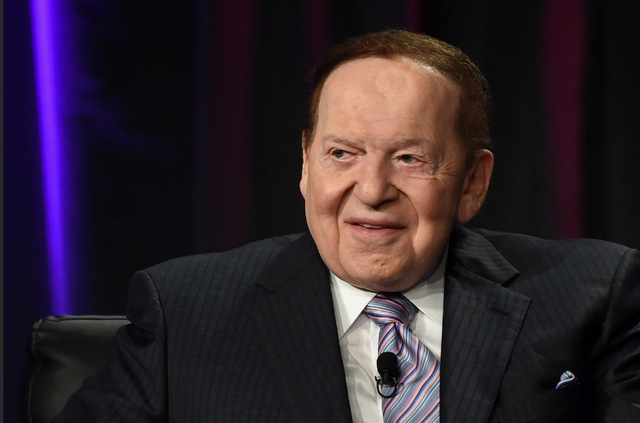 Las Vegas Sands Corp. Chairman and CEO Sheldon Adelson went to his board of directors this spring with a proposal to fund a 65,000-seat domed football stadium in Southern Nevada.
The board turned him down.
So he's willing to spend his own money to get the dome built — at least $650 million. And because the stadium's $1.9-billion financing plan calls for the use of $750 million in hotel room tax money, Adelson said he won't receive any return on his personal contribution.
"The (room tax) money we're looking for is not coming to us," Adelson said in a Thursday interview with the Review-Journal. "There will be a stadium authority and it will be owned by the government."
Adelson said his family is willing to contribute to the stadium's construction and startup costs for the same reason they donate millions of dollars to support drug abuse treatment and research: They see it as an investment in the city they call home.
"It's a community effort," Adelson said. "We live here. We're citizens of the community. … I don't need the money that's going to be made in the stadium."
Adelson, who built exhibition halls in the mid-1990s to attract trade shows that filled the city's hotel rooms on midweek days, now sees a new stadium, not new convention space, as the key to keeping the city's tourism economy rolling. He and the NFL's Oakland Raiders are leading the effort to build a stadium in the resort corridor.
"We have more exhibition space than any city in the United States, for that matter, any city in the world," said Adelson, whose company operates the Sands Expo and Convention Center.
The nearby Las Vegas Convention Center, operated by the Las Vegas Convention and Visitors Authority, is pursuing a major expansion. Both that project and Adelson's stadium partnership are seeking an increase in the Clark County hotel room tax to cover development costs. The Las Vegas Convention Center upgrades would cost $1.4 billion. The room tax contribution to the stadium would be $750 million.
"(The stadium) is a 'must-have,' contrary to what (MGM Resorts International Chairman and CEO) Jim Murren says, that it's a 'nice-to-have,' " Adelson said in response to comments Murren made to other media. "He's completely wrong."
Adelson reasons that the city's hotels are pretty much at capacity in the first half of every calendar year with a robust convention and trade show schedule. But the second half of each year has tourism lulls. Having a stadium to host an NFL team, neutral-site college football games, conference championship games and bowl games, concerts and soccer games would fill far more hotel rooms when they're available — in late summer and fall — than would adding another convention hall, he said.
He said nine of the 30 trade shows the LVCVA hopes to recruit want to come to the city in February, which already is one of the busiest months on Las Vegas' convention calendar. Adelson said a lack of exhibit space is not what's keeping those shows away — it's a lack of hotel rooms to support all those big shows and the ones already here.
A spokesman for the convention authority last week said the organization is focused on the convention center expansion project and has never opposed the stadium plan. Murren declined to respond to Adelson's statement last week.
"Our occupancy in December is down to 50 percent, for most of December," said Adelson, who says he's the only person in the world who has been a convention center customer, a convention organizer and a builder of exhibition space. "That (stadium) would help tremendously."
"Can you imagine what kind of reaction there'd be if we had Manchester United playing Real Madrid in Las Vegas?" said Adelson, whose family owns the Review-Journal. "It would be huge. … And they (fans) won't come in for one day. They'll come in for at least three days."
FAMILY'S DECISION
After Adelson's stadium proposal was rejected by the Sands board, Adelson took the proposition to his family, who agreed that it would be in the city's best interest to fund the stadium's construction with their own money.
"I discussed it with my wife and my kids, my family, and we agreed that we would do it as a benefit to the community," he said.
Under current plans, Adelson would contribute $650 million of his personal wealth to help build the stadium, $750 million would be raised over 30 years by adding 0.88 percentage points to the existing 12 percent county room tax, and the Raiders, who would seek relocation to Las Vegas if the tax increase is approved by state lawmakers, would add $500 million in equity, seat licensing fees and a loan from the National Football League.
Once the stadium is built, its management would be turned over to a seven-member stadium authority board with representation chosen by the governor, the Clark County Commission and the developers. It would be owned by the public.
"The money that is being sought from the government is not coming to me. I think it should be clear that a billionaire is not looking for money from the public," said Adelson, whose net worth is estimated by Forbes to be more than $28 billion. "I am only doing this in the interest of community development. And I am taking the risk on the cost above whatever is committed."
The $750 million in public funding and the $500 million from the Raiders are fixed costs, Adelson said of the financing plan. Any cost overruns or unanticipated shortfalls would be Adelson's responsibility.
STADIUM CRITICS
Not everyone is convinced that Adelson's plan is a good deal for taxpayers. Clark County Commissioner Chris Giunchigliani, for instance, has been a vocal opponent of the stadium.
"There are lots of people who love sports. I love sports. But there has never been a public-private partnership that has built a stadium that has been a good investment for the public," said Giunchigliani, whose district includes a portion of the Las Vegas Strip.
In most stadium construction plans "the public never gets out from underneath the expense," she contended.
Giunchigliani said Adelson and Wynn Resorts Chairman Steve Wynn have the financial wherewithal to fund a stadium without going to the public.
Adelson said he has gone to other wealthy Southern Nevadans to contribute to the stadium cause, but no one is willing to put up money.
"Steve Wynn has told us how excited he is about the project, but he hasn't written a check," said Rob Goldstein, chief operating officer of Las Vegas Sands.
NEXT STEPS
The Southern Nevada Tourism Infrastructure Committee is vetting the stadium plan and developing a recommendation to forward to Gov. Brian Sandoval. The committee's next meeting is scheduled for Sept. 15. The developers say if they can finalize some details sooner, they may seek an earlier meeting date. The committee already has recommended funding the Las Vegas Convention Center expansion.
Adelson and the Raiders have narrowed potential stadium sites to two. A 62-acre parcel west of Interstate 15 and Mandalay Bay, between Russell Road and Hacienda Avenue, is the favored site. Their backup site is the Bali Hai Golf Club, just south of Mandalay Bay between Las Vegas Boulevard and I-15. Developers estimated the stadium's $1.9 billion price tag based on infrastructure costs associated with those two sites.
Once the committee makes a recommendation, it would be up to Sandoval to call a special session of the Legislature to consider the proposal.
Sandoval met last week with Adelson, but neither man will talk about what was discussed.
Andy Abboud, vice president of government relations and community development for Sands, said he and his associates have met with some lawmakers who have shown no pushback to scheduling a special session before the Nov. 8 general election despite the restrictions the session would place on campaign fundraising. The stadium partners say they have little time to pitch an approved financing plan to NFL owners, who would vote on the prospective relocation of the Raiders in January. The spring regular session of the Legislature would be too late for a vote on stadium financing, the partners contend.
Adelson is adamant that the city urgently needs a new stadium — the valley's largest stadium, UNLV's Sam Boyd Stadium, is more than 40 years old and far from the Strip in the eastern valley — and does not need the Las Vegas Convention Center expansion. And he insists that room taxes must fund $750 million toward the project because the stadium would be owned by the public.
"The amount of money that can be made by this stadium is so small that we [Las Vegas Sands], as the largest gaming operator in the world, make that same amount of money in one or two days, maybe three sometimes," Adelson said.
Without a $750 million room tax contribution, the stadium won't be built, Goldstein told the SNTIC last week, a statement Adelson backed up.
Stadium developers arrived at the $750 million figure after consulting with other organizations that have dealt directly with the NFL, which has been insistent on a public contribution for stadium construction. Adelson noted that the county's $750 million contribution would be paid over decades, not all at once.
Goldstein pointed out that St. Louis lost the Rams to Los Angeles because the public was unwilling to invest enough in the team.
"It's definitely a unique opportunity for Las Vegas and a game-changer," Goldstein said. "We're not doing this for corporate enhancement."
The Review-Journal is owned by the family of Las Vegas Sands Chairman and CEO Sheldon Adelson.
Contact Richard N. Velotta at rvelotta@reviewjournal.com or 702-477-3893. Find him on Twitter: @RickVelotta.
RELATED
Land for proposed stadium site in Las Vegas being sold by bank group
Developers identify preferred site and proposed budget of $1.9B stadium
Reid declares support for stadium, Raiders' move to Las Vegas