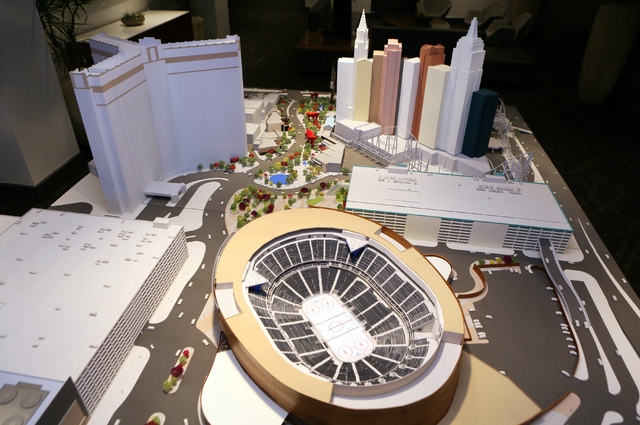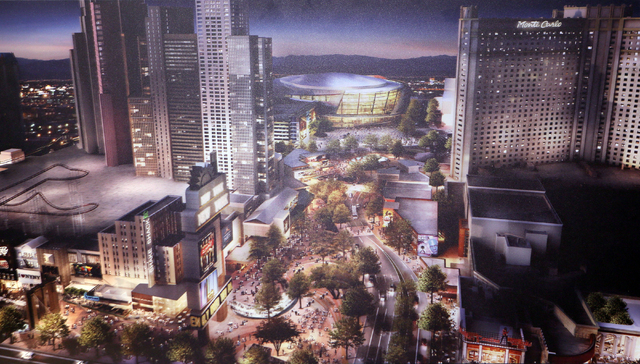 If your company has about $200,000 to spend annually and is looking for a good time, Mark Faber might like to have a word with you.
Faber, AEG senior vice president for global partnerships, is selling luxury suites and premium seating packages for the $375 million arena being built by the MGM Resorts International-Anschutz Entertainment Group partnership behind New York-New York on the Strip.
Faber gave the Las Vegas Review-Journal an exclusive look at the arena suite replicas, which AEG and MGM Resorts officials are showing high rollers in hopes of enticing them to sign a deal.
Comparing the modern bells and whistles of the arena's high-end seating options to those of Las Vegas' 30-year-old-plus sports venues such as Cashman Field and Thomas &Mack Center is like comparing an iPhone to a rotary phone.
"We want to transform the entertainment experience for those people who want a premium experience," Faber said.
After visiting arenas across the country and analyzing Las Vegas' population and corporate demographics, MGM-AEG believes that 44 luxury suites between the lower and upper bowls and eight event level — or "bunker" — suites fit the local market. In comparison, AEG's Staples Center in downtown Los Angeles has 150 suites on three levels.
Of the 44 luxury suites in the MGM-AEG arena, 42 will be sold for $170,000 to $235,000 per year, while the other two will be sold on a single event basis. Each 310-square-foot suite provides 12 tickets per event, with the opportunity to buy four more tickets. The arena expects to play host to about 100 events a year after it opens in April or May 2016.
The twist is companies have to commit to luxury or bunker suite deals of either, five, seven or 10 years.
MGM-AEG is also offering a deal of combining three luxury suites into a single "Grand Suite" of 36 tickets. Four of those are available, with at least one being bought, Faber said.
The 700-square-foot bunker suites, which are located just below the lower bowl and will offer access to 16 premium seats in the lower level, will cost considerably more than the luxury suites, Faber said. He declined to say exactly how much a bunker suite costs.
Of the 52 luxury and event-level suites, more than half have been sold, Faber said. He declined to identify the buyers but said the companies that made commitments are in the local casino gaming, health care, law, commercial real estate and banking industries.
The luxury suites have a contemporary design, complete with three tiers of sofa-style shared seating called "banquette" seating instead of the conventional theater-style seats for the dozen users. There are also four stools for the quartet of extra ticketed guests.
An unusual suite feature is a center table, which slides under a wall drink rail to offer social space, and a modern art-style ceiling light fixture. The suite also includes a 55-inch wall TV, cabinets with locks to store valuables and a food serving table with refrigerator, warmers and ice chests. They also are contemplating creating drawers below the seating for women to keep their purses.
Besides the suites, MGM-AEG is alo offering three levels of club seating: "Grand Opera Boxes" for six costing $100,000 a year; "Opera Box" for four costing $75,000 a year; and "Terrace Table" for four costing $40,000 a year. They all require commitments of either five, seven or 10 years.
And for those who want to gain entry to the arena's two large 2,200-square-foot club areas, there will be a membership fee of $3,500 to $5,000. MGM-AEG plans to sell 250 memberships.
About 3,000 of the arena's 20,000 seats fall into the suite or club seat category, Faber said.
The suite replica is not open to the public, but interested parties can make an appointment by calling 844-LVARENA or 702-692-1300.
Contact reporter Alan Snel at asnel@reviewjournal.com or 702-387-5273. Find him on Twitter: @BicycleManSnel

The AEG-MGM arena project
More coverage
Complete coverage of the various stadium and arena proposals.
AT A PREMIUM
The MGM-AEG arena has 2,766 premium seats. Here's the breakdown of various suite and club seat options:
▶ Event Level Suites, commonly known as "bunker" suites: 8 suites with 16 tickets each, 128 seats.
▶ Luxury Suites: 42 suites with 12 each tickets each, plus four bar stools each, 672 seats
▶ Grand Suites: four suites with 36 tickets each and 12 bar stools
▶ Grand Opera Box: six boxes with six tickets each, 36 seats
▶ Opera Box: 22 boxes with four tickets each, 88 seats
▶ Terrace Tables: 14 boxes with four tickets each, 56 seats
▶ Event Level Memberships: 250 seats
▶ Club Seat Memberships: 768 in two club area, 1,536 seats.