Gov. Brian Sandoval signs Raiders stadium bill — VIDEO
October 17, 2016 - 11:52 pm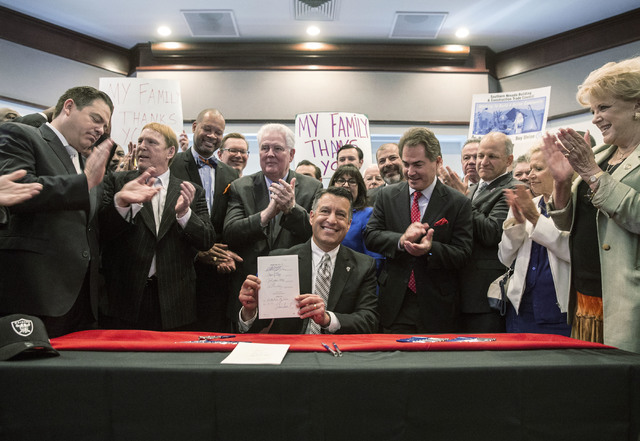 A proposal to build a domed stadium in Las Vegas that would be home to the NFL's Oakland Raiders and UNLV's football team was fast-tracked from the start. In less than a year, the plan advanced through a special tourism committee and a special legislative session before culminating Monday, when it became law with Gov. Brian Sandoval's signature.
But after a raucous ceremony overflowing with handshakes and hugs at UNLV's Tam Alumni Center, an even greater sense of urgency on the $1.9 billion stadium project was set in motion with a stroke of Sandoval's personally autographed blue and silver pen.
The bill increases Clark County's hotel room tax to cover some of the stadium's construction costs. A separate hotel room tax increase to help fund a $1.4 billion upgrade to the Las Vegas Convention Center also was signed into law as part of the stadium bill. Another piece of legislation signed into law by Sandoval on Monday allows the Clark County Commission to increase the sales tax rate to pay for more than 300 new police officers in Clark County.
Officials seemed to hear the stadium project clock ticking faster as the UNLV band broke into "Viva Las Vegas" after Sandoval signed both bills.
A stadium authority board, whose nine appointees must reside in Clark County, must be formed within 30 days and must meet within 75 days. It must include three members appointed by Sandoval, three chosen by the Clark County Commission, one designated by UNLV President Len Jessup and two public representatives picked by a vote of those seven members.
Sandoval and other officials acknowledged the accelerated time frame and pressure to act quickly and decisively. He stressed that these won't be purely political appointments, saying, "we'll need people that have financial experience and the background to be able to go through some of the questions that are going to come before that committee."
Beginning this week, the Raiders and NFL owners figure to ask the most questions. Among them: Which of two sites will be selected?
Developers will make recommendations, but the stadium board will have the final say on whether a 62-acre area northwest of Russell Road and Interstate 15 — the preferred location — or the 140-acre Bali Hai Golf Club, between Interstate 15 and Las Vegas Boulevard, just south of Russell, will be chosen.
The Raiders will update NFL owners on the Las Vegas project Tuesday and Wednesday in Houston. A vote on the team's move to Las Vegas would come at the owners' January meeting.
Asked what he would like to tell NFL owners, Sandoval said, "I'd tell them to do their homework, but we have answers for everything. This is a place where an NFL franchise, the Oakland Raiders, will be incredibly successful."
Steve Sisolak, chairman of the Clark County Commission, said a consensus exists that stadium board members must have financial, legal and business backgrounds, although he said he and other commissioners have not yet vetted any candidates.
"This is not a feel-good, just sit-on-it, put on your résumé kind of board," Sisolak said. "This is a board they're really going to have to go to work on, in terms of getting the job done, in terms of making sure it's the best stadium we can possibly have.
"They'll be working hand in glove with the developers, the Raiders and the community. … They're taking over with the construction phase in terms of dealing with what the stadium needs to have, what it shouldn't have, how it's going to be built, how it's going to be developed."
Steve Hill, director of the Governor's Office of Economic Development, said the board's initial work would be aimed at negotiating a contract with developers, choosing the site and overseeing design and construction.
"The (board) will work with the Raiders to structure at least a framework of an initial lease so that the NFL understands what that will look like prior to their decision in January," Hill said.
Hill and Sisolak were members of the Southern Nevada Tourism Infrastructure Committee, a panel of public-sector and private industry leaders created by Sandoval to evaluate projects that would boost visitation to the region. The committee formally recommended the stadium and convention center projects last month. Sandoval called last week's special legislative session based on those recommendations.
Sandoval called Monday's bill signing a crucial moment for Southern Nevada and pointed to the increased jobs and tourism that will come during the stadium's construction and beyond.
"We will be fortifying our economy and cementing our position as the No. 1 tourism and hospitality destination on planet Earth," Sandoval told a jovial crowd that included Nevada legislators, gaming executives, labor union leaders, Raider representatives and UNLV officials.
"We will be doubling down on what we do best."
#raiders owner Mark Davis on the impact of NV legislation and the upcoming #NFL owners meeting #RJnow pic.twitter.com/ZfMG5yfTn3

— Elaine M. Wilson (@WilsonElaineM) October 17, 2016
A supermajority of Nevada lawmakers on Friday passed an increase in the county's hotel room tax to help finance the stadium.
SB1 authorizes $750 million in bonds to fund construction costs. The family of Las Vegas Sands Corp. Chairman and CEO Sheldon Adelson would contribute $650 million toward the stadium project while the Raiders would kick in $500 million.
Sandoval said that when completed, the Las Vegas stadium and convention center projects would create an annual incremental economic impact of almost $1.5 billion. Such growth, he said, would include more than 1 million visitors and 1.8 million room nights annually.
"Las Vegas is where the impossible becomes possible. Now, we have competition. Everyone aspires to be like us," Sandoval said.
"Cities such as New York and Chicago and Seattle, they have not only stadiums, but major sports franchises, and are also investing more than a $1 billion a year in their respective convention centers … I refuse to let any of them get ahead of us."
The Review-Journal is owned by the family of Sheldon Adelson, chairman and CEO of Las Vegas Sands Corp.
Contact Tom Spousta at tspousta@reviewjournal.com or 702-387-5205. Follow @TheRealTSpou on Twitter.
RELATED
Promoters, sports execs envision Las Vegas stadium as setting for major events
Drive to bring Raiders to Las Vegas shifts focus to convincing NFL team owners
Oakland Raiders owner Mark Davis praises 'historic day' in Nevada
Nevada Senate passes amended Raiders stadium bill